Skilling
Ten reasons why cohort-based programs are the future of skilling
With our one-of-a-kind learning framework, expert navigators, community structure and future-facing outlook, we believe that BeNext Cohort-based learning brings a new outlook for professional skilling.
At People Matters, we have always been passionate about increasing the impact of our HR community. Over the past twelve months of disruption and uncertainty, we began to explore the best ways to achieve this aim. This year's Gartner survey on The Future of HR in 2021 highlights that the biggest priority for CHROs and Heads of HR is to build critical skills and competencies (68%). Through our conversations with industry leaders, research into market offerings and discussions with our extensive global networks, it has become clear that building critical skills and competencies - specifically for HR teams - is the number one challenge we cannot afford to ignore.
With this in mind, People Matters launched BeNext, a suite of Cohort-based certification programs designed to empower leaders and HR teams to excel in skills needed for our fast-changing world of work. With our one-of-a-kind learning framework, expert navigators, community structure and future-facing outlook, we believe that BeNext Cohort-based learning brings a new outlook for professional skilling.
Read on for Ten Reasons that makes BeNext a unique learning journey
Start together, learn together 
BeNext is not a solo journey. Learners begin the programs as a cohort together and stay in-step through the structured framework of assignments, discussion, submissions and masterclasses. Across the course of the four-week programs, learners are encouraged to bounce around ideas, give feedforward on each others' projects and interact in the LIVE sessions and activities. Every journey of discovery is made better with great company, and BeNext's unique structure allows talent leaders to learn with the perfect blend of independence and community. 
Unique Learning Framework 
Re-thinking is a 4-step journey and all programs are built around the People Matters BeNext framework: 

Cutting-Edge Content 
While the BeNext programs are future-facing, our content is optimized to address the issues of today and maximize impact in business right now. In the fast-moving world of work, BeNext programs empower users with the knowledge to gain a deep, real-time understanding of the shifts occurring in our business, our culture, our behaviours and our skills. From employee experience, to asynchronous work tools, to well-being programs, to design thinking to recruitment and onboarding, BeNext programs are comprehensive, leading-edge and designed with the digital age in mind. 
Expert Navigators 
Our speakers are selected for their industry expertise, practical knowledge and unrivalled experience in their fields. Speakers and instructors include 
Certified Accreditation 
People Matters is an approved provider for HRCI recertification. All our programs are approved by HRCI in Business & Global Categories, giving learners credits and easily-trackable proof of course completion. Another way to level up your learning and stand out from the crowd!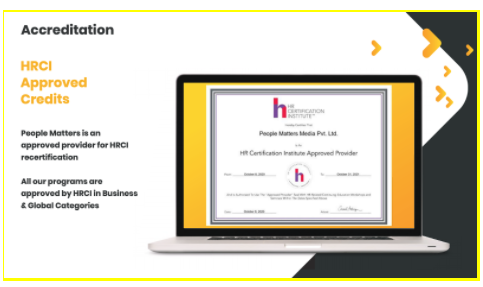 Over 1,200 learners already certified 
Since launching in the summer of 2020, the BeNext programs have already certified 1,200 talent leaders across our Employee Experience Certification Program, Adaptable HR Certification Masterclasses and Working From Home Facilitator Certification Mastertrack. These talent leaders have tuned in from all over the world. In a truly digital era, BeNext is about seamlessly boosting power skills and fostering global connections, reimagining and shaping the world of work together. 
You'll be in Great Company 
Unilever, PepsiCo, TataSteel, Diageo, Deutsche Bank, GE, Lego, Maybank, OCBC and NTUC are just some of the organisations whose team members have taken the BeNext programs so far. Learning as part of the BeNext community allows you to network and forge connections with a truly diverse, global suite of influential decision-makers, talent leaders and professionals from a broad range of industries.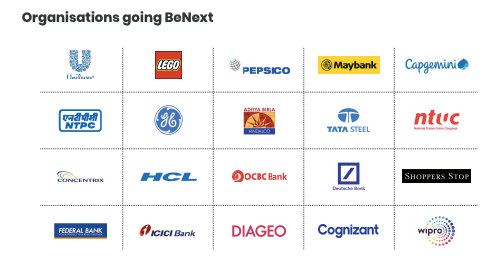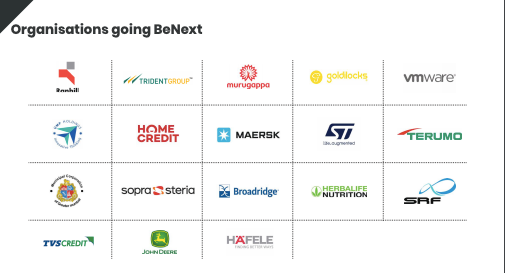 Hybrid learning for a Hybrid World
BeNext is the ideal program for the distributed work age. With a mixture of synchronous and asynchronous assignments, learners work at their own pace throughout the four weeks. BeNext also provides a chance to forge those all important connections in LIVE masterclasses. All these LIVE sessions are scheduled to fit with as many time zones as possible and are recorded for later viewing or for anyone who is unable to make them. 
#BeNext Radio Show
BeNext is a multimedia platform and includes videos, interactive activities and audio resources. Each week, BeNext hosts a Radio Show to give a bite-size overview of all the goings-on on the certification platform. Hosted by Pilar Orti, Director of Virtual not Distant & Author of Thinking Remote: Inspiration for Leaders of Distributed Teams, the Radio Show allows BeNext learners to listen out for thought-provoking contributions, news and announcements. A unique way to keep the conversation going! 
Note: Sharing a link of just 3 minutes of the Radio Show from one of the programs, note that show is only available for BeNext Learners as it contains content from the course and it is not open to the public
Here is a quick short edited version of the complete program Pilar radio final.mp3
Community & Connection 
At a time when workplace connection is more strained than ever, BeNext certification programs are the perfect way to community-build and feel part of a group again. Don't just take our word for it. Here are some of the testimonials from learners who have completed BeNext courses:
The best part? Getting to experience many new tools and ideas during the live Masterclasses, while interacting both during the live sessions and on the learning platform with inspiring professionals I would most likely never have the opportunity to meet in the physical world - Sandra Wohlers, Head of Human Resources, ERNI Asia
The overall program structure pre-work, session & post interactive work has made this a very unique & impactful learning journey! As the multiple concepts and experiences, prompts you to dig deeper and opens your learning horizon - Swapna Nair, Vice President Human Resources, Share Chat
An amazing platform by #PeopleMatters Team in enabling HR community to #Resolve, #Remagine and #Reconnect. Apart from getting key insights from Industry experts it offered peer to peer learning through reflection, assimilation and application of concepts- Anushree Verma, HRBP, HCL
Thats the future of learning, join us! Accelerate your growth with Cohort-based Certification Programs
Here are the courses coming up in February and March: 
Virtual Team Meeting Facilitator: 22nd Feb - March 21st 
Virtual Recruiting & Onboarding: 15th March to April 11th 
Virtual Performance Management: 15th March to April 11th 
Virtual Coaching: 22nd March to April 18th 
Reimagining Employee Experience in a Hybrid World: 22nd March to April 18th 
For more details, click here.