A Brand Reachout Initiative
Strategic HR
What is holding the HR function back?
AdaptableHR Read similar articles
Here are a few capabilities perceived as gaps across typical HR Roles, holding the HR teams back from successful HR transformation.
The new workforce trends and the pace at which the business is moving today puts pressure on the HR function to redefine itself and become more capable to drive the talent and businesses towards a better tomorrow. 
In Alight's Asia Pacific State of HR Transformation Study 2018-19, respondents (with nearly half of them being CHROs) perceive large capability gaps across all roles in the HR function. In fact, the large organizations perceive gaps to be even higher. These observations correlate to higher maturity of the HR transformation journey and hence increased expectations from HR.
Click here to help us identify the latest state of HR transformation. 
Here are a few key insights from the report that will help you understand the incapabilities holding HR back and learn how these capability gaps can be reduced:
Capabilities perceived as gaps across typical HR Roles:
Analytics Orientation
From tracking the attrition rates to now analyzing which employees will be most likely leaving the company, the scope of using analytics by HR teams has widened over time. Collecting real-time data to take more relevant decisions and enhance employee experience has become even more important. With the advancement in HR tech solutions, people analytics has matured relatively. However, HR teams are not yet skilled to make most of these advanced solutions. 
In this study, 42 percent of the respondents perceive a gap in analytics orientation in Centers of Excellence role. And for Shared Services role it was identified as a capability gap by 54 percent respondents. 
As the CoE mandate shifts from program design to that of adoption and continuous improvement, there is a strong need for insights across the process of the program lifecycle and analytics orientation is an essential capability to have. Even for shared services and HR operations, the ability to furnish process insights within and across functional areas is going to be key. 
Business Acumen
As the name suggests for any HR Business Partner, presence of a strong business acumen is imperative. But in reality, 64 percent of the respondents feel that there is a gap in this capability among HRBPs across APAC. 
Even the HR Generalists, who are the culture custodians fostering better employee relations are perceived to lack business acumen by 25 percent of the HR leaders who participated in the study. 
Understanding and acting on the shifts facing businesses has been a constant challenge for HR but given the rate at which the various elements are disrupting and challenging businesses every day, HR professionals must become more aware.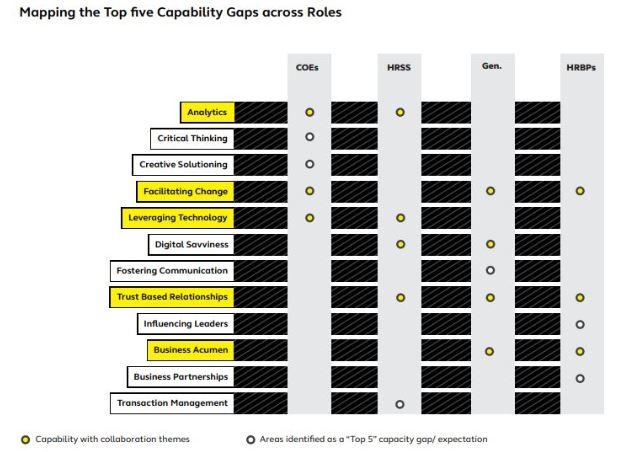 To explore how the HR industry will fare in 2019-20 participate in Alight's HR Transformation Study 2019 to 2020.
Leveraging Technology
Technology and automation makes the HR function more efficient and enables HR professionals to accelerate their HR transformation process. However, when it comes to leveraging technology, most HR teams often fail to successfully execute tech solutions. 
As easy it may sound, implementing technology and automating HR processes can be cumbersome. Therefore, it is not surprising that leveraging technology has come out as one the major capability gaps in HR teams.
36 percent feel the CoE lack in this area, and 50 percent perceive shared services lack capability when it comes to leveraging technology. 
As we move ahead in the digital era, HR teams have to work for better selection, design, implementation and adoption of the platforms. CoEs and the shared services will lead this, in partnership with HRBPs to get this right.
Facilitating Change
Most of the change in the world is driven by people and their choices. Even in the context of businesses, an organization-wide change can only be brought about if the talent within moves in tune with time. 
As the core function of HR team circles around talent, the HR function remains central to HR Transformation. They are the ones who with their strategies, processes and practices can facilitate change in the organization. 
While facilitating change becomes a key responsibility of HR teams, in most of the typical roles it is identified as an area that needs improvement. 
For CoEs, 38 percent respondents perceive it as capability gap, and for Generalists or field HR 30 percent. On the other hand, it is alarming to know that 50 percent of them feel that HRBPs lack in facilitating change. 
Shaswat Kumar, Asia Leader - Advisory and Cloud Solutions, Alight Solutions said, "Organizational change needs the voice of the business (from HRBPs), the pulse of the employees (from the HR generalists), and the right set of actions driven and managed (by the CoEs)."
It is time, the HR teams realize and act upon their role as key facilitators of change and drive the transformation for the entire organization. 
As you look to redesign HR and make your workforce and organization future ready, it is important to gauge where you are in your transformation journey. Participate in Alight's HR Transformation Study 2019-20 and assess yourself and see how you fare with your peers. 
Click here to be a part of this exclusive study.