A Brand Reachout Initiative
HR Technology
Emerging Stronger to reimagine the HR function
AdaptableHR Read similar articles
How are Adaptable HR functions emerging stronger as they reimagine the HR function? Here are some key insights from the Alight Solutions' State of HR Transformation Study 2021.
The HR function was placed in the spotlight and at the helm of transformation in 2020. It also became a driver as to why some organisations were able to adapt faster and stay ahead of the curve while others lagged behind. And one of the key reasons enabling these organisations is the tenet of adaptability enabling the HR function to be a guide for businesses, people, and society.
According to Alight Solutions' State of HR Transformation Study 2021, one of the key observations was that Adaptable HR functions are emerging stronger across four parameters:
Lead in being digital for HR and the Business
Proactively enable the right shifts in the way we work
Reimagine the HR function as a leader for organisational change
Shape and deliver the right value of HR to stakeholders
Delving into this further, Vikrant Khanna, Senior Director and Asia Head-Advisory Solutions, Alight Solutions shares, "The State of HR Transformation 2021 Study clearly shows that the HR function needs to reinvent itself with a sharper capability agenda. HR capabilities are at the heart of successful HR transformations and upskilling HR capabilities has been a top priority of the function." 
In this edition of the study, some unique variations in the desired capabilities were observed among the HR function from both APAC organisations and Mature archetype organisations (organisations that have their HR operating model complemented by HR technology).
Let's delve deeper into these variations and how capability expectations from different HR functions are changing.
HR Business Partners
Being able to influence leadership and facilitate change were essential skills that would enable you to excel as a HR Business Partner (HRBP). Additionally, Business Partners are expected to enable Agile Ways of Working; this is a new skill that will see an increase in demand as organisations work on deploying solutions in collaboration with business.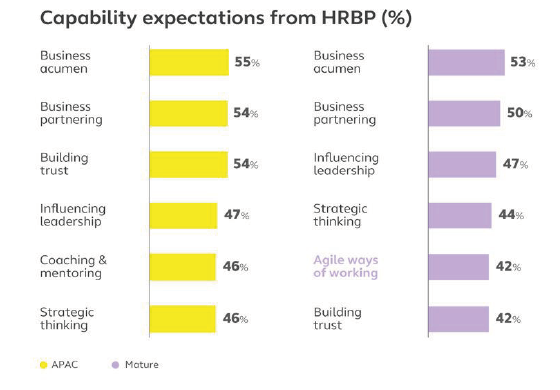 Centres of Excellence 
Business acumen is rapidly gaining as an ask from Centres of Excellence (CoE) role holders as organisations accelerate transformation. Looking at the Mature archetype organisations, creative solutioning, savviness to think digital and agility are key skills being requested from the CoEs. These complement the need for rapidly deploying and improving on solutions.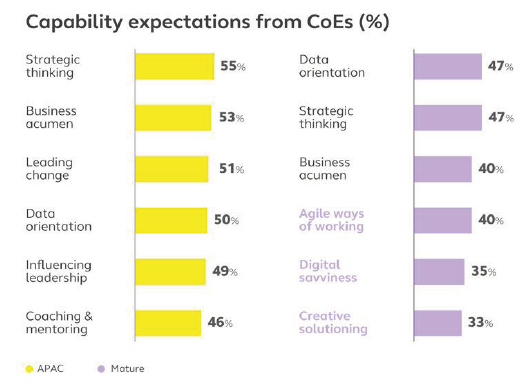 Field HR
This role is a critical anchor of delivering Employee Experience and driving organisational changes. Agility is the top ask of this role in Mature Archetype organisations. However, agile is a mindset that the entire function needs to embrace; which is visible only in Mature archetype organisations. In addition, Mature archetype organisations also expect business acumen from all front-facing roles.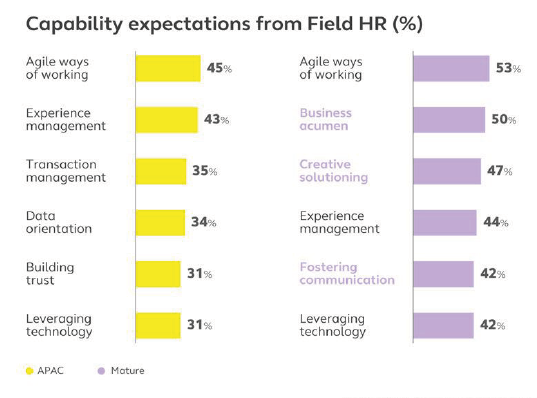 Shared Services
HR Services/ Transaction roles continue to gain importance as technology and people analytics become central to the success of HR. As organisations put employee experience at the centre, capability expectations from Shared Services will change. For this role, a similar theme is observed across all organisation archetypes. This reflects that the lack of capability in this role becomes an early bottleneck and is being addressed by all.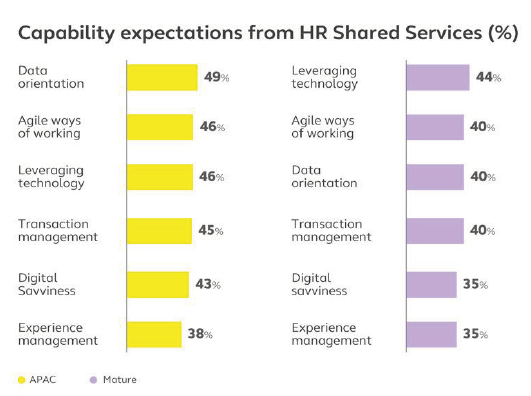 The report notes that Adaptability in HR sets forth a lifestyle for HR that will constantly reduce administrative and transactional burden by driving a "near zero" operations focus. In turn, this creates bandwidth and capability for driving the anchors of business outcomes, adoption, and improvement which enables these organisations to gain a competitive edge and emerge at the forefront. Adaptability will change the HR ways of working to deliver on these anchors that drive the way programs are designed, experienced, and governed. 
Ultimately, Adaptable HR solves for employee experience and drives a sharper ROI on the right investments. Organisations with Adaptable HR functions are 3 times more likely to succeed in delivering a closer partnership with the business through their operating model and capabilities. They are 2 times more likely to succeed in their efforts on employee experience. Both of these are critical in leading organisational transformation.
Follow #EmergingStronger as we continue to bring out more reflections and conversations from The State of HR Transformation 2021. 
Click here to download the exclusive report now. Let's emerge stronger together!