A Brand Reachout Initiative
Strategic HR
HR Service Delivery: On its path to maturity in APAC
AdaptableHR Read similar articles
As per Asia Pacific State of HR Transformation Study 2018-19 by Alight Solutions, two-thirds of the respondents have a well-defined or a fully-defined HR Service Delivery Model.
The HR Service Delivery Model defines how the HR Function provides services to its customers. It is the foundation that guides the design and management of HR's role in people, processes, and technology. 
As businesses move towards the future of work, more organizations realize the importance of having a robust HR Service Delivery Model. As per Asia Pacific State of HR Transformation Study 2018-19 by Alight, two-thirds of the respondents have a well-defined or a fully-defined HR Service Delivery Model. 
The latest data shows an increase from the 2016-17 edition of the Study pointing to the growing relevance of HR Service Delivery Models.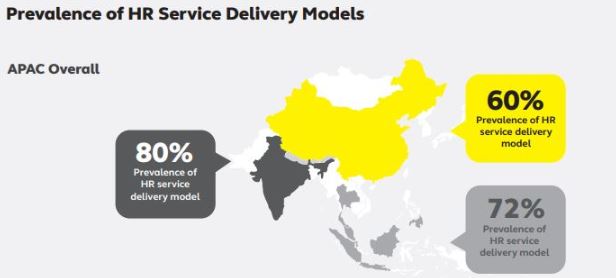 Click here to share how will HR Service Delivery Model and its relevance further evolve
If we look at specific countries, India and Thailand are two countries where close to 80 percent of the respondents have established HR Service Delivery Models, while China lags behind on this front with only 60 percent respondents adopting it.
Further, the study reveals that for organizations having more than 10,000 employees, HR Service Delivery Model prevalence is much higher and stands at 87 percent. 
Let's further deep dive into the report and learn now organizations across APAC are designing their HR Service Delivery Models:
What's driving the HR Service Delivery design?
For organizations with limited or no clarity on the HR Service Delivery Model, the view of HR services is largely cost driven, while the mature organizations are guided by analytics and user experience. 
Further, organizations with defined and established HR Service Delivery Models focus majorly on effectiveness and consolidation.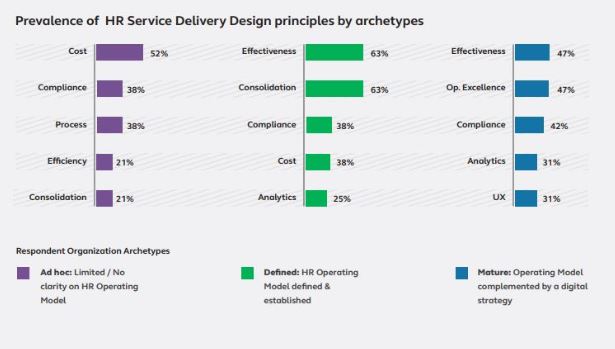 Explore how the HR industry will fare in 2019-20 and participate in Alight's HR Transformation Study 2019 to 2020.
Shared Services: Coming of age in APAC 
With the rise of user experience and analytics, the role of shared services in talent management is growing. They are now moving beyond the traditional benefits of ease in administration and cost savings through consolidation of transactional work and leveraging analytics and automation for more efficiency. 
But there are still some organizations not using such models of HR service delivery and bearing the cost for the same.
For organizations without HR Shared Services, about 50 percent of administrative activities are managed at country level, creating serious inefficiencies on account of duplication, lack of compliance and broken processes at a regional aggregate (if applicable).
Administration in the absence of a clearly defined Service Delivery Model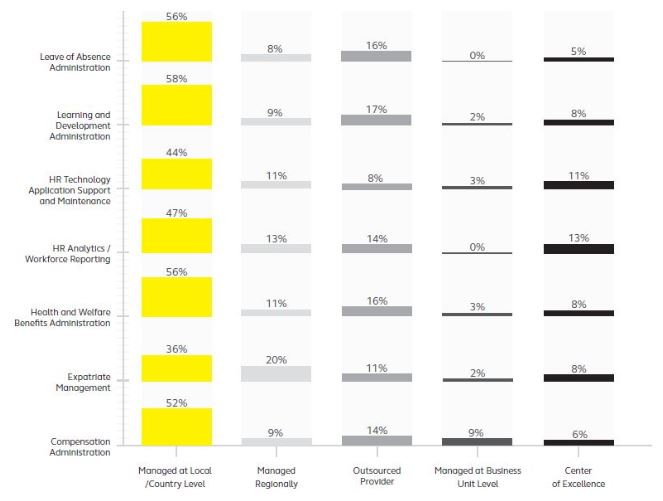 On the other hand, in the organizations that have shared services, nearly 50 percent of the transactions are managed by them, lowering the administrative load across the other entities in the HR Service Delivery Model, drastically. 
Administration in organizations with defined HR Service Delivery with Shared Services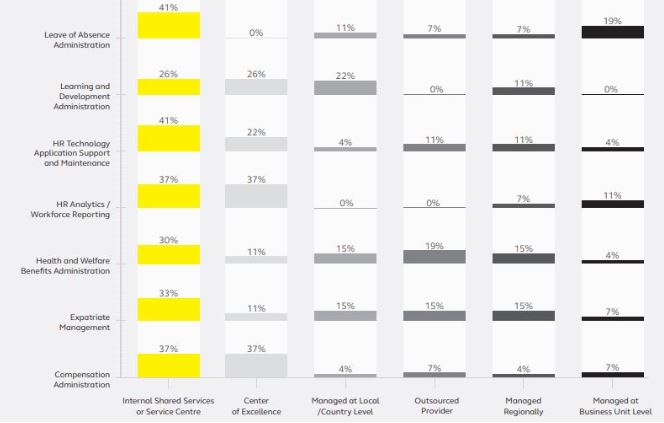 However, even where shared services exist, substantial administrative activity is managed by the CoE, especially in areas such as HR analytics, learning and development, and performance management. Going forward, even this arrangement shall get streamlined. 
While organizations in the APAC region seem to be on the path of having mature HR Service Delivery Models, the journey still continues. Both in terms of process scope and coverage, there remains a big opportunity to drive consolidation of administrative tasks. With the help of technology, automation and continuous skill development across HR roles, HR teams shall unleash these possibilities and lead their organizations to be ahead of the curve. 
As the HR function gears up for the next year of rapidly changing business expectations, it is time to weigh how HR technology and service delivery is making an impact on your business and employees currently. Participate in Asia's largest HR Transformation Study 2019-20 by People Matters and Alight Solutions (formerly part of Aon) and assess yourself and see how you fare with your peers in the HR transformation journey. 
Click here to be a part of this exclusive study.