Leadership
Alpadis Group CEO Alain Esseiva believes in leading by example
In a rapid fire interview with People Matters, Alain Esseiva, CEO of Alpadis Group shared, "Lead by example. If you are able to do what you ask of your employees, then they will believe in you."
Born in Switzerland, Alain Esseiva o co-founded the Swiss fiduciary services firm Alpadis Group in Singapore in early 2000. Alpadis Group is an independent and privately-owned Swiss-based group that provides multi-jurisdictional corporate and bespoke fiduciary services and M&A advisory with offices in Switzerland, Singapore, Hong Kong and Labuan (Malaysia). Despite being from Switzerland, Esseiva has been leading business in the Asian market successfully for more than a decade. 
In a recent rapid fire interview with People Matters, Esseiva talked about leadership and answered some candid questions.  
Here is the snapshot of the interview:
How digitally ready are you as a leader on a scale of one to ten?
I would say 8. We have implemented a number of digital initiatives over the past 12 months and invested in software that has significantly increased our productivity and efficiency.
One step that you are taking to develop a leadership culture in your organization?
We have recently revamped our Vision, Mission and Values, providing all leaders and employees with a values-based framework that they can follow.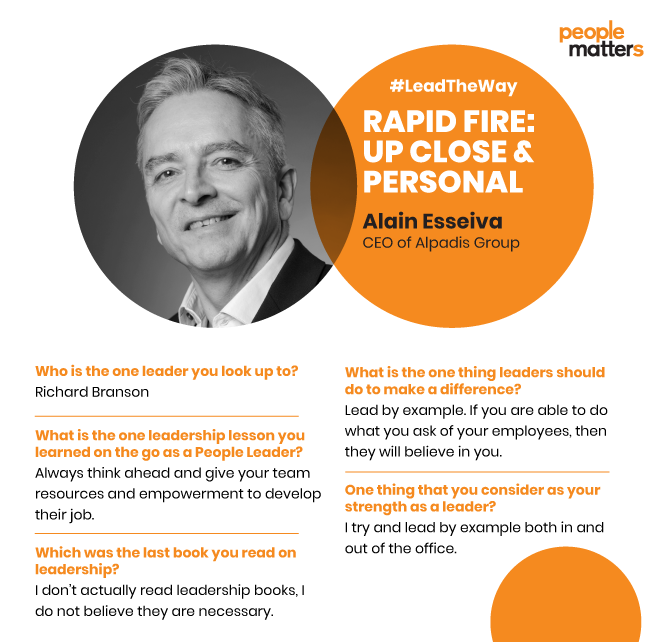 What should leaders do: create more leaders or create more followers and why?
We need both. Empower your team and you will naturally see leaders rise up.
One thing that makes you passionate about your work?
Growing the company across multiple markets, bringing Alpadis Group from Europe into Asia. I love exploring and discovering new countries and cultures and growing a company is one way to do this.
What matters to you most, effort or outcome?
Honest effort matters to me. Work hard enough and with integrity and the right outcome will prevail.
Three key learnings that you have picked up from your team.
Cultural inclusiveness is important, especially in a multinational firm.
Diversity is genuinely important and helps bring different viewpoints to decision-making.
Give people responsibility and they will respond positively. 
What's the one most important factor you consider when hiring someone?
A few things but honesty and integrity are important to me as well as a curious mind who thrives in a continuous learning environment and has an interest in digital transformation.
What sort of leader would your team say that you are?
I hope they see me as a good role model and an approachable person – my door is always open to anybody in the company.