Skilling
Singapore tops World Bank Group's latest human capital rankings
Singapore and many other Asian countries dominate the World Bank Group's newest index which ranks 157 countries based on the productivity of the next generation's workers.
Singapore with an index standing at 0.88 tops the World Bank Group's Human Capital Index released on 11th October, Thursday.
World Bank Group President Jim Yong Kim after releasing the report in Indonesia yesterday, said, "This index creates a direct line between improving outcomes in health and education, productivity, and economic growth. I hope that it drives countries to take urgent action and invest more – and more effectively – in their people."
South Korea, Japan and Hong Kong follow Singapore on the index, while China was placed at the 46th spot, Malaysia at the 55th and Thailand at 65th. Other countries like Chad, South Sudan and Niger took the lowest three spots. India ranked 115th with an index score of 0.44. 
As per the report, it is the sustained attention to the human development that has got Singapore among the world's highest performers on learning.
In Singapore, 98 percent of students reach the international benchmark for basic proficiency in secondary school. Further, the earnings potential in the country was 88 percent of potential, better than the U.S, which ranked 24th between Israel and Macau, productivity and earnings were measured at 76 percent of potential.
Praising Singapore at the Human Capital Summit, Jim Yong Kim said, "The most remarkable thing about Singapore is that this was not a country full of crazy rich Asians 50 years ago."
According to the World Bank President, "Singapore was a country that went from having low literacy rates and developing country kind of mortality numbers to where it is now because leaders took responsibility and said, 'We are going to measure it, we will get there and try all the different innovations'." 
While Singapore creates an example by leading the human capital index, Prime Minister Lee Hsien Loong feels that the "the job is never done." As the country reaches new levels of development, new expectations and challenges arise. For instance, in healthcare, Singapore has to focus on step-down care and active ageing so that people stay fit and healthy for a longer time and also on pre-school education. 
Prime Minister Lee said, "We want to bring everybody to a good starting point as early as possible in life, regardless of whether you are rich or poor, whether your parents are advantaged or disadvantaged."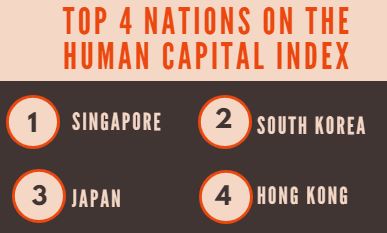 The bank's newest report has warned that a wave of automation and artificial intelligence will eliminate many low-skilled jobs in coming years, making it harder for people with low levels of education and poor health to compete for work.
Jim Yong Kim shared that with this report he wants to draw the attention of the countries to the crisis that is real. He hopes that the new index would encourage governments to take steps aimed at moving up the rankings and improving productivity by making investments in the human capital.