Recruitment
65.5 Mn jobs supported by aviation worldwide: Report
Out of these about 2.7 Mn jobs include jobs in airline sector such as flight and cabin crews, executives, ground services, check-in, training and maintenance staff.
The report, 'Aviation: Benefits Beyond Borders', released by the Air Transport Action Group (ATAG) highlights that the Air Transport industry provides 10.2 Mn direct jobs and supports a total of 65.5 Mn jobs globally, making it a major global employer. 
As the Air Transport industry is the major contributor to the job sector it also becomes an enabler of economic growth. 
Out of the 12.5 Mn direct jobs, More than 30.2 Mn jobs in the APAC region are currently being supported by the aviation and related sectors. This number is expected to rise to 44 Mn by 2036.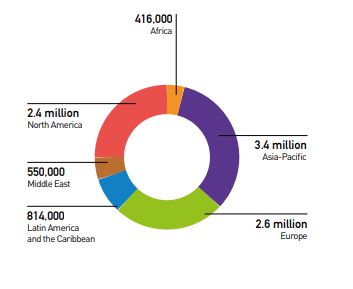 Where are the jobs being created?
Out of the total 10.2 Mn direct jobs worldwide, the airport sector accounts for 6.12 Mn jobs (60 percent of the total). Of these, 5,25,000 positions are with airport operators (such as airport management, maintenance and operations). On-site employment (for example, at retail outlets, restaurants, hotels, government agencies) creates an extra 5.6 Mn jobs ( 55 percent of the total). 
Further, in the manufacturing sector, 1.2 Mn jobs (11 percent) are supported, employing people in the building of civil aircraft and their associated parts, such as engines, electronic systems, and components. Air navigation service providers employ an additional 2,33,000 people (2 percent). 
The report says that while the role of many parts of the industry is well known, there are a number of players who are not quite so visible. For instance, ground handlers provide contract services for airlines, often when the airline has a limited number of flights into an airport for purposes like check-in, gate agent, dispatch, fueling and cleaning services for airlines. It is estimated that the world's four largest independent ground handling companies, Swissport, Dnata, Menzies and Worldwide Flight Services, employ 1,62,000 staff between them. Many airports and airlines also employ their own ground handling teams.

Enabling economic growth by impacting jobs in other sectors
The spending of the directly or indirectly employed in the air transport sector further supports additional jobs in industries such as retail outlets, companies producing consumer goods and a range of service industries (such as banks, telecommunication providers and restaurants), creating a multiplier effect. Worldwide, nearly eight million induced jobs are supported through employees in the air transport industry (whether direct or indirect) using their incomes to purchase goods and services for their consumption. The induced contribution to global economic activity is estimated at $454 Bn.
The air transport also contributes to employment in Tourism. An estimated 15.6 Mn direct jobs in tourism globally are supported by the spending of foreign visitors arriving by air. This includes jobs in industries such as hotels, restaurants, visitor attractions, local transport, and car rental, but it excludes air transport industry jobs. A further 14.1 Mn indirect jobs in industries supplying the tourism industry are supported by visitors arriving by air. These direct and indirect tourism jobs supported by air transport generate a further seven million jobs in other parts of the economy through employees spending their earnings on other goods and services.
As the current landscape of the Aviation Industry, the future of it also looks bright. As per the report, the industry is expected to grow significantly in the coming decades, with more demand from passengers forecast to 2036 and beyond. By 2036 the industry is expected to support 85.8 Mn jobs. 
(The figures in Aviation: Benefits Beyond Borders should be viewed as a snapshot of the aviation sector in 2016-2018 and not as part of a trend.)
Click here to read the full report: Aviation: Benefits Beyond Borders