C-Suite
Indra Nooyi quits after leading PepsiCo for 12 years
After leading the food and beverage giant, PepsiCo for 12 years, CEO Indra Nooyi will exit in October this year.
The leader who set an example for women professionals across the globe by taking over as CEO of the food and beverage giant, PepsiCo 12 years ago has now decided to step down from her role.
3rd October will be the last day as CEO for leader and veteran Indra Nooyi. She will be replaced by Ramon Laguarta, a 22-year PepsiCo veteran who was promoted to President last year.
"PepsiCo has been my life for 24 years and part of my heart will always remain here. I'm proud of what we've done and excited for the future," tweeted Indra Nooyi.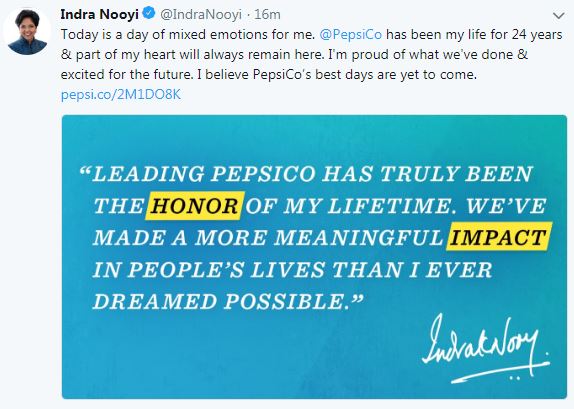 Indra Nooyi was the first female CEO of PepsiCo. She drove the company a dozen years through a changing landscape. She took PepsiCo far beyond its cola roots, expanding into hummus, kombucha and other healthier products with mixed results.
Indra's association with PepsiCo began in 1994 when she joined the company as Senior Vice President, Strategic Planning. After that, she adorned many hats in the company and took several roles like Senior Vice President, Corporate Strategy and Development, Senior Vice President & Chief Financial Officer and President & Chief Financial Officer until she finally became the Chairman & Chief Executive Officer in 2006.
Reminiscing about the time spent and work done in the company for several years, she also tweeted about the work she is proud of.
She wrote, " I'm incredibly proud of all we've done over the past 12 years to advance the interests of our stakeholders in the communities we serve. What I admire about our global team is an incredible drive to compete – to be the best, to remain the best. Which is why I am confident, as I step down from my role as CEO on Oct 3, that PepsiCo is moving in the right direction. I'm confident in our leadership, and most of all, I'm confident in our team to continue to focus on our Performance with Purpose."
Indra reflecting her optimism about Ramon replacing her as CEO tweeted, "Ramon Laguarta is exactly the right person to help build on PepsiCo's strong position and success. He has been a critical partner and friend and I am positive that he will take PepsiCo to new and greater heights in the years to come."
Besides steering PepsiCo towards success, there are several other achievements credited to Indra Nooyi. She has been consistently ranked among the world's 100 most powerful women. In 2014, she was ranked at number 13 on the Forbes list of The World's 100 Most Powerful Women and was ranked the 2nd most powerful woman on the Fortune list in 2015.