Learning & Development
How to find the 'perfect' worker...or not
It's a trick question: you can't. But you can find the closest match to your needs instead. Panellists at the Singapore Institute of Technology's Applied Learning Conference in July had a few tips about that.
As an employer, you want your workforce to have and exercise skills that benefit the business, at levels appropriate to business needs. And you want them to be able to upgrade those skills when the situation or environment changes, or even pivot entirely as their job roles change. But as an employer, you also know that's easier said than done.
One way to address this challenge is by effecting a major shift in the way we view competencies, said experts at the Applied Learning Conference in July. The conference, organised by the Singapore Institute of Technology (SIT), advocates for assessing learners and candidates by their ability to use their skills and competencies in the workplace, in a practical and functional manner, and with the ability to upgrade as needed.
"Many companies today do not have the ability or the bandwidth to train a fresh graduate for six months or 12 months," said Professor Chua Kee Chaing, President of SIT (below, centre). "Increasingly, the business cycle is shorter and shorter. Companies expect you to know everything when you graduate from university."
The shift, he said, is in moving away from the traditional one-size-fits-all learning approach and instead developing a form of competency-based education: an approach that involves recognising prior learning, whether formally through training or informally through work, and then allowing learners to either pick up specific new skills or advance existing skills of their choice.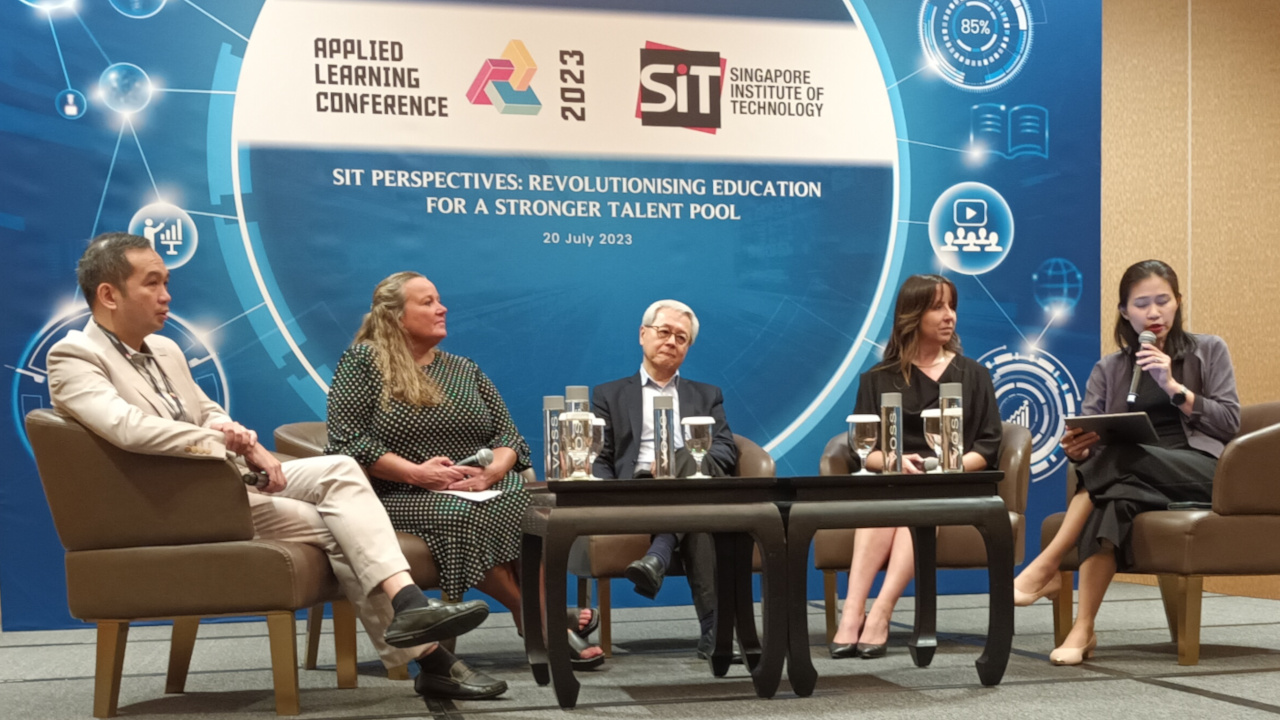 How does that make someone 'perfect' for an organisation?
For an organisation to be effective, it needs to have the right people, with the right skills, at the right time, in the right position, said Dr Charla Long, President of the Competency-Based Education Network (above, second from left). But the challenge is in being able to articulate what a person knows.
"A 'perfect' worker understands the knowledge, the skills, the abilities, the behaviours they bring to work every day, and how their their current employer leverages it," she suggested. "Part of that obligation is on their educational institution to help them think about what they know and can do, and to help them articulate all of those skill sets. Then, if the job changes, they  can find a way to be perfect for the next day."
At the same time, companies need to play an active role in understanding what they themselves need - the onus cannot be on workers or educational institutions to play a guessing game.
"If you have needs, if these are the skills and competencies that you want in your workforce, you've got to make that evident," cautioned Tan Kok Yam, Chief Executive Officer of SkillsFuture Singapore (above, left). "You can't expect faculty to automatically understand what your factory floor needs. Sometimes this understanding can happen through communication with a leading industry captain. Sometimes it happens with a professional body or with a trade association."
And there also has to be some skills development going on within the company itself, he pointed out. Companies with the resources to track learning and development will of course be well ahead of this need, but SMEs may need more support to  get the ball rolling.
Automation - the fly in the ointment
The upskilling push is, of course, constantly being disrupted by the displacing effect of automation - the one thing in today's landscape that's most likely to make a job and even an entire organisation change. But even so, it's still possible to have - or to be - the right person with the right skills.
"I think it's important for us to pause and recognise that many of us will have different looking jobs in a very short amount of time," said Dr Long. "Any kind of skill that helps teach learners how to actually leverage and use technology as a partner is going to be really key. This is where we talk about what is transferable: it is those things that are uniquely human."
A human being can look across systems and recognise patterns in ways that AI is not able to do. A human being is also able to develop relationships and connections with people to drive results.
"Results are not about following a formula. Results are about knowing what relationships you have, what your counterpart's goal is, what your goal is, and thinking about ways we can collaborate work together to make that happen. AI is not going to be able to do that."
Put that principle into practice in the workplace, and you have a decent chance of ensuring that people are not stuck in dead-end jobs that will be made redundant by technology, said SkillsFuture's Tan.
"We cannot guarantee that the job does not disappear. But we want the experience that a worker picks up on the job, the expertise that he has obtained, his knowledge, his ability to keep an open mind and explore, his ability to create or pick up solutions, his supplementary skills - we want all these to mix such that nobody in the workforce is in a dead end job, or sitting there worried that AI is going to make us redundant."