Talent Management
Here's a list of major layoffs across the globe in 2019
As we come closer to the end of this eventful year, let's take a look at some of the major layoffs and job cuts that happened across the globe in 2019.
The year 2019 was an eventful year for many reasons. 178-year-old British tour company Thomas Cook collapsed, banks across the globe announced more than 48,500 job cuts, and companies like Tata Steel, Uber and HP announced job cuts owing to restructuring and the need to cut costs.
Economies across the globally showed signs of acute weakness in 2019. Whether we blame it on the rapid pace of technological development, the US-China tariff war, the Chinese debt crisis, climate change or the controversial Brexit, there are a few reasons to think that the year was not great for many companies and employees who lost their businesses and jobs, respectively. The year was hence, nothing but a reminder of how unpredictable the world of work has indeed become.
As we come closer to the end of this eventful year, let's take a look at some of the major layoffs and job cuts that happened across the globe in 2019:
The layoff spree at WeWork
In October, WeWork after failing to list for an IPO, informed its staff that job cuts are coming that month. Although the number of exact job cuts was not specified, people familiar with the discussions had then pegged the amount to be about 2,000, representing some 16 percent of the global workforce of 12,500. 
Soon after, in November, it was reported that WeWork is preparing to slash at least 4,000 jobs in its efforts to stabilize itself. Under the plan, the company's core business of subletting office space would let go of 2,000 to 2,500 employees. An additional 1,000 employees will leave as WeWork sells or closes down non-core businesses, like a private school in Manhattan that WeWork set up. In addition, around 1,000 building maintenance employees will be transferred to an outside contractor. 
Together, these employees would represent around a third of the 12,500 people WeWork employed at the end of June. 
The collapse of Thomas Cook: 22,000 jobs were left to be at risk
As the 178-years-old British tour company Thomas Cook collapsed this year, after failing to secure rescue funding, its 22,000 employees in 16 countries, including 9,000 in the UK, lost their jobs. Unions representing the Thomas Cook staff had urged the British government to intervene, however, the increasing debt burden of 1.25 billion pounds, higher fuel and hotel costs, and uncertainty over Brexit that hurt demand for summer holiday travel did the business in.
Uber's attempt to create a leaner organization design: Result job losses
The company said in a statement, "We have over 27,000 full-time employees in cities around the world, we need to shift how we design our organizations: lean, exceptionally high-performing teams, with clear mandates and the ability to execute faster than our competitors." 
Hence, Uber laid off 435 employees from engineering and product teams, and about 400 people were let go off from its marketing team as well. 
Interestingly, Uber CEO Dara Khosrowshahi asked every member of his executive leadership team if they were to start from scratch, would their respective organizations look the way they do today? After careful consideration some leaders, concluded that the answer to this question in many respects was no. 
Uber this year looked at team size, circled out duplicate roles and overlapping work, and also took in consideration individual performance to determine who would be laid off. This organizational restructuring drive at Uber is a reminder of how with the rapidly changing nature of business, the need to redesign jobs is also changing. Building and nurturing transferable skills has hence become the need of the hour.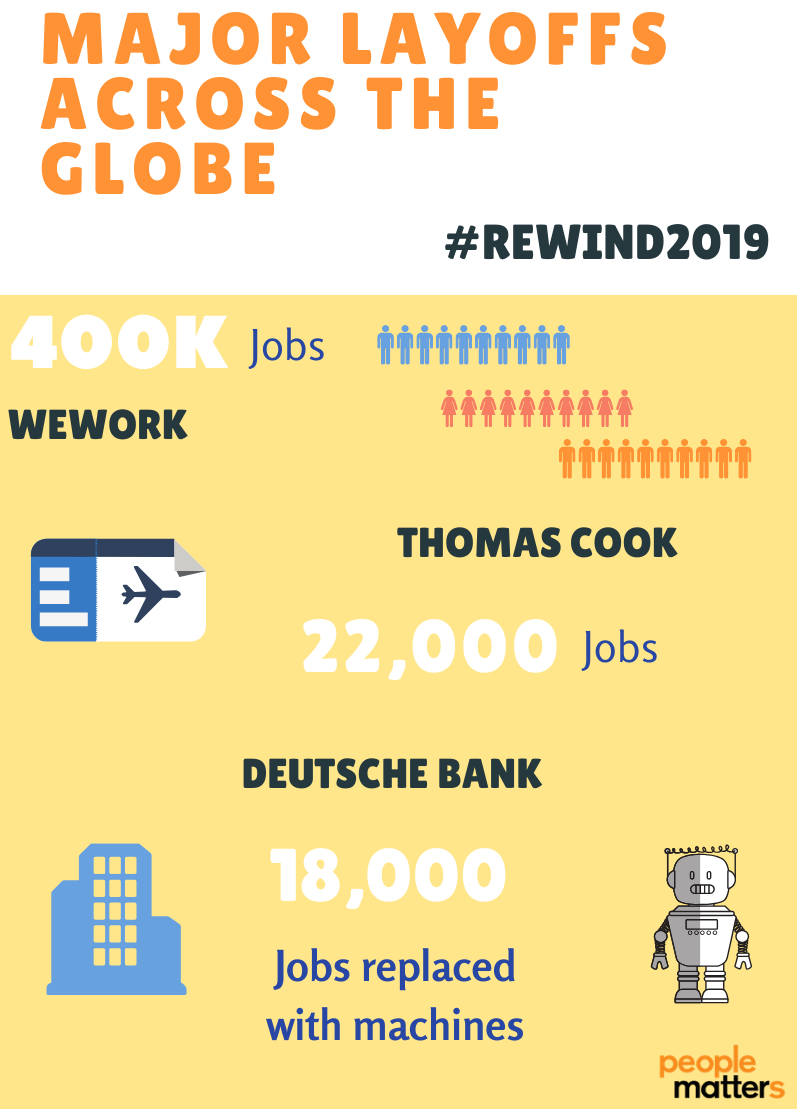 Keep Scrolling
Restructuring and cost cutting drive at HP leading to more job loss
American technology giant, HP, in October announced that it will cut up to 16 percent of its workforce as part of a restructuring plan aimed at cutting costs. In its statement, the company said it will be cutting about 7,000 to 9,000 jobs through a combination of retrenchment and voluntary early retirement.
As the business ecosystem creates new demands and urges HP to transform the way they work, there are several aspects they need to reflect on. The businesses today need to continuously reboot themselves and thus the relevance of many jobs is expected to change quite rapidly. These job cuts hence highlight not only this year's struggles of the tech giant, but also indicates the tough times it anticipates in the near future.
The sinking EBITDA, collapse of a mega merger & the need to cuts costs: Tata Steel's case
The EBITDA of Tata Steel Europe business sank 90 percent to £31 Mn (S$54.6 Mn) in the first six months of the current financial year from April on revenue of £3.25 Bn. Therefore, with job cuts across Europe and other moves, the steel major aims for positive cash flow by the end of the year to March 2021.
"Stagnant EU (European Union) steel demand and global overcapacity have been compounded by trade conflicts, which have turned the European market into a dumping ground for the world's excess steel capacity," the company shared in a statement. 
To combat this stagnant steel demand in Europe and global overcapacity, Tata Steel laid out a restructuring and cost-cutting strategy, and announced job cuts of up to 3,000 across its European operations.
Deutsche Bank's restructuring plans: Humans vs Robots
The German bank this year announced its restructuring plans that involved 18,000 job reductions across all of its businesses. After several phases of job reductions, in September dozens of traders and salespeople in its global fixed-income ranks were let go. 
When the restructuring plan was first laid out in July, the equities-trading division was the one to get slashed. However, the bank had stayed committed to most of the fixed-income unit, under the strategy of focusing on businesses where the bank is a leader. Then, the bank even cut traders in high yield, distressed and investment-grade debt teams in New York and abroad.
Recently, in November, the bank revealed that it is using robots to replace these 18,000 employees. 
As per the report, Deutsche Bank is pushing to "automate large parts of its back-office" via a new strategy called "Operations 4.0," as part of its $6.6 Bn savings initiative over the next three years.
Mark Matthews, Head of Operations for Deutsche's corporate and investment bank, emphasized that machine learning algorithms "massively increased productivity" and "redistribute capacity." He shared that the investment in machine learning technology helped to save 680,000 hours of manual work and that it so far used bots to process 5 million transactions in its corporate bank and perform 3.4 million checks within its investment bank.
It had been quite a while that the world of work had been talking about machines replacing humans, and although some signs had already been observed before, now it seems to have become the reality. 
Taking inspiration from Deutsche, other banks might soon follow suit. But this trend doesn't mean to instill a fear of job loss among the workforce, however, it does stress upon the need to invest in continuous learning.