A Brand Reachout Initiative
HR Technology
HR and Finance: The Cloud's New Power Duo
Let's Talk Talent Read similar articles
Leveraging the power of a single platform that accesses a single source of data is simply powerful for both HR and Finance function
The roles of HR and finance have always been intertwined – since the days HR was referred to as "Personnel". The emerging trend of businesses creating a shared finance and HR function makes a lot of sense today. CFOs are being asked to take a more active role in defining business strategies, which requires a firm understanding of the company's talent and resourcing needs. HR leaders need a clear view of each team's budget, strategic priorities and capabilities if they are to recruit and retain the right talent. Thus, both finance and HR professionals have a handful of skills they need to augment, such as time-management, active learning capabilities, problem-solving, mathematical reasoning, and analytical skills. Leveraging the power of a single platform that accesses a single source of data is simply powerful for both HR and Finance function, allowing them to model out what their organization will look like tomorrow, today and solve problems faster – or even before they happen.
One of Oracle's customers, Kalla Group, experienced this issue. As a big company with tens subsidiaries across the country, they found difficulties in getting comprehensive data from the subsidiaries in timely manner, which also impeded the time taken to make decisions. 
And here comes cloud technology, which serves as a common catalyst, ensuring companies can successfully adapt to, and compete in, the digital economy. The goal is to equip businesses to thrive in a worldwide marketplace steeped in digitization and overflowing with competition. Finance and HR often pair up when venturing into the cloud, given their joint stakes in areas like budgeting and workforce planning. Ultimately, these two disciplines can serve as role models for other corporate functions interested in moving to the cloud.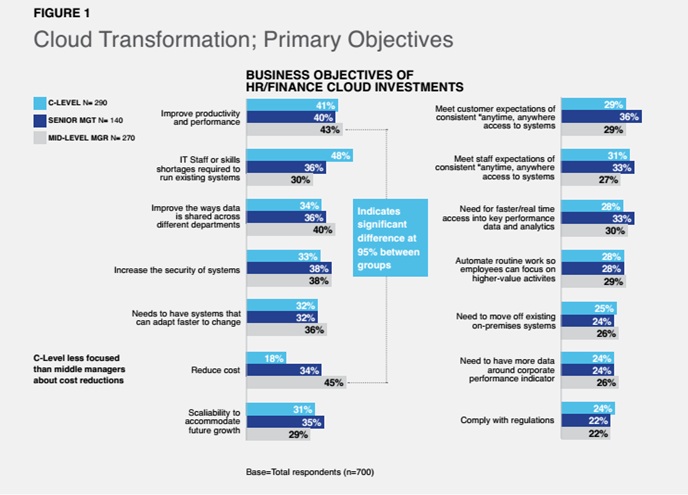 With both HR and finance forming an initial foothold, this provides companies with enough insight to envision the benefits of implementing a unified system across all back-office functions. For example, Oracle HCM cloud is able to deliver continuous, seamless, real-time access to information via self-service mechanisms empower employees across the business, strengthening decision making and boosting agility.  Combined with the power of Oracle ERP Cloud, which covers all analytical and back end aspects as well , this forms a powerful partnership between HR and finance. The cloud's breakthrough potential becomes clear when a company takes a deliberate and managed approach to forging this, a seamless transition.
Every company has varied objectives when it comes to cloud migration. From a survey conducted by Oracle Corporation and MIT Technology Review of 700 respondents from US, Canada, Europe, Middle East and Africa, and Asia region, 42% said they are motivated by improvements in productivity and performance. Respondents view closer finance and HR collaboration in the cloud as a strategic necessity, promoting operational excellence and accelerating innovation. Survey respondents cite two other reasons behind the move that were ranked higher than cost-cutting: one is the IT staff, or skill shortages, required to run existing systems (38%) and the second is wanting to improve the way data is shared across different departments (37%).  
"Our company has been around for decades, but we wouldn't even have considered the cloud back then," said Disa Novianti, Deputy President Director, Kalla Group. "However, times have changed and that attitude has clearly shifted." In the survey, 36% of respondents cite improved security as one of their top objectives in moving finance and HR to the cloud. This is in line with one of Kalla Group's reasons behind their cloud migration, which is to prevent fraud from happening internally and externally. 
But not all cloud migrations are successful. As computing power moves to the cloud, IT's role changes, but the function doesn't disappear. Post deployment around 56% respondents report that IT has significantly improved when it comes to producing innovations. Harnessing IT's cooperation, the survey found, is key throughout the transition. Among respondents in finance and HR, 43% identify it as a critical organizational success factor, as do 49% of others. Other critical success factors for successful cloud migration include picking the right cloud provider (36%), HR and Finance partnership and collaboration (36%), creating the right internal team (35%), encouraging a culture that embraced a digital mindset (34%), as well as simplified and standardized processes in advance (32%).  
"We chose Oracle as our cloud provider because of the company's stellar reputation as a partner as well as its complete suite of business solutions built for the cloud," said Solihin Jusuf Kalla, Director of Kalla Group. On top of that, with the dedicated team from Oracle, Kalla Group also formed an internal team to make sure that their digital journey can run smoothly and be understood by all of their employees.  
At its best, cloud infrastructure serves as a strategic weapon, enabling companies to quickly and cost-effectively adapt to changing marketplace demands. While executing a cloud transformation strategy, the company's finance and HR leaders will be able to learn much more than how to integrate a new technology with existing operations and support systems. They can expand their roles, instill an organizational culture of continuous change and improvement, and develop the ability to clearly conceptualize the shape of the next disruption so they can prepare for tomorrow, today.