A Brand Reachout Initiative
HCM/HRMS/HRIS
Learnings from leaders at Oracle OpenWorld Singapore
Let's Talk Talent Read similar articles
At Oracle OpenWorld in Singapore, leaders urged businesses to embark on digital transformation, embrace technology to create the future of work, and create their own playbook to reinvent the future.
'Create your tomorrow, today'. With this forward-looking theme, the Oracle OpenWorld Singapore held at Marina Bay Sands, Singapore, in March, brought into focus the future of the world of work, technology, and human capital management. The conference brought forth expertise from thinkers, innovators, futurists, and industry leaders on leveraging transformational technologies to create future possibilities.
In the HCM track, the focus on transformative technologies was much evident from the opening keynotes which dwell on the future of technology and AI and how it can be used in overcoming bias and fostering diversity. Digital transformation was the dominant theme with one of the opening sessions focusing on the transformative journey of HR at AXA wherein Susan Prayana, Regional Manager, HR Data & Efficiency, AXA, and Jamie Koegler, Head of Total Rewards, AXA Singapore shed light on how AXA has undergone a major HR transformation while evolving its current global PeopleSoft HCM platform to the Oracle HCM Cloud.
The key message which Jamie shared for organizations embarking on their digital transformation journeys was," You don't have to do everything all at once." Setting step by step timelines is what helps in the transformation process.
However, at the same time, business systems today need to act and react at the speed in which business environments exist today, cautioned Steven Miranda, EVP Oracle Applications Product Development in his opening keynote.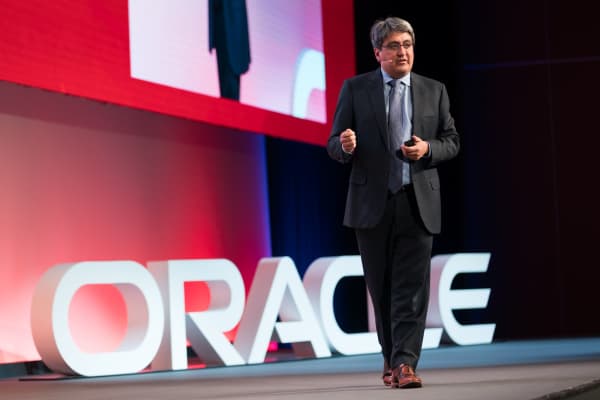 As HR partners with business in tackling disruption, how can HR too evolve at the speed of disruption? This is what Alison Sibree, Senior Vice President Human Resources, Asia Pacific & Japan for Oracle Corporation, touched upon in her session which focused on how HR leaders can prepare their organization for the age of disruptions.
Alison stated, "We have to be prepared emotionally and intellectually for disruption. Disruption is slow to start with and linear but becomes quite violent at the end."
She added that herein lay HR's opportunity to help close the gaps among technology, individuals, businesses, societies and the governments.
What does the Future of Work mean for you?
While HR helps prepare organizations for the age of disruptions, how exactly will these disruptions shape the jobs of the future and skills in demand? A thought-provoking session by Su-Yen Wong, Founder and Chief Executive Officer, Bronze Phoenix, shed light on the same, highlighting the implications for individuals, organizations, and society on what the world could look like in 2030 and how it will affect the world of work.
One of Su-Yen's most provoking thought was, "Convergence of AI and technology is creating a lot of jobs that did not exist before."
Her advice to the audience prepping for the future of work can be summed up in five key takeaways-the future lies in learning, working, and playing concurrently, developing a broad radar, building diverse networks, driving change from within, and not just working but living wisely and well too.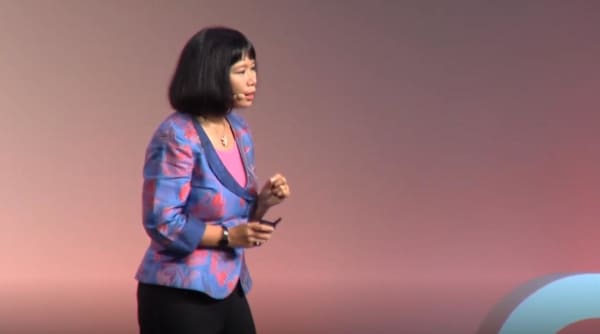 The role of innovative HR in shaping the future
But how exactly can you drive business values through innovative HR? This is something which Emily He, Senior Vice President, Human Capital Management Cloud Business Group, Oracle touched upon in her session wherein she spoke on how Oracle HCM Cloud can help businesses transform the way they do business.
Emily stated, "The rate at which humans are adopting technology is slower than the rate at which enterprises are deploying technology. This is the opportunity which Oracle wants its customers to seize."
She further revealed how Oracle HCM has made technology more human by reimagining the UI to be more simple, hyper-personalized and self-learning driven. 
Emily's key takeaway for the audience was that we are entering an era where we can have a really different kind of relationship with technology.
Organizations need to create their own playbook to reinvent the future 
As organizations leverage the power of technology and HCM to fight disruptions, one of the most potent tools in their arsenal is organizational agility. An interesting panel discussion comprising Cher Pong Ng, Chief Executive, SkillsFuture Singapore; Shakun Khanna, Head of HCM Cloud Applications, APAC, Oracle; Andrew Dennan, Group Talent Acquisition Manager, Synlait Milk Limited; and Renee Dumble, People and Culture Project Lead, Followmont Transport shared how their respective companies approach and plan for organizational agility to win in the age of business disruption.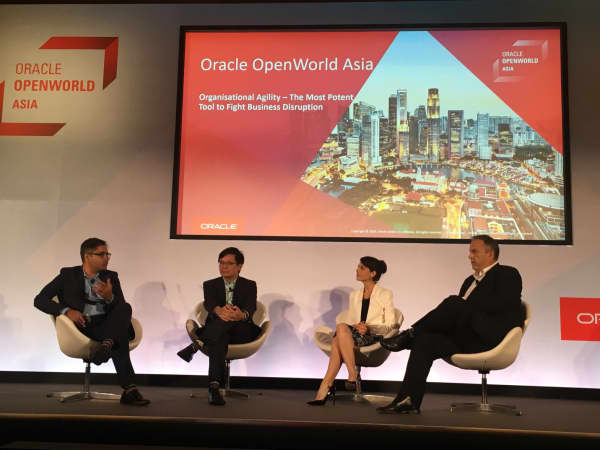 The key takeaway from the discussion was that organizational agility is not about technology alone but encompasses everything from culture to skill building to leadership.
In sync with the theme of the conference, the keynote by Sandra Ng, Group Vice President, Asia/Pacific Practice Group, IDC focused on how to reinvent the future. Sandra highlighted that the race to digital transformation is creating new digital economies and new benchmarks for organizations or what we call the future enterprises.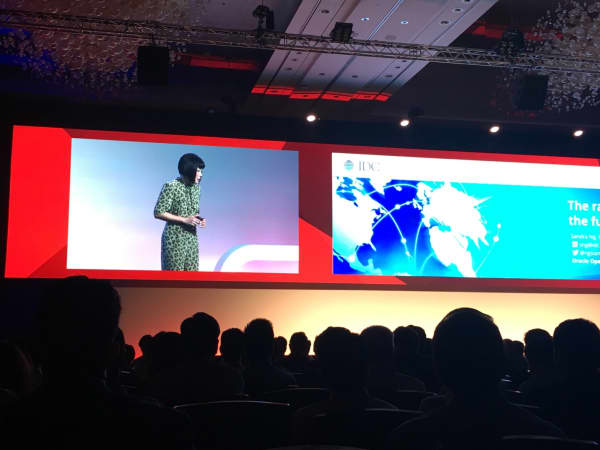 Sandra drove home a powerful message for organizations in her session, effectively summing up the theme of the conference by revealing the five masteries needed for digital transformation-leadership at scale, empathy at scale, insights at scale, resilience at scale, and finally work models at scale.
In conclusion, organizations need to create their own new playbook to reinvent the future by pursuing use cases that create business value, create digital innovation at scale, and harness the power of connectedness of humans and machines in the future of work.
(This article is based on the key learnings from Oracle OpenWorld Asia: Singapore which concluded at Marina Bay Sands, Singapore from 26-27 March 2019. The next Oracle OpenWorld will be held at San Francisco from September 16-19, 2019.)