Startups
10 AI-powered solutions set to redefine the future of work at TechHRSG
The 10 startups at People Matters TechHR Singapore depict how AI-powered solutions will streamline and improve hiring practices, coaching, monitoring and scouting talent in the future.
Said to be the Silicon Valley of Asia, Singapore, with its pro-business environment and booming digital economy, is home to over 4,000 tech startups, 20 unicorns and more than 220 incubators and accelerators. The government's commitment to fund billions in research, innovation, and projects is a clear indication that Singapore is serious about maintaining its startup ecosystem. While fintech and e-commerce have always been a part of the startup sector, today, we see agritech, foodtech, healthtech, biotech, HR tech, edutech and deep tech, among others, emerging to add value. With the AI-powered future knocking at our doorstep, we take a look at the ten startups, that are redefining hiring, monitoring, coaching, recruitment and analysis in HR, who were also a part of People Matters TechHR Singapore.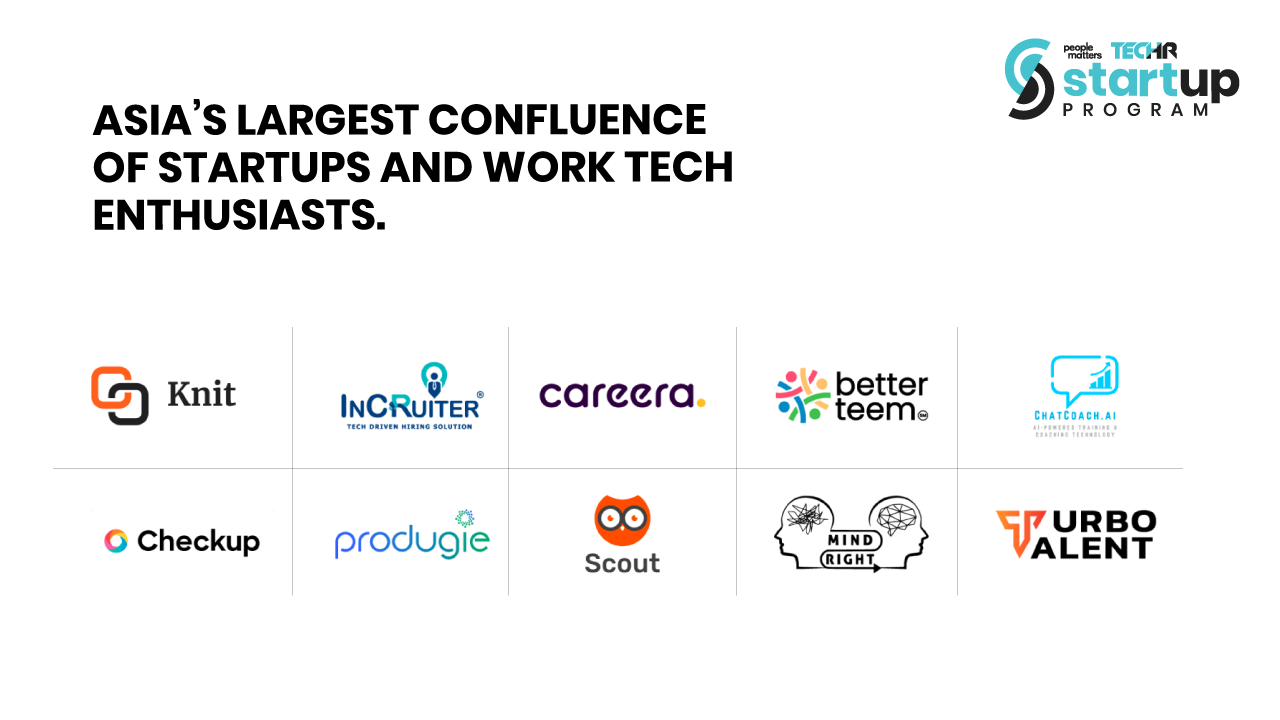 The ten startups got the opportunity to pitch at Asia's largest confluence of VCs, investors and work tech enthusiasts, with the likes of Daniel Callaghan, Ollie Wood, Kshitij Karundia, Sunil Setlur, Vicky Chai, Ajith Isaac, Chieh Suang Khor, Ali Fancy, Thomas Wai and Raghunath Koduvayur as well as get mentored by these icons. Here's taking you through what each of these startups is known for and how they are leveraging AI to change the game and bridge the gaps at work:
Betterteem 
An AI-powered employee experience analytics platform, Betterteem is known to improve employee experience and predict unwanted resignations. So, how does it do it? The platform gauges employees' sentiments to help leaders improve talent engagement and retention, feeds leaders with insights on the drivers of unwanted resignations and prescriptive insights on how to mitigate them along with an employee discount platform that offers a variety of store deals nationwide, including clothing, food, electronics, travel, and experiences. With each new generation joining the workforce, bringing with it its own set of qualities, traits, and values, this data-driven analytics platform can empower organisations to process vast amounts of data and make informed decisions.
InCruiter
A next-gen tech-driven hiring solution, InCruiter offers an array of products including InCFeed, InCVid, InCServe, InCExit and InCSource that helps you manage job postings, candidate assessments and HD interview recordings, among others. The AI-powered tools on the platform built on 3I's - intuitive, impeccable and incredible help organisations streamline hiring process and improve recruitment process. Established in 2019, the B2B SaaS platform has served over 250 businesses till date and is set to grow bigger and better in the years to come. 
Knit
Build with the aim to ship and scale product integrations faster, Knit offers one API for all integrations. Customers have the choice to add hundreds of third-party applications to their apps with the Knit Unified API that links, authorises, syncs and manages HR tech stack as well as connects with multiple ATS, HRIS, accounting, CRM and chat tools. Get Knit to streamline all your native integrations, so you can focus 100 percent on upgrading your product. The platform has continuously strived to make software integrations quick, easy and less resource-intensive. 
Checkup
Known to be the #1 contactless vital signs monitoring company in Asia for workers and their families, Checkup lets you glimpse through your health warning signs in just 5 seconds with your camera. With one of the most advanced suite of preventive care services called Trinity built on key pillars such as reflect, connect and proact, the platform offers services such as Trinity Gyms, Trinity HR and Trinity Platforms. Now, the wellbeing of your employees and customers will be quick, convenient and reasonable with Checkup!
ChatCoach.AI
The AI-powered training and coaching solution, ChatCoach.AI is said to be the future of corporate training, set to elevate skills and unlock potential. Designed for individual learners, trainers and firms, the platform features adaptive learning engine, expert-driven content, real-time feedback and assessment, gamified learning experience, AI-powered performance analytics, and seamless integration and scalability. It's time to transform learning for you, your teams and organisations with ChatCoach.AI in a rapidly evolving business landscape. 
Produgie
Align, accelerate and amplify your leader's and team's impact with Produgie, a solution designed to get your business future-ready faster. With features to increase manager impact by 3X, scale personalised leadership development and team impact, accelerate change and innovation, gain deeper insights to drive performance and growth, master the hybrid workspace and secure data, the platform was developed by organisational psychologists and technologists with the vision to enable healthy and sustainable growth for all businesses. 
Careera
With the belief that traditional recruitment processes are broken and aren't working anymore for hiring companies or talent, Careera was created as a better way to find candidates and jobs. The AI-empowered way to hire and get hired removes recruitment hassles, reduces bias and intelligently identifies and matches the right talent to the job. And the best part about the all-in-one platform is it empowers all talent with fair job opportunities regardless of their gender, ethnicity, age or physical abilities, and does not collect data that can create bias.
MindRight
With the vision that once you get your mind right, you can live a better life, MindRight was founded. It is endeavoured towards making mental health easy to understand and accessible to everyone. Their workshop-styled training programs such as leadership of self, mastering emotion and becoming a leader help empower individuals with the business skills that can be applied immediately across both, professional and personal life. The one-to-one mental health service is designed to meet the fast paced needs of employees across Asia as it infuses positive psychology.
Scout
Are you looking to scout tech talent? By harnessing AI, Scout enables you to search for more tech talent in half the time, guaranteeing faster fill rates and increased revenue. The differentiating factor for this AI-powered sourcing engine is its broad spectrum search that gathers information from social networks, professional communities and personal pages, near instant results with the first recommendation added in less than a minute and high candidate relevancy with the recommended candidate sought through a well-rounded lens. All recruiters have to do is upload a JD, view the recommendations and connect instantly. This is your chance to access millions of talent profiles in Singapore, Indonesia, India and Australia with a single subscription.
Turbo Talent
Utilising your vision, your voice, your brand, Turbo Talent, an AI-powered job portal empowers your business to discover and attract the best talent through a simple yet incredibly powerful recruiting ecosystem. Designed for recruiters and job seekers, it features Turbo Launch, Turbo Track, Virtual View, Turbo CVs, Turbo Tracker and Turbo Badges. With the help of Turbot, recruiters can build their brand instantly, communicate seamlessly and assess profiles with one click. For job applicants, Turbot is known to validate skills, improve their odds and remove bias based on English language. In the end, Turbo Talent makes the job search faster, smarter and more inclusive. 
We all believe that technology when used for good has the power to eliminate barriers and create a more equitable world of work and each of these startups is aimed towards bringing transparency and fairness to the future. So, give them a try and see for yourself!