Employment Landscape
Asia-Pacific nations secure 8 out of the top 15 positions in GSLI 2023 rankings
India, China, and Malaysia secure the top three ranks, with Singapore leaping from 38th to 14th in 2023, as per the GLSI 2023 report by Kearney. Geopolitical, economic, and technological shifts reshape markets, making talent renewal pivotal for offshore services.
'The forefront is taken by Asia-Pacific (APAC) nations, where India, China, and Malaysia secure the top three spots primarily due to cost-effectiveness, productive talent pool, and impressive skills. Additionally, Indonesia, Vietnam, Thailand, the Philippines, and Singapore find themselves within the top 15 ranks', according to Global Services Location Index (GSLI) 2023 report conducted by Kearney, a global management consulting firm. 
GLSI assesses 78 countries using 52 metrics encompassing four key aspects: financial appeal, workforce skills and availability, business environment, and digital alignment. It emphasizes that essential elements like talent replenishment and digital proficiencies play a pivotal role in rendering countries conducive to offshore services.
The global index emphasises evolving business landscapes, with sectors such as IT, BPO, and engineering services progressively crossing global boundaries. This shift is driven by companies aiming to cut costs, expand skill development, and enhance operational efficiency through the utilisation of the global talent pool.
Additionally, the study reveals that APAC markets emerge as promising choices for offshore service placements, strengthening India, China, and Malaysia at the forefront as the top three destinations in the index. Notably, Singapore has leapfrogged by an impressive 24 positions, going from 38th to 14th place in this year's ranking, marking the most significant advancement by any country.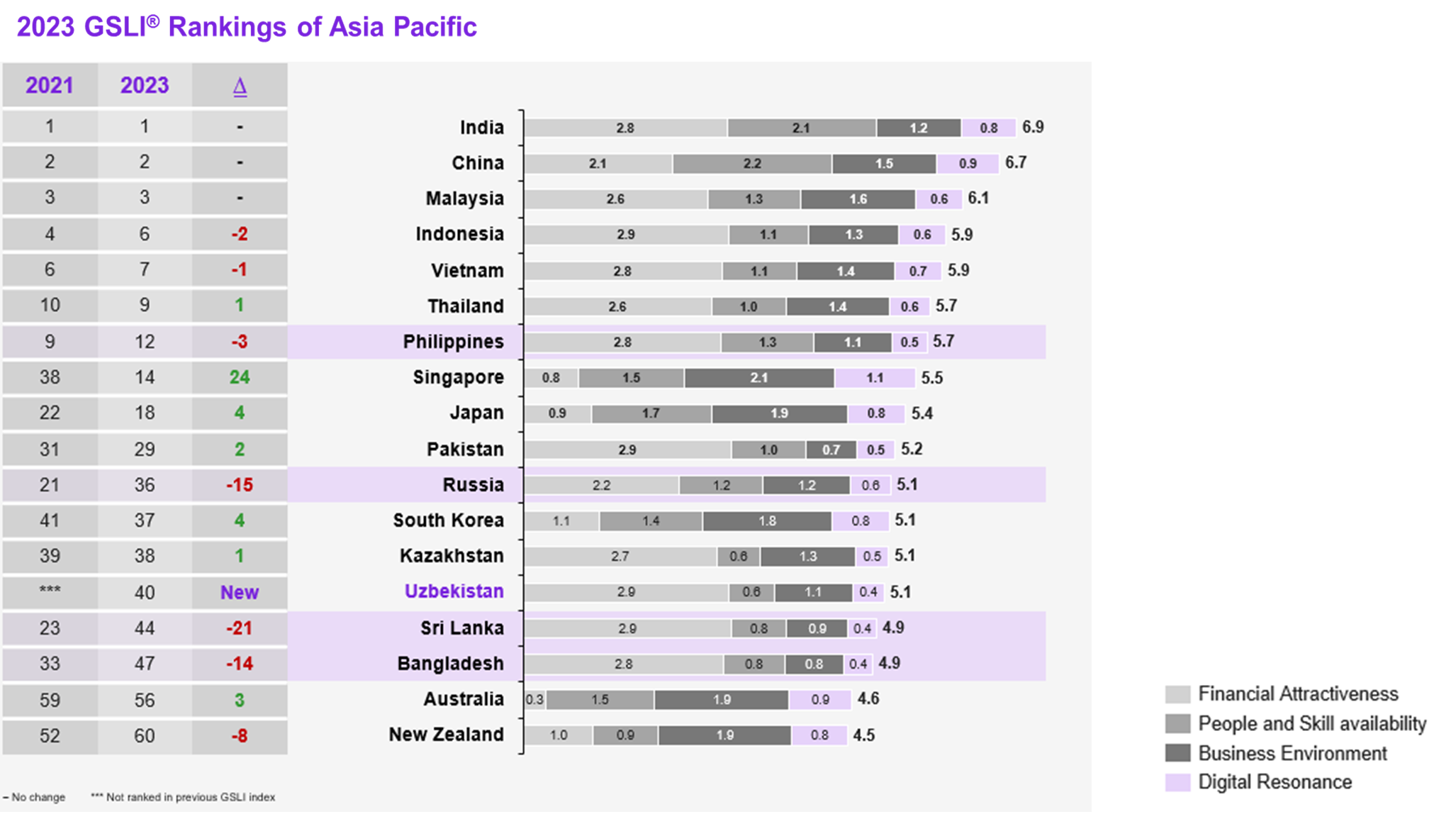 Arjun Sethi, Global VC of Digital Transformation, Regional Head and Chairman APAC Region at Kearney stated, "Geopolitical, economic, and technological forces have spurred significant changes in the global labour market. Therefore, a country's ability to reskill and redeploy its workforce in response to changing market demands and technological disruptions is key to improving its attractiveness as an offshore location for business services, Talent regeneration will be the most crucial game-changer as Industry 4.0 continues to reshape the demand for future skills and jobs. And this is what has kept the top three countries – India, China and Malaysia – solid in the Index for a few years now, while the rest have been fairly fluid in their positions. So in a nutshell, while building regenerative talent pools, everything, everywhere, all at once, is what a country should seek to achieve - to consistently stay ahead of the curve."
Sustaining appeal through talent regeneration
One of the most highlighted trends in this report was - talent regeneration. This points out, a country's ability to:
Advanced re-skilling of its talent pool
Workforce re-deployment as per emerging market demands
Overcoming technological challenges to retain itself as an attractive off-shore location
'With the emergence and adoption of digital technologies, cost-centric service locations are at risk of losing their competitiveness to more developed and technologically advanced countries as more work and processes will be automated. Talent regeneration, therefore, will serve as the backbone of this shift,' stated the report. 
Furthermore, the report reveals talent regeneration capabilities and readiness of countries as under
Singapore stands out as the leading emerging technology hub and innovation epicenter in both APAC and SEA. 
India and China likewise demonstrate robust talent regeneration and are anticipated to take the global leader in terms of having an extensively tech-savvy workforce. 
Moreover, established offshoring pioneers in the region – including India, China, Malaysia, Indonesia, Vietnam, and Thailand, must prioritize substantial investments in talent renewal.
This step is essential as the competitive edge based solely on labour cost diminishes in significance due to technological upheavals and socio-economic considerations.