Compensation & Benefits
Pay raises and salary trends for 2024: What you need to know
From India and Vietnam's 8-9% salary hike estimates to cautious optimism in the US, explore projections on compensation growth for 2024 —insights drawn from reports by WTW, Aon, Mercer, and more
As 2023 draws to a close, the global job market anticipates shifts in salary trends. Employers and employees alike are eager to gain insights into how compensation will evolve in 2024, especially in the midst of prevailing global economic uncertainties. From India's optimism to an anticipated shift in the US to a focus on high-demand roles in Singapore, these forecasts offer some crucial insights into salary trends for 2024. In the face of challenges like stagflation, pandemic recovery, remote work, and a labour shortage, determining the appropriate compensation for employees has become more delicate and complex than ever.
59% of Singapore businesses to raise pay in 2024
Robert Walters: Nearly 60% of businesses are gearing up to implement pay raises in 2024, as reported by Robert Walters. Among professionals, 50% anticipate a salary increase, while a substantial 78% are actively exploring new job opportunities for the upcoming year. The leading sectors driving the pay raise trend in 2024 are Tech and transformation, Supply Chain and procurement, Sales and marketing, and Human Resources, each showcasing an impressive 63% surge.
Job changers, particularly in talent-short fields like tech, can anticipate substantial pay raises ranging from 10% to 15%. The increment is contingent upon the scarcity of skill sets, as highlighted by the survey.
According to Monty Sujanani, Country Manager at Robert Walters Singapore, "Salaries are expected to increase based on several factors – economic growth, inflation rates, industry trends and labour market conditions," according to Monty.
Interestingly, there are gaps between perceptions of employers and employees in terms of salary and benefits, as well as work-life balance initiatives such as flexible work arrangements, and the concept of a four-day workweek, according to the study.
Asia expects 5.2% salary boost in 2024 
Mercer: Employees across Asia can expect an average salary increase of 5.2% in 2024, according to Mercer's annual Total Remuneration Survey (TRS) 2023. The slight uptick from the consultant's 5.1% forecast for 2023 indicates steady salary growth ahead.
The TRS survey collected data from multinationals across 12 Asian markets and 15 industries. Findings reveal significant variation - India tops with projected hikes at 9.3%, while Japan lags at 2.6%.
"Transportation Equipment and Banking/Financial Services lead with expected increases of 5.5% and 5.4% respectively," said Puneet Swani, Mercer's Senior Partner and Career Business Leader for Asia, IMEA and Pacific.
Upbeat outlook for Southeast Asia
Varied salary trends across industries: Aon's 2023 Salary Increase and Turnover Report for southeast Asia foresees steady salary growth despite economic concerns. While Singapore and Malaysia maintain 4.0% and 5.0% salary rates, projections reveal a robust increase: 6.5% for Indonesia, 5.5% for the Philippines, 4.9% for Thailand, and 8.0% for Vietnam in 2024. Despite lower attrition rates in 2023, southeast Asia grapples with double-digit attrition, emphasising evolving talent strategies. Rahul Chawla, head of Talent Solutions at Aon, underscores the need for firms to reassess compensation strategies using advanced analytics for competitiveness.
The report notes cautious optimism in hiring trends, with 40% reporting no change and 40% implementing hiring restrictions. Despite earlier layoffs, Aon's data shows overall headcount surpassing pre-pandemic levels, with layoffs concentrated in non-core areas. Looking to 2024, the report highlights varied salary trends across industries, providing insights into the dynamic compensation landscape.
India: Companies anticipate a 9.8% salary hike
Willis Tower Watson survey: Companies in India are anticipated to offer a 9.8% salary increase in 2024, slightly lower than the 10% rise in 2023. This cautious approach reflects ongoing cost scrutiny across industries, according to a survey by Willis Tower Watson. India maintains its lead in salary increments across Asia Pacific. Projections for 2024 show Vietnam at 8%, China at 6%, the Philippines at 5.7%, and Thailand at 5%.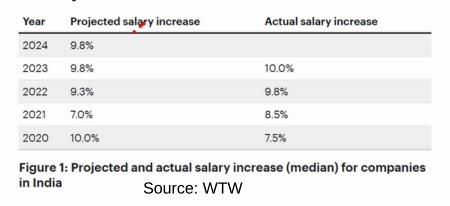 Rajul Mathur, Consulting Leader, Work and Rewards at WTW India, explains, "Companies are closely monitoring their cost structures. In the IT sector, we expect a noticeable correction, with projected increments reducing from around 11 to 12% in the past to 10% for 2024."
US: A radical shift in wage growth for 2024
Online job platforms predict lower growth: In 2024, a 'radically different' wage growth forecast emerges. Employers are budgeting smaller salary increases compared to this year, while online job platforms like ZipRecruiter, Indeed, and Glassdoor predict an even sharper slowdown in posted wage growth.
"By all expectations, the mood for (wage growth in) 2024 is radically different than what it was going into 2023," notes Aaron Terrazas, Glassdoor's chief economist.
Singapore: A focus on high-demand roles
Morgan McKinley survey: According to a survey by Morgan McKinley, nearly three-quarters of Singapore employers plan to increase salary offers for high-demand roles in 2024. The study also found that 80% of organisations found hiring competitive in 2023, with almost 40% facing challenges in recruitment due to salary constraints. Despite this, 43% of Singapore businesses intend to hire in the next six months. Higher salaries remain the top reason for job changes, followed by career growth and development opportunities
US: Employers expect modest pay bumps
Mercer survey: A recent survey by consulting firm Mercer reveals that U.S. employers are planning more modest pay increases for the upcoming year. They intend to allocate 3.5 per cent for merit increase budgets in 2024, down from the 3.8 per cent awarded in 2023. Additionally, total salary increase budgets for nonunionized employees are projected to be 3.9 per cent, a slight decrease from 4.1 per cent in 2023.
Lauren Mason, Senior Principal for Career at Mercer, notes that while these figures show a slight decline, they still remain "well above pre-pandemic levels." This trend indicates the continued tightness in the labour market and low unemployment rates.
Singapore salaries rebounding in 2024
ECA International: The real wages in Singapore, which are equal to nominal wage growth minus the rate of inflation, fell by 1.5% in 2023 and are expected to rise once again in 2024, where workers will see an 0.5% increase in real wages, according to Salary Trends Report by ECA International (ECA). In nominal terms, salaries for workers in Singapore increased 4% in 2023 and are projected to increase at the same level again in 2024. The forecast for 2024 is a return to real salary growth with an expected increase of 0.5% in real terms. "Singapore was expected to see a return to real salary growth in 2023," explained Mark Harrison, General Manager, Asia for ECA International.  
Globally, salary growth in 2024 to be 5% 
ECA International: Globally, nominal salary increases averaged 5.0% this year and are forecasted to remain the same in 2024. Inflation rates are expected to drop from 5.5% this year to 3.6% next year. Factoring in inflation, global salaries fell by 0.9% on average in real terms in 2023, but are projected to grow by 1.0% in real terms in 2024.
In Europe, real salary growth trails other regions. Salaries are expected to grow by 0.9%, compared to the 2.2% increase projected for employees in Asia in 2024. In the UK, real salaries fell by 2.7% this year. However, with a predicted decrease in inflation from 7.7% in 2023 to 3.7% in 2024, real salaries in the UK are forecast to rise by 1.3% next year.