C-Suite
Marvel, an inspiration for talent and business leaders: Newsmaker of 2019
From getting bankrupted in 2006 to delivering the highest grossing movie ever in 2019. Know what made Marvel Cinematic Universe a profitable business in 2019?
The Ironman's death in Avengers: Endgame was a big shake-up for Marvel Fans. However, the movie turned out to be a greater shake-up for box-office as it became the highest grossing film ever with a total earning of $2.79BN, topping "Avatar's" record of $2.7897 BN.
On the opening weekend, "Endgame" did the impossible. It hauled in $357 MN in the U.S. and $1.2 BN at the global box office. 
How Marvel moved from a bankruptcy in 1996 to a $4 BN buyout in 2009 and being the most successful entertainment company is an inspiration for all the businesses that are approaching disruption. In fact, the year also saw media talking about what businesses can learn from the Marvel Cinematic Universe.
So what makes Marvel a superhero in business?
Building connection
What makes Marvel to have a trump hand over other production company is its loyal customer base. It wouldn't be wrong to say that Marvel fans are some of the most passionate fans in the world. But what makes them keep coming back to watch Marvel films year after year? Is it Iron-man's quick wit or Thanos quest for Infinity stones? As the movies progressed, and the franchise grown older, we find ourselves invested in the lives and journeys of our favorite superheroes. Marvel, in their comics have built a great emotional connect between their characters and the consumer. We cheer in their victories and lament in their defeats.
Companies must similarly work to make their employees care for the business. Feelings inspire people to act. Make employees feel invested in your brand and its story in order to build a loyal employee base.
Hire right- not for experience but for innovation
According to an earlier study conducted by HBR, it was found that over the years, Marvel has a specific hiring strategy which plays a big role in the success of its movies. Of the 15 MCU directors, only one director had previously worked for a superhero movie. Take this example of Ryan Coogler who directed Black Panther which became a worldwide phenomenon, had no prior experience in Superhero movies and had previously directed movies like Creed and Fruitvale Station. This contributes to the fact that these directors brought a unique vision to each movie. 
Most of the organizations around the world hire for experience in a certain industry or a job role. However, given the disruption and the pace of change, businesses require people to perceive challenges and problems from different lens. This makes it crucial for talent leaders to reinvent their traditional hiring policies and hire people for how they can impact future than how they impacted the past.
A high-quality & consistent experience:
Marvel has achieved something most brands would dream of by providing a consistent high-quality experience across multiple films. As many as 19 of the 22 MCU movies are "certified fresh," on review aggregator Rotten Tomatoes. Moreover, Marvel films collectively feature interlinking storylines, quick-witted humor, adrenaline-pumping action sequences and lots of heart. It's easy to recognize an MCU film.
The rise of omni-channel shopping experiences means consumers today interact with brands at multiple touch points. It is essential for companies to deliver consistent seamless brand experiences across the board whether it's online or in-store.
A leadership with a vison:
Every successful brand has a visionary behind the wheel. Someone who is a driving force, a key decision maker, has the ability to look light years ahead, and not only see the big picture, but is also involved in the little details. Marvel Studios has Kevin Feige who was involved with casting choices, choosing directors, developing storylines, setting the tone, and making the decisions on which character to bring onscreen.
Kevin approaches all of these movies from a fan's point of view and not as a businessman or produces. He makes stories that he knows he himself would enjoy. In fact, Kevin was once quoted saying, I was never cynical about sequels. I was always excited to see how characters I loved would grow and change."
In a feature by Variety, Kevin shared his to-do list: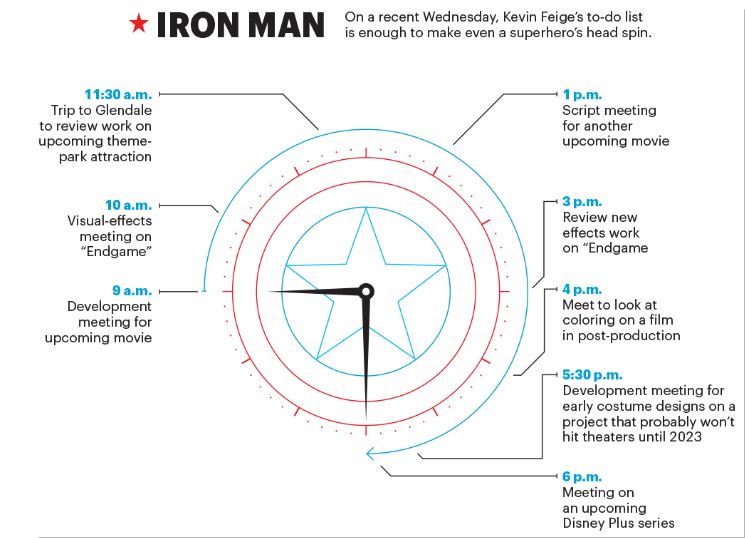 Taking cues from Kevin's leadership, the organization needs to have a leader who has a vision and believes in that vision and work with the team to deliver it.
It comes as no surprise that the biggest superhero franchise is a superhero of business in itself. Earlier this year we authored many articles inspired by the Marvel and its last movie Avengers: Endgame. Here is a look at how Marvel is an inspiration to talent leaders around the world.
Here is a snapshot from the articles:
Every superhero started out as a human. A resource of power. Today's superheroes have human sensitivities and real-world parallels. Some movies even aim for the Oscars. So of course, it comes as no surprise that the biggest superhero franchise is full of real-life parallels to everyday superheroes we work with.
Ever wished you could go back in time and change something you did or said, solve a problem of today by rectifying a move made in the past? While time travel in the literal sense is not a reality yet, but imagine if you could explore the quantum realm at work and change the past, present and the future.
A look at how Marvel has succeeded and innovated by making the MCU as diverse and inclusive as possible.