Technology
ChatGPT job posts soar 21x: LinkedIn report shows AI skills growth in Singapore, India, Canada
According to LinkedIn's Future of Work Report, Singapore, Finland, Ireland, India, and Canada are witnessing the swiftest dissemination of AI skills.
Currently, AI stands as one of the most prominent subjects within the realm of work, owing to its potential to reshape not only the individuals we collaborate with but also the methodologies we adopt in the future. 
Recognising the significance of comprehending the progression of work amid the AI era, LinkedIn shared its quarterly Future of Work Report: AI at Work, to provide insights for both professionals and business leaders, facilitating an understanding of the unfolding trends.
The report cantered on two primary focal points - demonstrating not only a rise in job postings but also a surge in the number of LinkedIn members worldwide who are incorporating AI skills into their profiles. And, while jobs are not necessarily disappearing, their nature is anticipated to transform, along with the requisite skills to fulfil these roles.
AI and employment
Although AI is not a new, the introduction of ChatGPT in November 2022 sparked a rapid surge in both curiosity and discussions related to AI, particularly in the context of GAI, on LinkedIn.
Professionals and enterprises are progressively adopting AI-assisted tools like ChatGPT into their everyday tasks and adjusting their workflows accordingly. The report from LinkedIn stated, "Job listings mentioning new AI technologies are also on a rapid ascent. This is evident to the extent that the proportion of global English-language job postings referencing GPT or ChatGPT has escalated by 21 times since November 2022."
The increase in skills among members, heightened job postings by employers, and the growing number of platform discussions collectively point to a heightened competition in recruiting talent for specialsed AI positions. Given that many of these roles are novel and not adequately covered by existing degrees, filling them will necessitate a greater focus on skill-oriented hiring practices.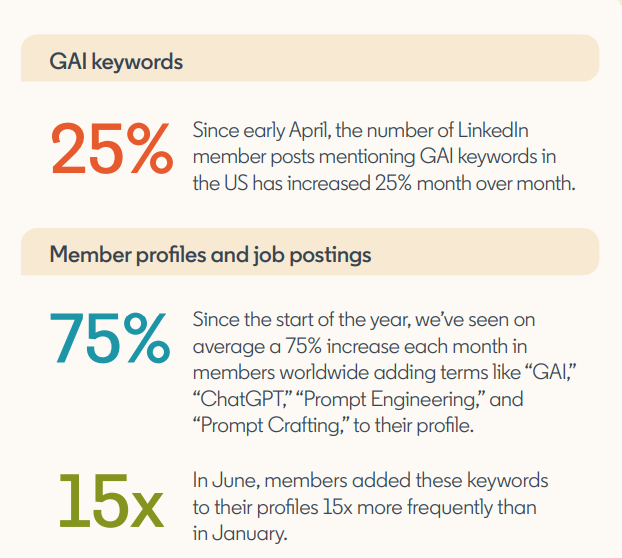 "Companies that focus on skills and shift away from more antiquated signals like degree, pedigree, or where someone worked previously, will be able to ensure they have the right people with the right skills, in the right roles, doing their best work. And it doesn't stop there. Once you have those employees in the right roles with the right skills, it's equally important to continue investing in their career progression and skills," said Ryan Roslansky, Chief Executive Officer, LinkedIn, Fortune. 
Insights from the report
In order to proactively address the transformations introduced by AI and GAI in the work landscape and to facilitate the swift integration of AI tools, employers must prioritize the enhancement of AI literacy through upskilling and reskilling initiatives for professionals.
Enterprises must possess a comprehensive understanding of their existing skill sets and the skills required for their operations. This will enable them to effectively recruit candidates possessing the appropriate skills and strategically implement upskilling initiatives to enhance the capabilities of their current workforce.
Advancement of AI skills across industries and geographies
More LinkedIn members worldwide are incorporating AI skills into their profiles. Drawing from AI Skills Index data across 25 countries, it was revealed that by June 2023, the count of AI-skilled members had expanded by a factor of 8 compared to January 2016.
The index highlights that Singapore, Finland, Ireland, India, and Canada are currently undergoing the most rapid diffusion of AI skills. Moreover, the adoption of AI skills is extending beyond the confines of the tech sector and permeating various industries such as retail, education, financial services, and numerous others.
"To realise the full promise of AI productivity gains depends on the diffusion of skills across geographies, industries, and talent. AI adoption and optimisation of its use will of course take time, but at this early stage it appears that the pace of diffusion is getting underway. The brightest global economic outcome is one where innovation can scale borders and boost productivity growth for all," stated Karin Kimbrough, Chief Economist, LinkedIn.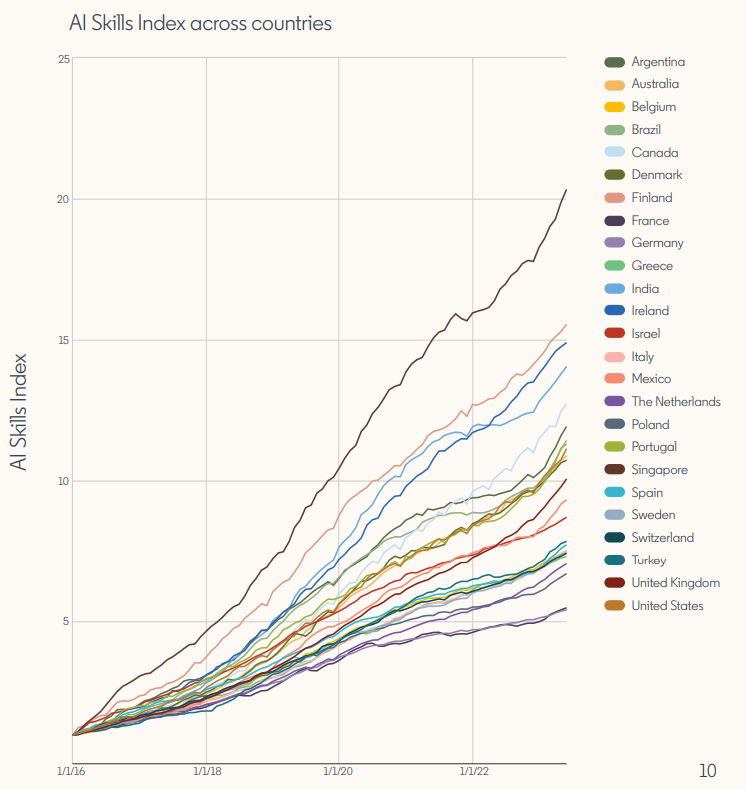 As of June 2023, Singapore has exhibited the most significant diffusion rate over the course of time (20x); this signifies that the proportion of members who have integrated AI skills into their profiles is 20 times greater compared to January 2016. Following closely are Finland (16x), Ireland (15x), India (14x), and Canada (13x), which make up the top five nations with the highest rates of AI skills diffusion.
In the United States, the sectors of Technology, Information, and Media exhibit the most substantial proportion of AI-skilled members (2.2%). While relatively modest, this figure considerably surpasses other industries like Education (1.2%), Professional Services (0.9%), Financial Services (0.9%), and Manufacturing (0.8%). Nevertheless, it's important to note that several other industries are swiftly closing the gap.
Analyzing the pace at which members are integrating AI skills into their profiles, it becomes evident that individuals in the Financial Services sector (30x), Retail sector (29x), and Wholesale sector (24x) are adopting AI competencies more rapidly compared to professionals in the Technology, Information, and Media field (11x). 
Among ten industries in the United States, Financial Services stands out as the sole sector in which the proportion of members equipped with AI skills and the speed at which they are incorporating AI skills into their profiles surpasses the average across industries.
AI and its boom: Insights from executives and employees
AI is heralding a transformative era of work that holds the potential to influence jobs, careers, and entire industries. Individuals are seeking insights into the forthcoming changes in work dynamics and are eager to ascertain how they can take charge of their professional paths. Within the LinkedIn community, professionals and businesses are uniting to raise inquiries and engage in discussions about the profound impact of AI on the future of work.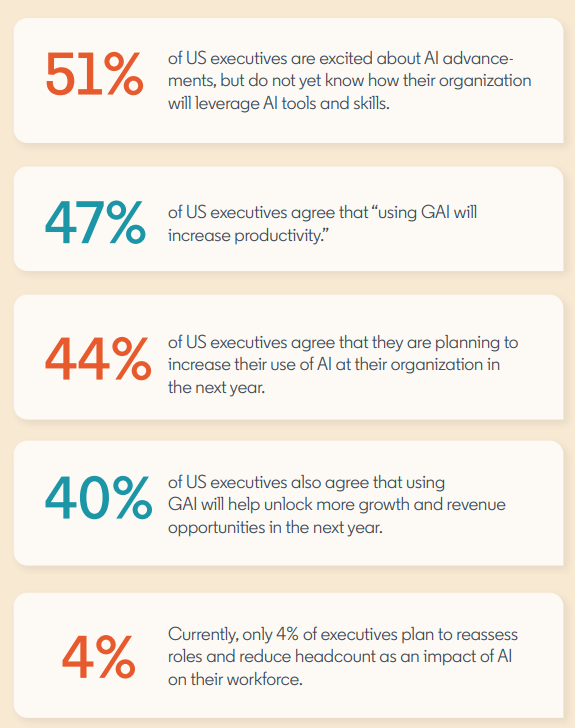 C-suite
According to the report's findings, executives in the United States maintain an optimistic perspective regarding their business outlook, particularly concerning their capacity to generate profits and foster future expansion, despite persistent uncertainties surrounding the broader economic landscape. However, in terms of talent management, these executives exhibit a lower level of assurance regarding their ability to attract and retain employees. Furthermore, they acknowledge the need for enhancement in talent development endeavours.
Executives 
Apprehension is a common response to any technological shift, and the introduction of AI is no different. However, LinkedIn has noted a prevailing sense of enthusiasm among professionals regarding the potential of these tools to enhance productivity and alleviate work burdens. Microsoft's 2023 Work Trend Index Annual Report corroborates this sentiment, indicating that a significant majority of individuals (70%) are inclined to assign tasks to AI in order to alleviate their workloads.
The impact of GAI on the work landscape
As AI skills continue to advance across various industries and geographical locations, we are also observing the integration of GAI, including solutions like ChatGPT, into the realm of work. As businesses and institutions assimilate these novel technologies into their daily functions, a transformation of our everyday work tasks is imminent. GAI's implementation is poised to streamline certain tasks, introduce new skill requirements, and emphasize the significance of interpersonal abilities.
Every job entails tasks that are within the capabilities of GAI, although the impact on each job varies.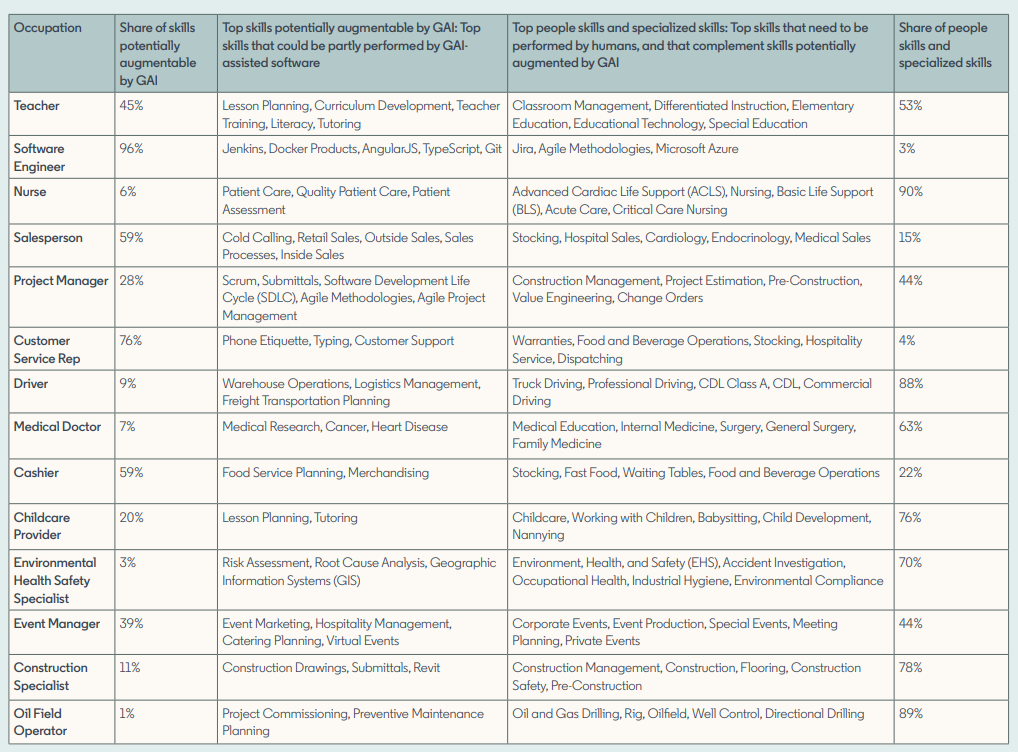 LinkedIn's labour market insights are derived from a collective analysis of over 950 million professionals.