Talent Management
Leaders feel their expectations are met, staff don't: Qualtrics study
The APJ findings of Qualtrics' 2023 Employee Experience Trends Report suggests that EX strategies have taken a wrong turn - they are more aligned towards meeting the expectations of leadership than the needs of employees.
53% of senior and executive leaders say their expectations at work are being met. Over 70% are happy with their well-being and find they're fairly paid, they feel engaged and included, and they're confident that their career goals can be met. And because of that, they're happy to stay with their employer.
But far fewer middle-managers and junior employees feel the same way. Only 33% of this group feel that their expectations are being met. Less than 60% think they're being fairly paid for the work they do or that they can achieve their career goals at their current company. They feel less engaged and included than their senior counterparts, they are less happy about their well-being, and 40% of them don't intend to stay on.
This disconnect is a major finding of the Qualtrics 2023 Employee Experience Trends Report for Asia Pacific and Japan. Based on 10,965 responses from workers in the region, the report has identified that employee experience - how it is conceptualised, strategised, and executed - is apparently more aligned to the expectations of senior leaders than to their teams.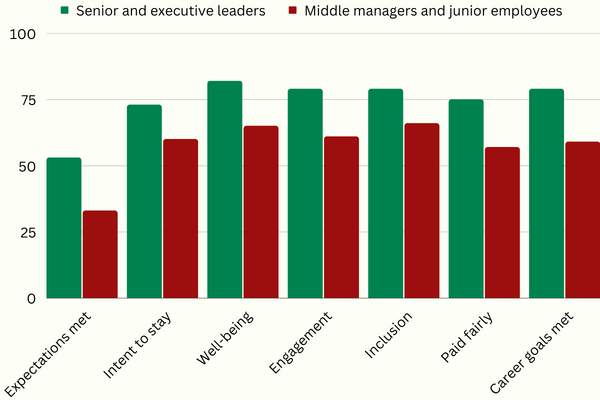 The gap between senior-executive and middle-junior employee experience in the APJ region is more than 10% for these key indicators.
"Against the backdrop of increasing rates of burnout, financial stresses caused by the rising cost of living, and evolving employee needs, the Qualtrics findings must serve as a wake up call for business and HR leaders across the countries," said Steve Bennetts, Head of Growth & Strategy - Employee Experience, Qualtrics. "There is a clear gap in the experience organisations think they're delivering to their teams and what's actually being provided, and failure to address it can have serious implications - from struggling to retain top talent, cultivating employee wellbeing, and maintaining productivity and performance."
This gap may explain other unusual findings in recent months - organisations have noticed, for example, that employees are not engaging with initiatives or programmes meant to improve markers such as overall engagement, well-being, sense of inclusion, or even sense of purpose.
How can organisations close the gap?
The Qualtrics report identifies four areas that employers in the APJ region need to address in 2023 to improve how they meet employee expectations.
Improve onboarding for new employees: New employees, or those who have been in the job for less than 12 months, have the lowest indicators of well-being and having their expectations met. Turnover within this group is a risk.
Prioritise employee growth and development: Employees who believe that their career goals can be met with their current employer have the highest score on all experience metrics.
Demonstrate company values regularly: Employees' belief in organisational values is in the top drivers of nearly all the key EX metrics.
Improve workplace technologies, processes, and resources: Despite investments in digitalisation, employee satisfaction with workplace technology and processes has dropped over the last 12 months, creating a significant risk of of lower levels of well-being and burnout.