Strategic HR
Women earn 70% of men's pay in listed Japanese corporations
The widest pay gap is in air transportation, where women earn only 48% of men's pay. Banking follows at 51.92%, and fisheries, agriculture, and forestry at 56.81%.
Women employed in Japanese-listed corporations earn an average of 67.04% of what their male counterparts earn, a significant gap in contrast to other OECD nations. The pay disparity is slightly wider for part-time employees, with women earning 69.65% of what men earn, compared to 71.64% among those employed in full-time positions, finds a study.
According to the findings of the study, jointly conducted by advisory, broking and solutions company WTW, Symphony Financial Partners and Xebral, the disparity between men's and women's pay is widest in air transportation (women earn 48.40% that of men), banking (51.92%), and fisheries, agriculture and forestry (56.81%).
Industries with the narrowest pay gap
On the other hand, the industries with the narrowest pay gaps include information and communications (women earn 74.23% that of men), securities and commodities futures (73.90%), and iron and steel (72.16%). These findings shed light on the continued need for gender pay equality initiatives and highlight areas where improvement is most crucial.
With a mere 13.11% of board member and officers' roles, and 9.47% of managerial roles on average, listed companies in Japan have a lack of female representation within leadership positions.
Larger companies by market capitalisation are more likely to appoint female board members and officers but lag smaller companies when it comes to appointing women in managerial roles.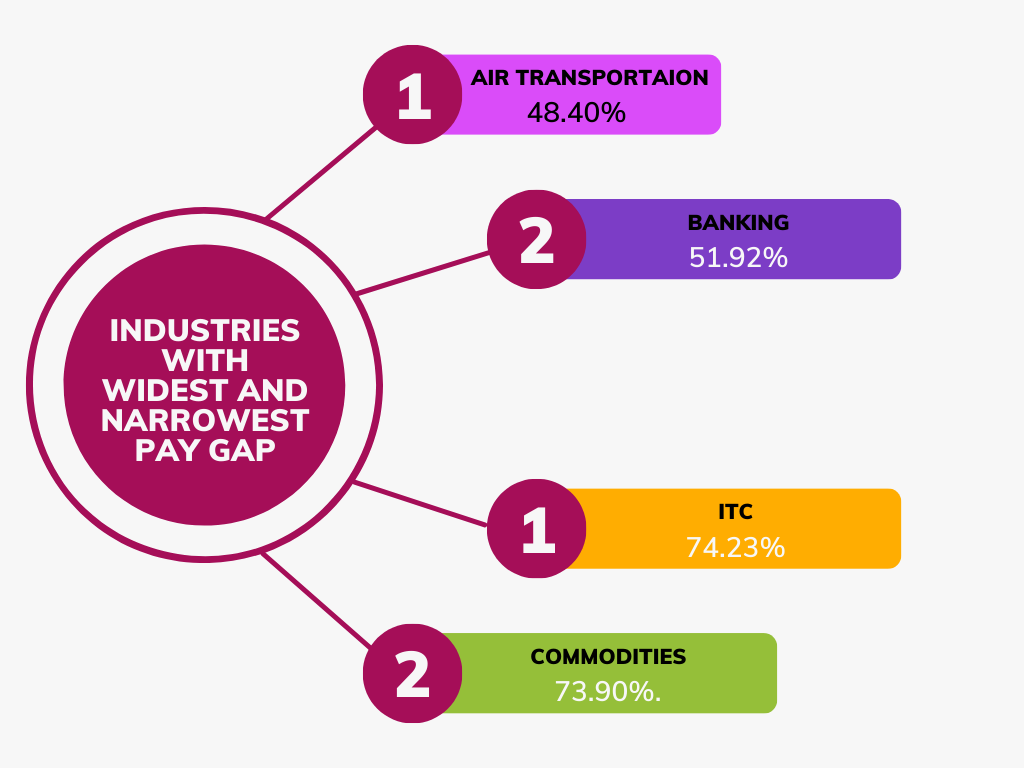 Ways to improve gender representation
Gender representation at the board and officer levels can be improved by appointing external parties to these positions. To improve gender representation at the managerial level, companies need to undertake consistent and long-term efforts. These can include establishing clear, transparent frameworks for career development; enhancing benefits that support work-life flexibility; and raising the visibility of women leaders to inspire female colleagues.
The level of female representation in managerial roles varies widely across industries. With 27.28% women in managerial roles, air transportation has the highest proportion of women in managerial roles. This is followed by services (20.97%) and insurance (18.06%).
On the other hand, three industries with the lowest proportion of women in managerial positions include construction (2.52%), followed by mining (3.50%), and transportation equipment (3.55%).
Differences in female representation are narrower at the board and officer level. The three industries with the highest proportion of women are oil and coal products (19.34%), insurance (17.49%), and pharmaceuticals (17.46%); whilst the three industries where women are least represented at the board and officer level are warehousing and harbour transportation services (9.35%), iron and steel (9.73%), and construction (11.19%).
The study also found no correlation between the gender pay gap and the proportion of women in managerial roles, suggesting that initiatives aimed at increasing the proportion of female executives in the medium- to long-term may not necessarily lead to improvements in the gender pay gap.