Skilling
What makes a course attractive to women?
A new study by She Loves Data and Milieu Insight identifies several key factors that could make women in Southeast Asia more likely to further their professional skills.
Flexibility in course timing. Free, or at least subsidised, course fees. A certificate on completion, preferably an industry-recognised qualification. These are the top factors that influence women's choices when selecting, and attending, courses to develop their professional skills, according to a Southeast Asia study by She Loves Data and Milieu Insight.
The study, which covered 3,000 working women across six Southeast Asian countries, found that 87% of women are keen to upskill, and 60% plan to take courses this year. They are most interested in improving their management and leadership skills, their engineering skills, their education or coaching qualifications, and their data and analytics skills, with engineering and management in particular drawing the most interest across all countries.
What do women want to achieve?
Their reasons for taking courses are overwhelmingly related to employment. More than half the women in all countries said they want to upskill to do their jobs better, with finding a new job or improving their job prospects coming a close second. Others, especially in Thailand and the Philippines, said they want to set up their own business. And quite a few are aiming for a pay raise or a promotion.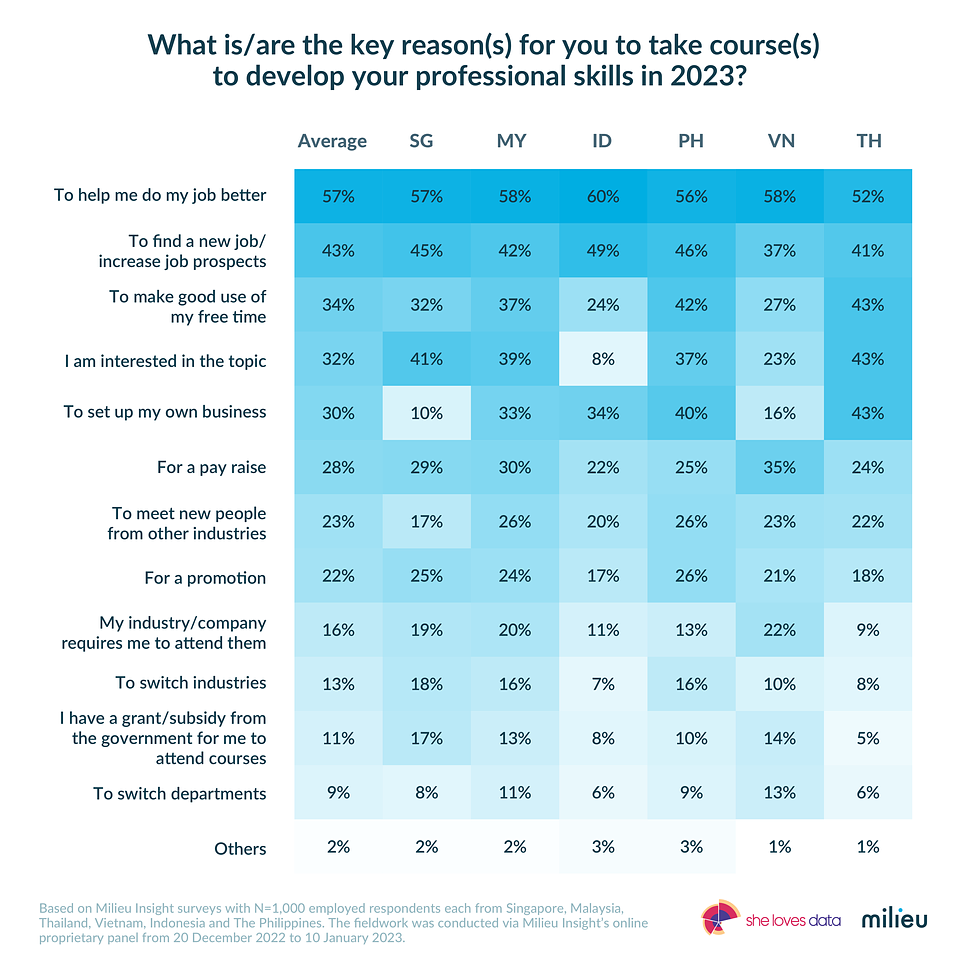 That said, a large proportion also want to make good use of their free time, and some are simply interested in the topic available.
This may be why the study also surfaced an odd dichotomy around engineering. Although 37% of women expressed interest in engineering courses, only 12% actually intend to take an engineering course in 2023. Instead, most women are apparently going to upskill in management, education or coaching, and art or design.
What makes courses more accessible to them?
Given the importance of flexibility to working women, it's not surprising that many prefer at least some of their classes to be online and on-demand classes. The mixed format was most popular (38%), followed by on-demand online (26%). 66% of women said they want the flexibility of arranging their own schedule, and 59% want to be able to learn at their own pace.
About half say their classes would ideally last 1-2 hours, with another 25% willing to go up to 4 hours per session - few women prefer anything longer or shorter. 
On the other hand, most women do not seem to factor in the length of the course itself as long as it is not extremely long or extremely short. Anything from 2 weeks to 6 months may be acceptable, although the study does not break down whether the type of course makes a difference in their preference.
Antarika Sen, PhD, Senior Researcher at Milieu Insight, said of the findings: "We're currently facing a dynamic job market, reflected in our study where 25% and 17% of women in the region have changed occupations or industries respectively in the past year. Our research also reveals that among women in the region, the top motivators for enrolling in a professional course this year are the desire to improve their job performance, increase job prospects/employability, and make the most of their free time - this highlights the importance placed on personal and professional development."