Learning & Development
Walmart's approach to shaping careers over jobs
Brandon Carson, VP, Learning and Leadership Partner, Walmart talks about making education continuous, accessible and inclusive through an employer-sponsored learning platform.
It is no news that the rapidly evolving world of work has accelerated the need for continuous skilling and upskilling to stay relevant. Yet, many organisations remain on the fence when it comes to investing in scalable and sustainable learning solutions that secure the workforce from the endless disruption and threat of redundancy. 
"The COVID 19 pandemic has cost millions of jobs across sectors. And although unemployment benefits were made available in the US at the outset, few have since thought critically about and invested in solutions that are more long-term and permanent in actual extended benefits for growth opportunity," said Brandon Carson, VP, Learning and Leadership Partner at Walmart, in his keynote at People Matters L&D Conference APAC 2022.
"A modern economy demands continuous learning. The public and private sectors really must work together to reskill and upskill the workforce. Emerging technology has seized on the disruption to our physical lives by providing solutions that will engage learners across the globe. So the question remains, how can we create a complementary system that provides the tools needed in the digital era to expand opportunity through skills based development?" 
Speaking about 'Rework: Expanding Opportunity through Skills-Based Hiring and Development' in his keynote, Carson shed light on how Walmart through its Live Better U (LBU) platform has been expanding skill, role and career opportunities for its very diverse and distributed workforce.
Live Better U: Enabling employer-sponsored education benefits
In 2018, Walmart introduced the Live Better U (LBU) platform in an endeavor to reskill and upskill its workforce through a carefully crafted employer-sponsored education benefits program. 
"There are a lot of associates who aspire to be more, but given life circumstances, they may not have access to opportunity. That's really how the vision of LBU came to life. How could we really give our associates an educational benefit that wouldn't cost them anything?" said Carson adding, "Part of what we're trying to solve for in this digital era is not only continuous skilling, reskilling and upskilling but also how do we provide educational benefits that will really help our associates develop their capability and capacity to grow their career to whatever it is they may want it to be."
LBU offers a technology enabled student experience, with customised associate dashboards. The platform has a data-driven personalised recommendation program for associates. They can easily track their applications in their toolkits online, in addition to accessing academic coaching. 
"We're in the midst of a digital transformation, but our associates are at the heart of that digital transformation. Tech has become so seamless and intuitive and such a critical part of our lives. That's how we envision learning at work to be, as really crucial to succeed at work, but it also needs to be embedded in the work itself."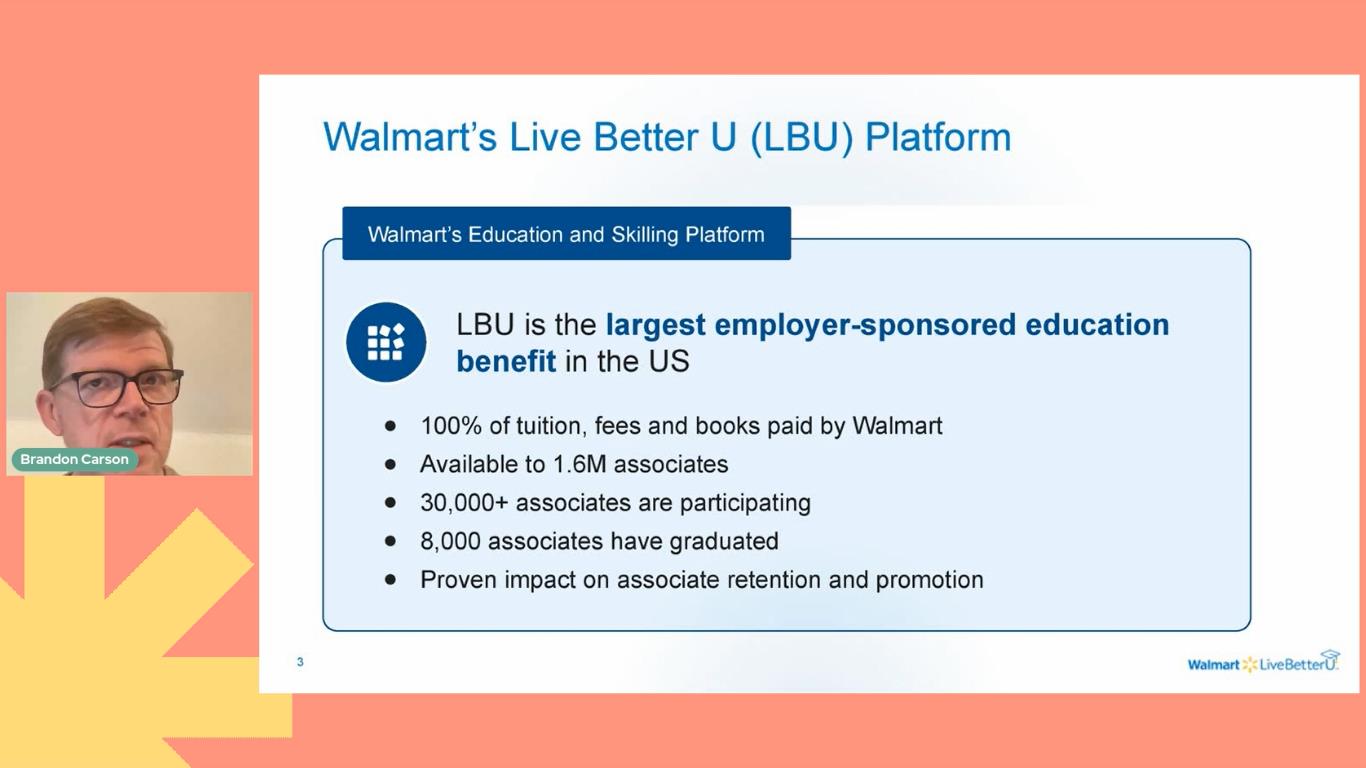 "We are not only solving for continuous skilling and upskilling. We are also exploring how to provide education benefits to associates to grow their career to what they want it to be," said Carson.
Sharing that LBU is solving for some unique challenges that associates face when it comes to skilling, Carson said, "We do know education and skilling is a strong driver of economic mobility. But access to educational opportunity is more increasingly inequitable, especially in the US and it lacks inclusivity." 
The five problem statements that LBU solves for are as below: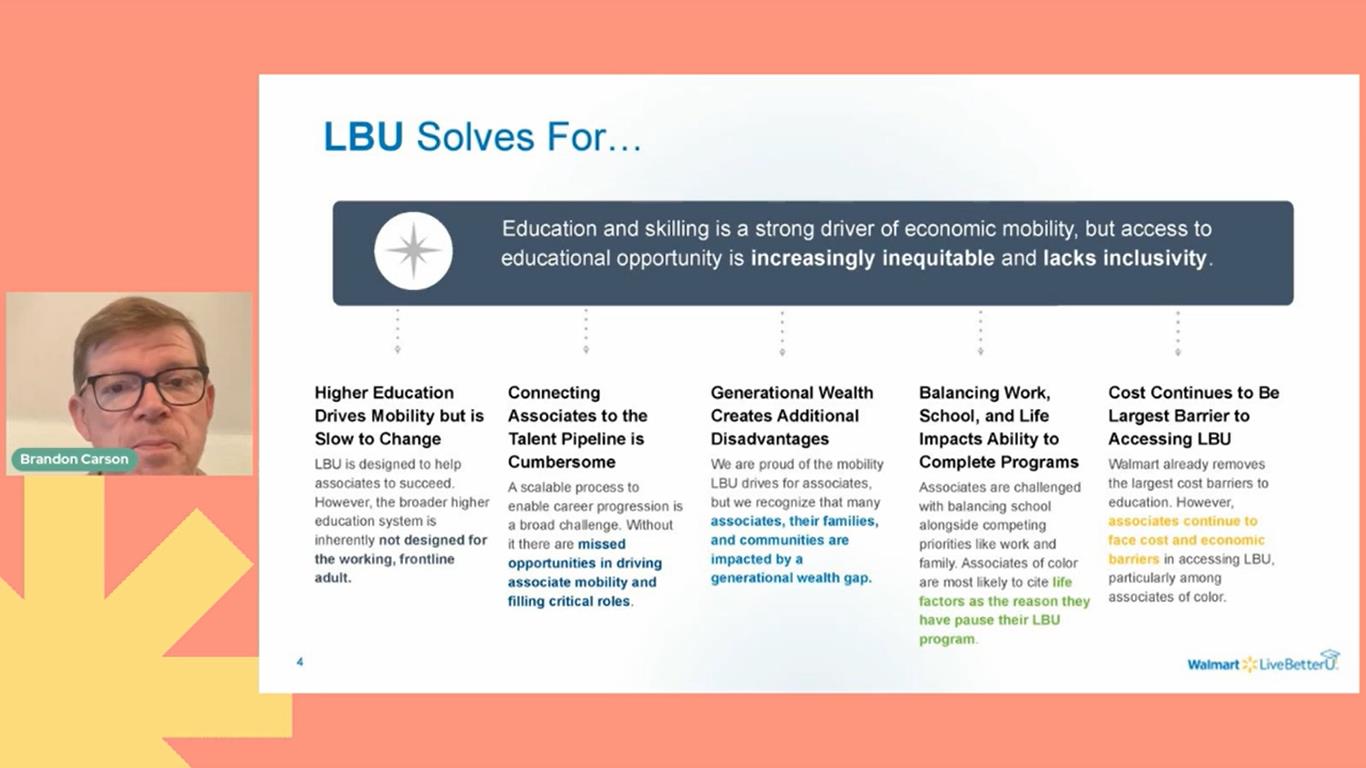 Enabling the workforce to build a career of their choice
"Our vision, mission and goal for the platform is looking at how do we shape a more equitable, career oriented future of education. Our big goal was we really want to change how education is done in the US and eventually across the world. We're going to be looking at career aligned programs - right associate in the right program - and continue evolving as a model for intrapreneurship," shared Carson. 
"We will reskill our associates to provide them the skills and knowledge they need to move their career in whatever direction they're interested in." 
Shedding light on the credit mechanism, Carson said that an associate is not starting from scratch when they come into an LBU program. Demonstrating the skills they've learned and the knowledge they've learned on the job, associates are eligible to gain credit for work and credit for prior training. This serves as a key catalyst in the LBU platform to help people accelerate into either new or modified careers. 
Making education accessible to a diverse population
Carson shared the breakup of the 30,000 actives students enrolled in LBU programs: 
47% of the students are associates of color 
19% are black or African American 
18% are Latin X 
57% are female 
"If you look at the top five job titles for LBU students from across our associate demographic, we have our store associates, personal shoppers, team leads, operations manager, as well as cashiers," Carson shared.
Through over 200 empaneled academies, LBU's offerings range from foundational learning to in demand degree programs for business, leadership training, supply chain, technology, health and wellness and skilled trades. The platform is looking to include courses in business analytics, operations, digital literacy, Retail Management, diverse leadership, merchandising, and cybersecurity as well.
Benefits of inclusive access to learning opportunities
"We started the program in 2018. It's still a pretty new program. But right now, data is showing us that for every dollar that Walmart invests in LBU, we see $1.91 in savings," noted Carson. He highlighted three key dimensions driving this: Retention, Promotion, and Diversity, Equity and Inclusion.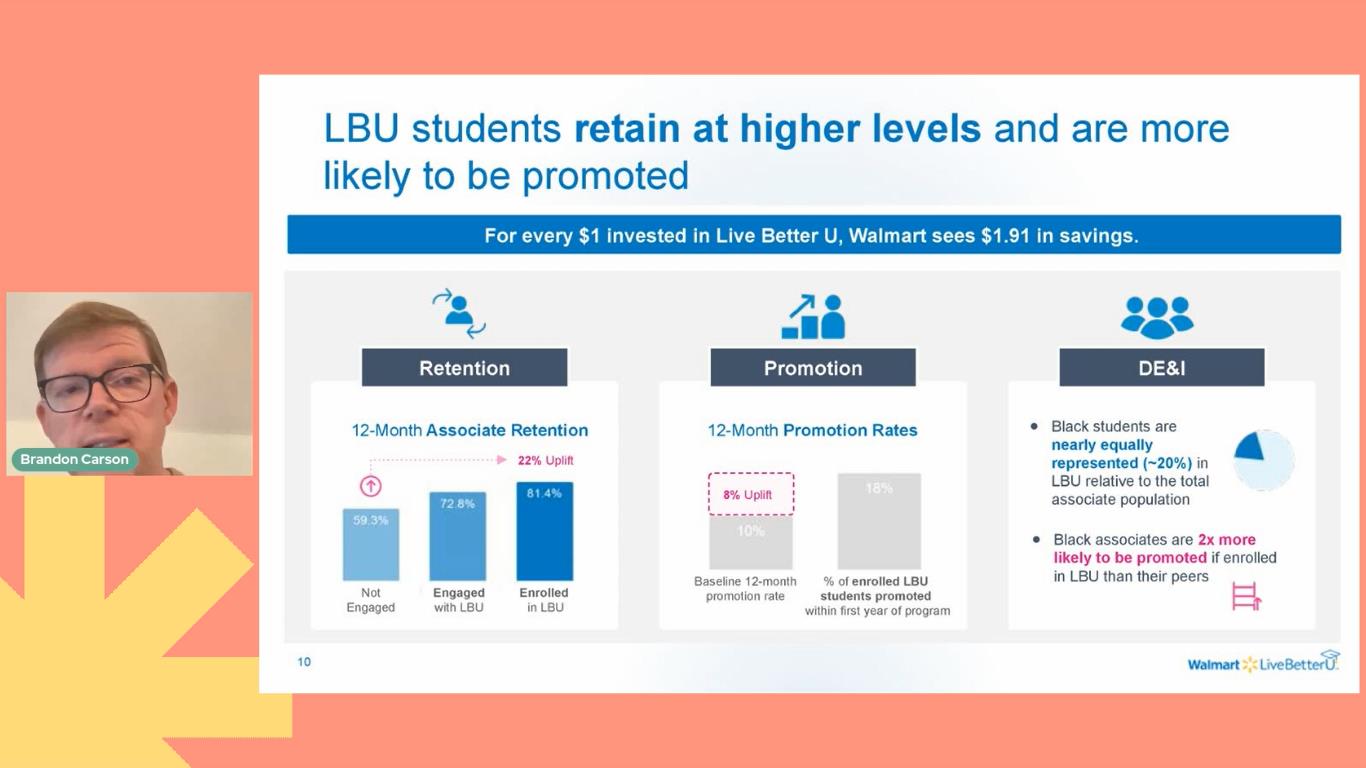 The retail giant aims to build as much of the talent capability and capacity for the future of our work within its current workforce. Through LBU, the organisation is striving to enable associates to drive their career opportunities by looking along at the opportunities that are available in LBU and how they've been aligned to the business drivers, to shape a career instead of just a job. 
"Whether you want to grow within the box and become skilled in more roles that keep you in that environment or if you want to grow outside and go into more corporate roles; we're aligning our programming across both of those opportunities for our associates," said Carson.
"We're really strongly focused on building more development opportunities and more equitable access to career opportunities for all of our associates. We're only a few years in and we're going to keep maturing the program as it evolves."