Learning & Development
Learning Rises to the Top:​ How the Pandemic and Great Resignation are Super-Charging L&D​
With the rise in demand for L&D programs across organisations, setting up the right content strategy will be key to thriving in the face of uncertainty.
With the pandemic and the Great Resignation bringing a set of challenging circumstances to the business community at large, the impact has been clearly felt on the learning agenda as well. What's interesting is how in the face of uncertainty, people's drive to adapt and innovate takes over. It is this drive which has resulted in a rise in the urgency and demand for L&D programs across organizations. At the People Matters L&D APAC Conference, Dr. Summer Salomonsen, VP of Content Product and Head of Cornerstone Studios, Cornerstone OnDemand brings to light this incredible trend being witnessed across the learning landscape.
What is catching the attention of learners these days?
'I believe when life gets hard, and when change keeps on coming, as humans, we learn. That's what we do. We are meant to learn. But somehow when we come to work, and we sit at our desk, it gets very complicated to learn,' says Summer.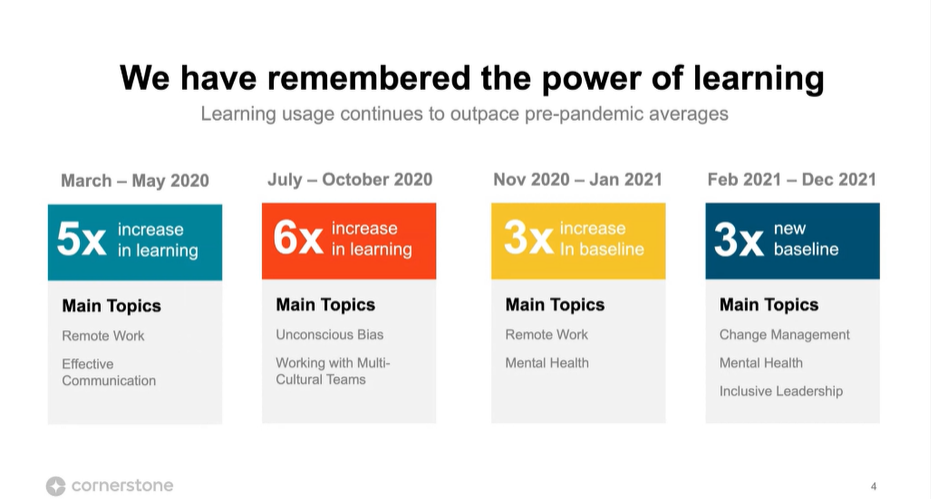 When Cornerstone Studios was trying to take note of what majority of their learners were veering towards during the pandemic, it was incredible to witness a five time increase in learning completions. Remote work took the cake in early days of the pandemic as employees were trying to adjust to the new work landscape and as the situation became more severe, there was as much as six times increase in training. But as the collaboration across multi-cultural teams began to rise, learners were keen to overcome their unconscious biases and get more insights on that agenda. 
Early 2021 saw a three time increase in baseline learning accompanied with a return to focus on remote work. The need of the hour was to see remote work as a lens to do real work. And then it all came down to change management, mental health and inclusive leadership which were some of the raging concerns across the L&D landscape last year. 'We saw a shift between staying healthy while doing remote work seeing to remote work as a lens building relationships communicating under stress,' raises Summer.
The impact of the pandemic and the great resignation:
In this context, there is an increase on the part of employees going over their organisation's Learning Management Systems and asking their managers to bring in more content and to create more learning opportunities. Everyone is looking for a fresh start and this is what has resulted in the Great Reshuffle, a more positive take on the Great Resignation. Given the drive among employees to learn more, content then becomes a businesses most strategic investment. Workplace content becomes the catalyst for learning. It is the opportunity for a changed mindset, for a new idea or for a new opinion or  for a changed behaviour. It's an opportunity to grow which is fundamental to the larger vision of success for any organisation. 
Building the right content strategy:
When it comes to building a content strategy, Summer recommends four guiding principles:
One is to align your programs with business goals and one of the easiest ways to do this is to ask your boss or supervisor to verbalise these goals. 
Second is identifying and engaging the right stakeholders. One has to think about who belongs to this group and you cannot limit it to simply HR managers, frontline managers also have a critical role to play in bringing change to the organisation because they're after all connected to those working at the frontlines.
Third is to establish a measurement plan at the outset. One has to carefully consider how their  organisation measures success and find a comparative way to measure the success of the L&D programs implemented.
And finally, maintaining sight of the program's goals.There is power in clear sight and clear objective when it comes to content. Content is an opportunity to learn and can drive the workforce towards a transformation goal if you let it but not if you water it down with too many other things.
She further goes on to add how when she devises a content strategy, she thinks about frameworks and concepts in terms of taglines. Taglines are a great way to uncover the value of what the L&D program is promoting so every content strategy must be authentic, relevant and brief. All the time. This she then aligns with leadership training. 
'As you think about leadership in the time of transformation, you think about identifying leaders expanding that lens to both leadership pipeline and potential and also empowering employees to make good decisions, to exercise judgement to influence across teams. Some of you might be in positions where you are asking employees to own a lot of things that don't come with a title. That's the challenge of leadership,' highlights Summer.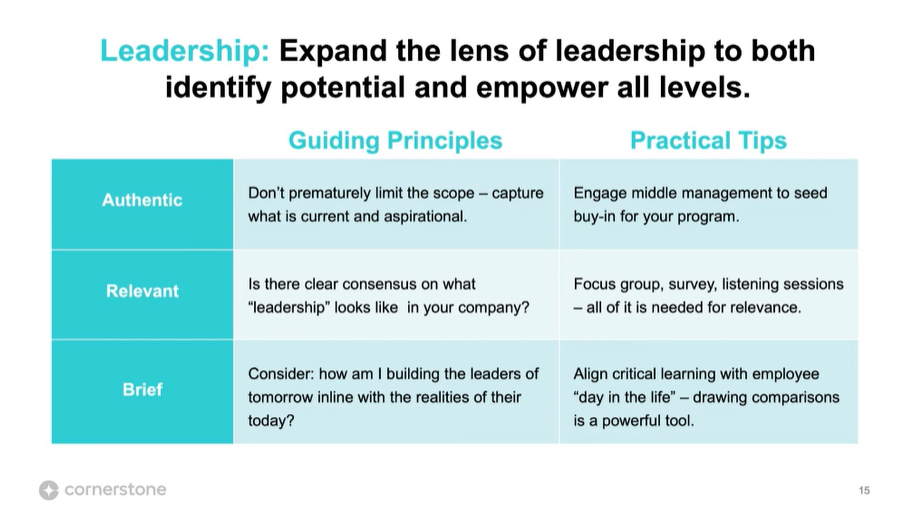 A leadership program must capture both what's real today for your leaders while setting a vision for what you want it to be, especially in the midst of transformation. 
'Everything we aspire to do in our organisations is based on learning. And we know that learning is catalysed and made possible by learning content,' concludes Summer. As the impact of the pandemic and the great resignation invigorates the desire of your workforce to learn and grow, building the right content strategy will play a fundamental role in the enduring growth and success of your business.