Technology
Tech industry dominates Singapore's job market in 2023
Tech industry remains a key player in the job market, with the top jobs offering an attractive combination of flexible working arrangements, high demand, and competitive salaries.
Despite the recent tech layoffs happening around the world, jobs in the industry are among the most flexible, in demand and offer above average wages. 
Tech jobs have taken up nine spots out of the top 20 best jobs in Singapore for 2023, with Customer Success Manager topping the charts followed by infrastructure engineers, growth marketers, senior product managers, and back-end developers, according to global jobs portal Indeed.
This trend is not only seen in Singapore but also globally. In Indeed's Global Best Jobs of 2023 list, tech jobs occupy the top three spots - full stack developer, data engineer and cloud engineer, an improvement from last year where only one tech job made it to the top ten. 
Other jobs on the list include site reliability engineers, technical program managers, product designers, implementation specialists, business development specialists, integration engineers, data engineers, engineering managers and sales leads.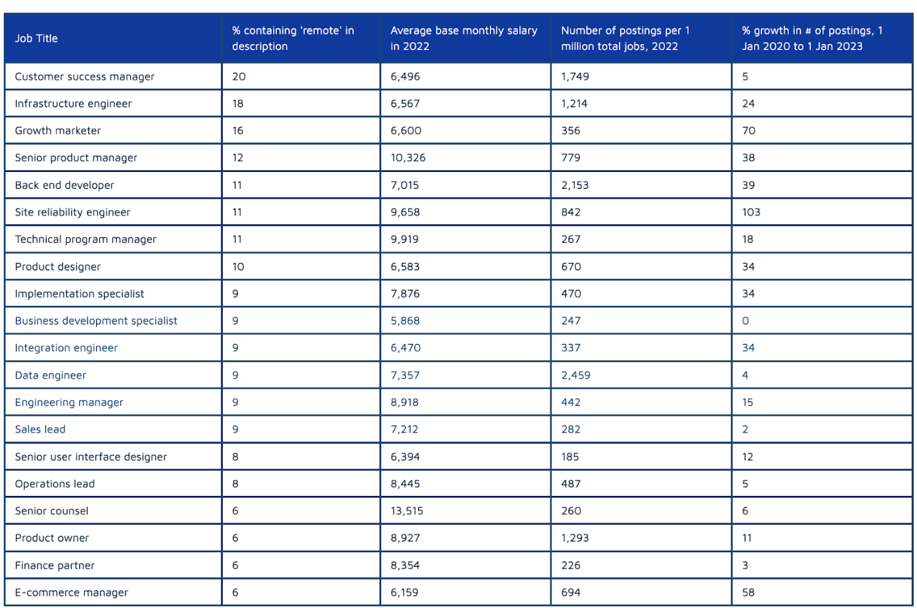 The jobs featured on the list have shown consistent growth in demand and number of job postings in the last three years. In 2022, back-end developers and customer success managers have the most number of job postings per 1 million total jobs, with 2,153 and 1,749, respectively. Senior product managers have the highest average base monthly salary at $10,326, followed by site reliability engineers at $9,658.
The top jobs were ranked from 1 to 20 based on the number postings offering remote or hybrid working arrangements, salary (using a baseline monthly salary of Singapore's average wage of $5,832), employer demand and consistent growth in the number of job postings from 2019 to 2022. 
"Tech jobs have consistently been in demand globally, and Singapore is no exception. The Best Jobs of 2023 list highlights the growing demand for tech professionals in the country. As remote working and hybrid arrangements become more common, we expect the tech industry to continue to play a critical role in Singapore's job market," said Saumitra Chand, Career Expert at Indeed.
While salary has often been deemed as the key marker for what makes a job good, it is no longer the only factor job seekers are considering. "In 2023, flexible working arrangements are playing a much bigger role in the decision process, alongside growth and opportunity. As such, employers should be looking for ways to improve workplace flexibility where possible," added Chand.