A Brand Reachout Initiative
Talent Management
HR leaders are moderately confident but face retention challenges: Accendo- People Matters Research
The preliminary findings of the State of Talent Intelligence lists key priority areas for companies in the SEA region. Read some excerpts from the upcoming report.
A workforce that possesses the appropriate skillsets for business success is the single most valuable resource an organisation can have. 
In today's environment of accelerated digitalisation and talent shortages, it is increasingly challenging to collect large amounts of data on the talent pool, and even more difficult to convert that data into actionable people intelligence. And this challenge is aggravated as skills and roles change ever faster.
The hybrid model calls for an entirely new look at how we define skill sets; the emergence of composite roles makes it particularly hard to match skills with jobs; and the gig economy has long since upset pre-existing models of what is needed to succeed in a given role.
But how can this resource be built up?
To answer this question, Accendo and People Matters collaborated on a study to identify some of the major talent challenges and priorities faced by organisations in Southeast Asia today, particularly in the context of talent intelligence: the extent to which organisations are able to collect, consolidate, filter, and put their data to use. 
Here, we present a series of preliminary key findings from the study.
HR leaders' top priority for talent strategy is development, followed closely by career planning. Interestingly, they also feel that these same processes will benefit the most from having additional intelligence about employees. So why is development so important? Our study includes further insights into this question.
As businesses across Southeast Asia expand and digitalise, they face a gradual but noticeable increase in the difficulty of filling roles. Our study has found that despite this difficulty, most HR leaders are moderately confident that their organisation has the right talent in the right role to execute the organisational strategy.
83% of HR leaders in Southeast Asia are moderately or very confident that their organisation has the right talent in the right role to execute the organisational strategy. 

However, they are challenged by high attrition rates and a lack of software and tools, and few businesses across the region are fully conversant with how to use digital tools and platforms. In the full report, we will consider the possible reasons for this gap, and its implications.
Part of the challenge arises externally, with competition across borders and a general shortage of tech skills putting pressure on their ability to recruit. However, internal challenges also play a significant role.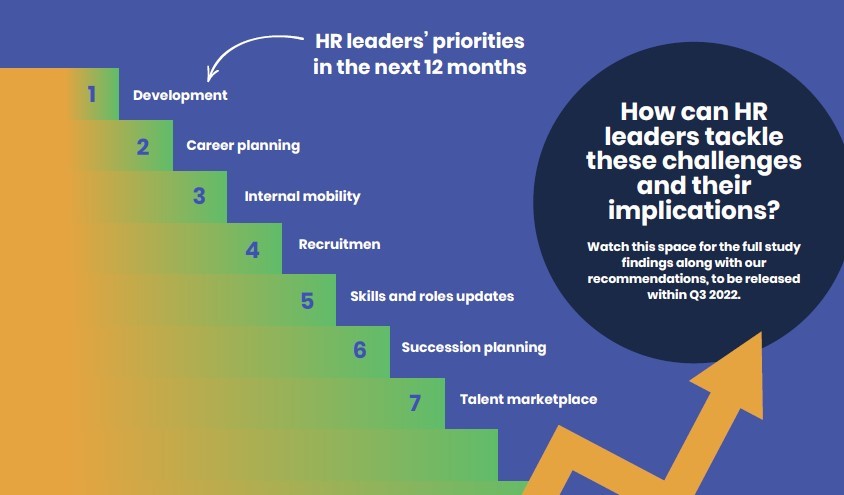 When asked about their talent priorities, leaders listed "Talent development", "Career planning" and "Internal mobility" among the key priority areas that they're going to tackle in the next twelve months.
Watch this space for the upcoming study and recommendations on the organisational priorities that companies need to focus on?
Please note that the above findings are based on the preliminary dataset and the final report may or may not adhere strictly to these percentages. You can access the preliminary findings here. The complete report will be launched in November.