Talent Acquisition
Global captive centres set to create over 3.6 lakh jobs in India in 2023
Over 57% of the GCCs are looking to ramp up workforce between 25-100% within the next 12 months with IT software/consulting and engineering/manufacturing leading subsectors driving the plans, says a new report.
Global captive centres (GCCs) will add close to 3.64 lakh jobs within the next 12 months, says a new report.
According to report 'India Captivating' from NLB Services, the multinational transformational workforce solution provider, the sector will scale up from the current $35.9 to $60-85 billion by 2026.
A spurt in service demand from key global markets (34%) is the key reason driving the demand for talent.
Only 5% of the GCCs surveyed seemed to be cautious and not keen on hiring. The majority (78%) are looking at increasing their talent pool by 10-100%.
In fact, more than 8% of the respondents are planning to double their workforce in the next 12 months.
From a sub-sector perspective, IT software & consulting with 33% of the respondents keen on ramping up the talent pool topped the chart. The next were banking, financial services and insurance (BFSI)  (21%) and internet & telecom (16%). Amongst cities, Bengaluru leads in terms of job creation.
"India currently accounts for around 45% of the global GCCs in operations and this share is expected to grow further. But what is heartening to know is the transition in the way MNCs are looking at India. They are setting up operations to create a superior talent pool (78% of the respondent), to assist the global demand for radical innovation (55%), to create business optimisation strategies (49%) and not merely for labour arbitrage.
"The sector is expected to see a 10.8% CAGR growth in employment in 2023 alone. As India cements its position further in the scheme of strategic operations, the demand for talent also will grow," said Sachin Alug, CEO, NLB Services.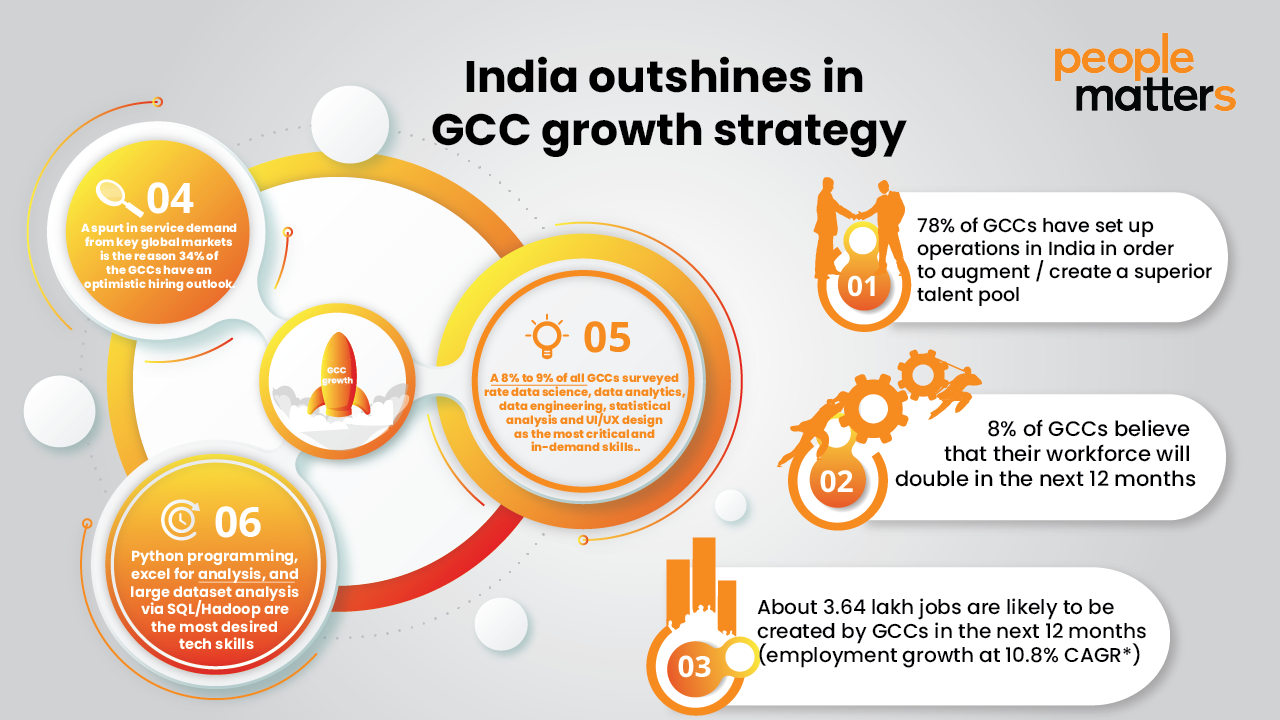 Skills and roles in demand
Almost 8% to 9% of all GCCs surveyed rate data science, data analytics, data engineering, statistical analysis and UI/UX design as the most critical and in-demand skills.
"In India, we have 1 million engineers graduating each year making the country one of the largest engineering talent pools in the world and international companies have started to realise the importance of leveraging this demographic deficit effectively. The demand today is for niche digital and machine learning skills like data science, data analytics, data engineering, statistical analysis, and UI/UX design today indicating how the centres are evolving to strategic centres," said Varun Sachdeva, APAC recruitment & business leader.
Further, 12% of the GCCs rate communications, critical thinking and interpersonal skills as the most sought-after behavioural skills.
The burgeoning skill gaps 
The skill gap was highest in the most desired skills like Python Programming, running analysis on excel, and pulling in large datasets through SQL/Hadoop, as per the study.
Sub-sector wise business operations-oriented GCCs were impacted the most. 
Strategic management, sales engineering, and corporate communication skills that are most relevant to the model are facing a skill gap of as high as 38%.
GCCs' talent acquisition strategies 
Recruitment process outsourcing (RPO) (22%) is the most preferred mode of talent acquisition, according to the study.
"As the demand for talent scales up, companies will require a robust talent acquisition mechanism which allows them to fret less about hiring and focus on their core functioning, RPO fits the bill perfectly in such a scenario. We are confident this year the RPO growth will be far higher at around 22%," said Alug.
Nearly 67% of GCCs prefer hiring for 'permanent' job positions, while 21% prefer 'temporary' employment modes, says the study.
Further, 68% of GCCs have policy-driven initiatives to promote, and hire for gender diversity. The remaining proportion indicate specific gender preferences.
Salary trends 
As per the study big data analytics manager, with a payout of Rs 20 LPA is the top job role GCCs are hiring for. IT Manager (Rs 15 LPA) and full stack developers (Rs 14 LPA) are the other top job roles.
The study surveyed 211 GCC companies across BFSI, healthcare and pharmaceutical, internet & telecom, IT software & consulting, manufacturing, oil and  gas and retail from Ahmedabad, Bengaluru, Chennai, Delhi/ NCR, Hyderabad, Kolkata, Mumbai, and Pune.