Employee Relations
2018 FIFA World Cup: Lessons on team-building
Besides the entertainment, excitement and ecstasy that the FIFA World Cup has brought forth, it has taught a few lessons about team-building.
2018 Football World Cup's group stages saw was a meaningless yellow card handed to a Panama player after some tempers flared in the Panama vs Tunisia match. The knock out stages had been decided in the previous 47 matches played between 32 countries. But don't let the meaninglessness of the last kick lull you into believing that the two weeks have been uneventful against unevenly matched nations. There have been goals, drama, dominations, upsets, and the first stage of the sporting extravaganza has left behind a lesson or two which can be learned from them. This article takes a look at key team-building lessons from the group stage of the World Cup.
The sum is always greater than its parts
Croatia is a small nation – both in size, and its dominance in world football. Yes, it is relevant, but it never falls in the list of tournament favourites before a major football tournament begins. Then there is Argentina, a team of Messis, Agueros, Higuains, Dybalas – so stacked that their attacking might cannot fit on one pitch (as long as you aren't playing 10 forwards). But when they clashed head to head, Croatia didn't just defeat Argentina, it dismantled the 2014 runner-ups 3-0. This was a great reminder that a team will always outperform a collection of high performers.
When members of a team complement each other's skills and work together as a unit – their collective performance is always larger than what the members of the unit would have achieved at an individual level. You can have all the superstars, but if they do not fit together in one unit, there are weaknesses in other areas of your team (like Argentina's midfield and defence), and you expect the team's main person to do all the heavy lifting (ala Messi), then the chances of success are remote. Not to say that a team of high performers cannot perform, but only if they work as a unit – as Belgium has proved in the group stages.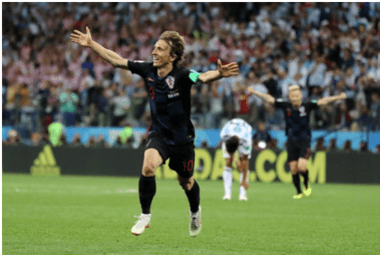 Luka Modric celebrates after scoring Croatia's second goal.
Source: NYT
Have an identity and stay true to it
Every team must have an identity, and they must respect it. The most successful teams in football made their mark by having their own identity and staying true to it. Spain won the 2010 World Cup using tiki-taka to walk the ball into the net, Cruyff's Netherlands was a phenomenon of total football, and winners Germany have been known to be an organised defence, and ruthless attack. However, they seemed to have forgotten it during their first two games (when their callous defence was taken apart by Mexico, Sweden and South Korea) and it cost the reigning world champions a spot in the knockout stages. This is a reminder to be true to what defines your team. In the world of business, this means respect the company's vision and stay true to it.
Forgetting it can disturb the team's harmony, confuse the members about what their real roles are, and allow your competitors to pounce on you.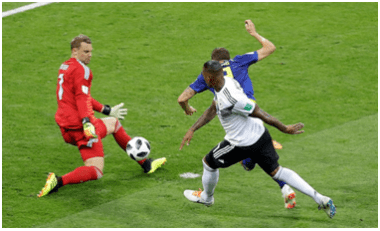 Germany's Jerome Boateng tackles Sweden's Marcus Berg when he was through on goal
Source: US Today
High performers will bail you out but don't burn them out
Ronaldo's free-kick against Spain at the last minute to share points, or the Kroos free kick against Sweden in stoppage time to save Germany the blushes of an earlier Group Stage exit – high performers stand up and deliver when needed. But to what extent can you expect them to carry you through? At the end of the day, high performers can also burn out due to overwork, and the pressure of the business to carry it through. The burnout affects the performance, and in some cases, the individual decides to quit the company.
It is important for organisations to remember – build a team around the main (wo)man, do not make the main (wo)man your team.
Portugal has performed well because their team is built around Cristiano Ronaldo – every player has a defined role and that is why when Portugal has played, it has looked like a team.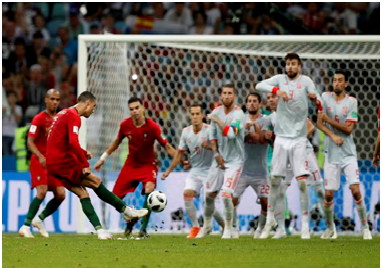 Cristiano Ronaldo scores from the free kick against Spain in the dying minutes
Source: Indian Express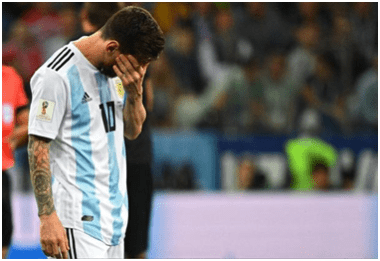 A disappointed Messi during the match with Croatia
Source: LiveMint
Adapt to get the best out of your people
Do not be rigid in the way you are structured. In fact, be nimble enough to adapt to the best of capabilities of your team members, and create a working style which gets the best out of them. What the young English side has shown in the tournament thus far – they may not be the flashiest of players, but the coach Gareth Southgate has them playing in a system which gets the best out of them. This requires taking some tough calls like keeping some of your top players out and using unconventional playing systems, but it is an approach that should be tried by organisations. Be agile enough to bring changes to the way your team works, so that the potential of everyone is fulfilled. A creative free minded person will be limited if she is micromanaged and told exactly what to do at every stage of her work. Create a system which allows her to be free, and see how that unlocks her potential and paves way for some great ideas – instead of micromanaging, coach her with the concept of ownership. An English team of Gerrard, Lampard, Scholes, Beckham, Hargreaves and Carrick could only disappoint because the system didn't adapt to their strengths, instead tried to squeeze them into an existing rigid formation where they couldn't do what they did best.
The England squad picture before the Panama game. England won 6-1
Source: BBC


Watch out for the knockout stage – there will surely be more lessons to draw about team-building.
Image Credits: rbth.com