A Brand Reachout Initiative
Skilling
How organizations can succeed in a post-pandemic world

One HR Read similar articles
According to the LinkedIn's Future of Talent report, upskilling will be core to many firms' talent strategies, and trends such as internal mobility, data-led hiring decisions, and improving employee experience will also be focus areas in 2021.
LinkedIn recently launched the Future of Talent Report to determine how the future of work has changed. Based on feedback from over 3,500 respondents across seven markets in the Asia-Pacific region, it explores upcoming trends in the future of work to help organizations plan, hire, develop and engage their talent. For example, the report looks at the shifting role that Human Resource teams will play in organizations especially in the areas of employee development, and how employer branding and employee engagement can help organizations attract and keep their best people. 
According to the report, upskilling will be core to many firms' talent strategies, and trends such as internal mobility, data-led hiring decisions, and improving employee experience will also be focus areas in 2021. 
Feon Ang, Vice President, Talent Solutions, APAC, LinkedIn, said: "As a result of the pandemic, new roles have been created and existing ones have evolved. Hiring talent with the right skills set for these roles is very important to organisations, and these days, it matters less that the talent has the traditional qualifications or industry experience. Going forward, we can expect to see a skills-based economy take shape, with skills becoming the new currency for workers in the future world of work. 
With skills being an engine of growth now and into the future, it is critical that HR and business leaders are equipped with advanced tools like data analytics. These tools can help them to identify both potential candidates who have those set of skills and internal hires who can be reskilled."
The study also found that firms are receptive to filling open positions internally and investing in upskilling programs for their employees to be successful when taking on a new role internally.
Companies are also placing more emphasis on hiring candidates with the right skills rather than adhering to traditional qualifications such as education or experience. In fact, 64 percent of companies surveyed are open to hiring talent from other industries, should they possess the right skills. 
Here are some of the other key findings from the study:
The role and responsibilities of HR will expand 
The role of HR has always been critical to an organization's success. However, in the last year, the pandemic has caused a shift in many organizations. HR teams have had to adjust to reduced hiring budgets, flexible working arrangements, and new working processes to ensure employees collaborate and communicate. Therefore the skills required of a modern-day HR professional, along with HR's scope and responsibilities within an organization have also evolved. 

"Organizations would be called adaptable in the true sense when they realise that the role of HR is beyond service delivery and is rather about creating experiences for employees and clients, as the future of work becomes the present." shares Sanjay Dutt, Global Head - Capability Development at EXL.
Organizations are more open to hiring internally and willing to allow more employees to work remotely
In the last year, organizations have adapted to the new world of work. Our findings also reveal that in one way or another, remote work is here to stay, with companies citing benefits like flexible working, work-life balance, fixed cost reduction, and better crisis preparedness. In fact, companies are open to letting employees work from home 2 days in a typical 5 day working week. More than 8 in 10 APAC companies believe HR plays a pivotal role in facilitating remote working.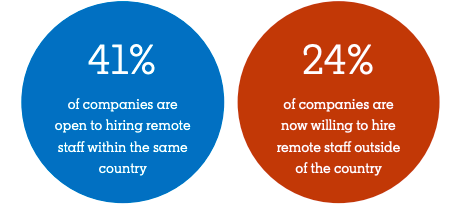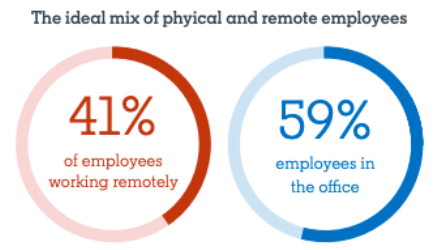 "Internal fungibility of talent has always been prevalent in the IT industry, however of late it is becoming prominent in other industries as well. Digital transformation and technology are penetrating across industries. This coupled with the short shelf-life of technology is forcing companies to focus on cross and up-skilling of existing talent to fulfil demands with shorter turnaround time." says Vikas Singh Baghel, Deputy General Manager - Talent Supply Chain, Centre of Excellence at HCL Technologies.
He further adds "Remote working has been on corporate agenda for many years now. In this context, companies did attempt to do some sort of pilot here and there. However, COVID forced organizations to go 100% remote in a limited time to ensure business continuity. This resulted in better work-life integration, productivity enhancement for some, and best hiring talent access from anywhere since location is of no consequence now. In my view even when the pandemic gets over, the idea of social distancing and the fear of another such health hazard will continue to loom over the minds of individuals/companies and governments. Therefore work-from-home must remain a part of organizations' offering to employees in some shape and form across the globe."
In the future, organizations will focus more on gender equality in the workplace, hiring for skills, and employee development 
The findings spotlight how candidates are being hired — especially with regards to maintaining gender diversity and equality in organizations, as well as placing importance on skills over traditional qualifications or experience. To hire the right talent, organizations should leverage data and analytics to simplify the matching process of candidates.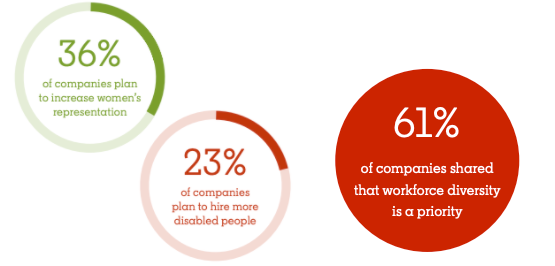 "For individuals, the challenge is that most Singaporeans tend to rely on their employers for training opportunities, which is a traditional mode of thinking. Individuals need to realize that learning and training do not end once they finish school, and they cannot rely solely on employers to chart out a training roadmap for them. Instead, they need to take ownership of their own skills development based on their strengths and interests," shares Dr. Soon Joo Gog, Chief Skills Officer at SkillsFuture.
She further shares, "For employers, the challenge is to convince employers to move away from a 'plug-and-play' approach towards skills planning and skills development, especially if they are at the cutting-edge of industry development."
Employer branding and employee engagement will play a bigger role in attracting and retaining talent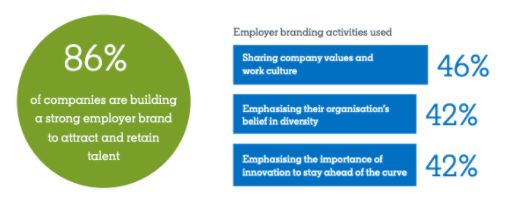 In the race to attract talent, and retain the best and brightest, employer branding and employee engagement are the other important pieces of the puzzle. The findings suggest that a strong employer brand can positively impact businesses evidenced by higher engagement scores. To overcome attrition, companies are making a concerted effort to create an environment where employees can thrive and their business can continue to grow.
"Our focus is and will always be on the health and safety of our employees, clients, and the communities in which we operate. While we have moved our operations to a remote setup, we understand the importance of employee engagement. By finding ways to empower employees, and not just cope with remote work, Genpact is moving beyond just virtual collaboration to ignite long-term virtual community building. Businesses must treat employees as customers – Businesses will need to devote similar effort, digital investment, and focus to the internal initiatives as they do to the external, to improve the overall employee experience. Doing so raises retention, enhances effectiveness, and accelerates business growth. - Sanjay Srivastava, Chief Digital Officer at Genpact.
Download the study to get access to the full insights and exclusive LinkedIn tips to prepare your organization and workforce for a skills-based future.