Life @ Work
Why the golden rule of modern work is a side hustle
But it's not the kind of side hustle that self-help articles have popularised. According to Indranil Roy, Executive Director of Deloitte Southeast Asia Human Capital Consulting, the side hustle isn't about making more money. It's about broadening your worldview.
The world of modern work is a costly one for workers and employers alike. It's a world where skills are perishable, where careers last less than five years, where jobs change repeatedly in short periods of time.
So what's the number one thing that people can do to keep themselves afloat? Always run a side hustle, says Indranil Roy, Executive Director of Deloitte Southeast Asia Human Capital Consulting.
"The best ideas exist outside of your comfort zone. A side hustle generates levels of energy, drive, motivation, focus, and skills that one will not get if one were to just focus 100% of his or her time on the main job at hand."
In Roy's view, a side hustle isn't about money. It's somewhat similar to a hobby in that it should be something you have passion for, and it should either exercise skills that you have or help you build new skills. But that is only the simplest part of it.
"A side hustle typically lets you connect with people that you would not meet normally in your in your daily life, so that you are able to gain different perspectives," he explains.
"You need to ask yourself: How is the side hustle adding value to my perspective? Am I learning new things? Am I meeting very different people? Am I getting involved in very different conversations? Am I solving different problems? And am I putting some investment into it, taking a bit of a risk, so that I will learn something whether I succeed or fail?"
Thriving in modern work is about understanding the challenges
The side hustle 'golden rule' is the most important of a set of tips that Roy and his colleagues at Deloitte developed to help individuals better navigate today's working environment. Dubbed the 10 rules of modern work, the tips are intended to present a clear proposition around how to master the new world of work and its challenges.
"Over the last three years, I have consistently asked one question to participants in our management and leadership development programmes: Give me one word that describes the way you felt at work in the last few months," Roy says. "And the number one word was overwhelmed. The number two word is frustrating. And the number three word is anxious. We have to answer these three questions: How do I feel less overwhelmed? How do I feel less frustrated? And how do I feel less anxious?"
Accordingly, Roy and his team came up with a simple set of rules, focusing on what actions people can take to guide their own mindset and approach to work. Besides the side hustle rule, the rules are divided into three categories: rules to help you take control of your own performance, rules to help make the quality of your work awesome, and rules to help drive your skill and career growth.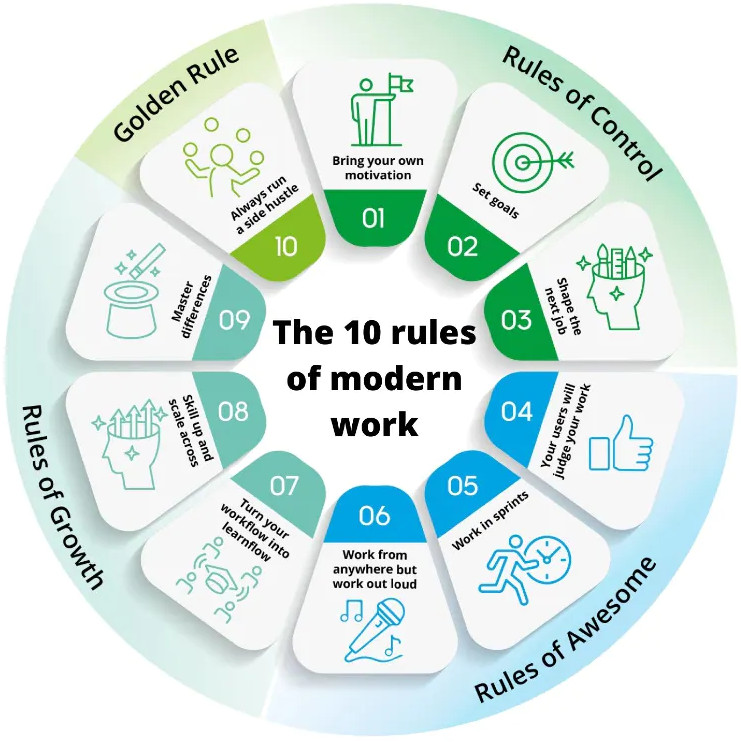 Image: Deloitte
These rules are intended mainly for white-collar workers who are more likely to be left to their own devices – both a good and a bad thing in a fluid environment where more and more emphasis is slowly being placed on the ability to operate autonomously.
"The first three rules or the rules of control are about reversing that feeling of being overwhelmed, to get a sense of control. The next three rules directly addresses the feeling of being frustrated – employees are telling us is that they're working longer hours than ever before but without any sense of achievement at the end of the week. So the second set of three rules, the rules of awesome, are about how to feel like you've achieved something every day," Roy says.
"The third set of rules is about addressing the anxiety when you see someone else accomplishing something huge and you feel that you're being left behind, or you feel like you can't understand the technology and other changes today. So the three rules of growth will allow every individual to feel like they are learning and growing faster."
And it's about managing the cost – to individuals and employers
The short expiration date of skills, jobs, roles, and even careers in the world of modern work imposes a serious cost on organisations and individuals alike – the need to constantly rework jobs, retrain people, overhaul workflows, and so on. Roy estimates that the cost of the resulting turnover may be at least three to four times that of salary cost without turnover – but exact figures are hard to determine, because so few organisations are tracking the cost.
"The organisation is bearing the cost in terms of retraining and replacing, because the skills are passing through and you've got to build up the skills gap," he says. "However, the individuals are also paying a price for it...every time you go into a new organisation, a new role, you've got to build out your network and skills again."
Ideally, he says, having the 10 rules of modern work as a guideline will help to somewhat alleviate the cost, simply by making it clear that the rules of the game have changed and people need to play along accordingly.
"If you know how to play the new game, by the new rules, you can potentially get 10 times more control of your life, feel 10 times more awesome at work, and grow 10 times faster than anybody else."