Leadership
Women, dare to claim your rights because you deserve it: Maria Teixidor
In a candid conversation, Board Member of FC Barcelona, Maria Teixidor, a lawyer, mediator, and businesswoman, talks about how she carved her own niche, her role as a board member in FC Barcelona in strengthening the role of women in sports, and how she is working towards giving women the voice and platform they deserve.
Maria Teixidor with some young women football players


Maria Teixidor is a lawyer, mediator, and businesswoman in the LegalTech sector. She is one of the only two women in the Board of Directors of FC Barcelona. She has developed her career as an advisor to cultural companies, publishers, foundations, associations, and technological start-ups, also specializing in the area of alternative conflict resolution, again, online. Partner in BCN RESOL ODR SOLUTIONS, S.L, she created the first application for detecting bullying and mediation in schools. 
After the elections of 18 July 2015, Teixidor joined the FC Barcelona Board of Directors as vice-secretary. In October 2015, she was nominated the vice president and secretary of the FC Barcelona Foundation, positions she held until December 2017 when she assumed new responsibilities in the Club's sporting area. On 11 February, she was named the secretary of the Board of Directors. Currently, she is responsible for Women's Football; President of the Club Control and Transparency Commission; as well as President of the Grup Edelmira Calvetó which is an entity set up by the Board with the intention of reclaiming the legacy of the role of women in FC Barcelona's history and as members, promote women's participation at the club and debate the role of women in sport. 
Since May 2017 she has been a member of the United Nations Association and from March 2018 she is a member of the 50a50 Association which acts as a lobby to promote women's representation in all spheres of influence in society, advancing women's participation and equality in decision making bodies in all areas. 
In an exclusive interaction with People Matters, Maria spoke about what it feels like to be a woman in a male-dominated career domain, charting one's own path and carving a niche, and the crucial role of women in sports.
Q: You are a lawyer, mediator, businesswoman and a board member of FC Barcelona. Tell us about your journey which is so exciting and different?
My journey started from being a lawyer to a businesswoman and mediator to becoming one of the 2 women in the FC Barcelona Board of Directors. As a lawyer, I started working in the intellectual property field and realized how the new developments were changing the business from all perspectives. This made me think about the fact that on the legal side, we were not giving the right answers for the legal challenges in a world where no information is confined or unreached. So, I started my first company that developed the subways to catch piracy and copyright infringements on the Internet. I discovered that by using technological tools, we were able to achieve better results. I left the law office where I worked and started my own practice also because, as a working mother, I soon realized it would be too hard to try to fit in a male-dominated structure. So it was a mix of wanting to lead my life and set my own ways of doing which let me to my own practice, company, and stories. And from that point, after selling my part of my first company, I started a second one which has developed an application for kids to notify their schools of any harassment or conflict they have. It has evolved to also a whistleblowing channel for companies, to allow workers and stakeholders of any conflicts they face. I am also involved in another company where we are developing Compliance software tools. Both initiatives are important for me in the sense that they bring technology to solve problems and conflicts which we, lawyers, are meant to do as peacemakers and agents of change. 
The FC Barcelona club is an association with 140.000 members which runs elections every 6 years to elect its governing body. I am a member of the club since I was a kid and used to go to the stadium with my father. I had a possibility to run for the 2015 election with President Bartomeu so, after we won the elections in July 2015, I became a member of the board where my duties have been evolving. Currently, I am in charge of the women's football and women issues. On the other side, I am the secretary of the board and the president of the ethics committee of the Club. This is something I do besides my job as a lawyer and businesswoman, as a contribution to my Club's success. 
Q: There are very few women in the board. Out of a total number of 19 members, just two are women. How difficult was it for you to crack it being a woman?
I think when you get to one of these boards, it is not only about being a woman but about being a person who looks at diversity as something that enriches the debate. This is not exclusive for women but for men also. When you join a board, it also depends on how welcoming your male peers are and how much they believe in the possibility of change and how much they believe that women issues are important. I found a President with a clear decision to empower women and some of the members have also thought this was a path that also had to be walked on and achieved. It is quite weird to be sometimes the only woman in the room, but if you have your colleagues supporting what you do, it is a change.
Sometimes you are the only woman in the room, but if you have your colleagues supporting what you do, it is a change.
Q: While working in the law profession, you have felt some disconnection because of being a woman. Can you tell us something about that? 
Yes, it is a male world and you notice it much more when you become a mother: you suddenly realize that the path that they are offering you is a different one. The only answer for maternity seems to be to reduce your hours and reduce your salary as they think that you are not going to work as much or as well as you did before becoming a mother. So, the perspective of building a career is harder. I found a lot of women around me not daring to get pregnant, to embrace maternity just because they were afraid about what the impact to their professional careers would be and I found this very sad and a loss for a developed society. It was hard to suddenly realize that you were not looked at the way it used to be and it was hard to assume that you are going to be discriminated in terms of salary, the ability to climb the ladder or to succeed in the same terms as your male partners who were also fathers.
Q: What advice you would like to give women in a stage like this? What are the best steps to take - should one move on or stay and fight the battle?
We, as women, need to ask for things and for what we believe is fair. Sometimes we are not used to asking because culturally, we have been taught to not to ask or bother anyone. Then I think we need to look for companies that really embrace new ways of working and embrace diversity as a whole. And the other point is about sorority and womanhood and being a support for each other. When one woman is being attacked, we need to look at it as an attack on all of us and we have to react as a whole. Finally, it is about asking for more balance in our workplaces.
Q: You play a very important part in strengthening the role of women in sport. How do you promote the participation of women?
I am responsible for women's football, which we made professional back in the 2015-2016 season and this is a project that was already there when I arrived and I am proud to be leading it. What we have made possible for women here at the club is allowing them to make a living out of playing football. So they are now paid, though not as much as the men as the difference is huge, they can make a living out of it. Before that, they had to work besides playing and /or study to ensure they could get a job. Professionalization is also about training in the mornings instead of late in the afternoon, getting a wider staff structure, eating at the premises under the strict control of our doctors which allows for better health and better performance and being monitored just like male footballers. So, what we are seeing here is a revolution, in the way they play, practice and in what they get in return. And this shows that when women are given the same conditions as men, they also blossom and achieve great results.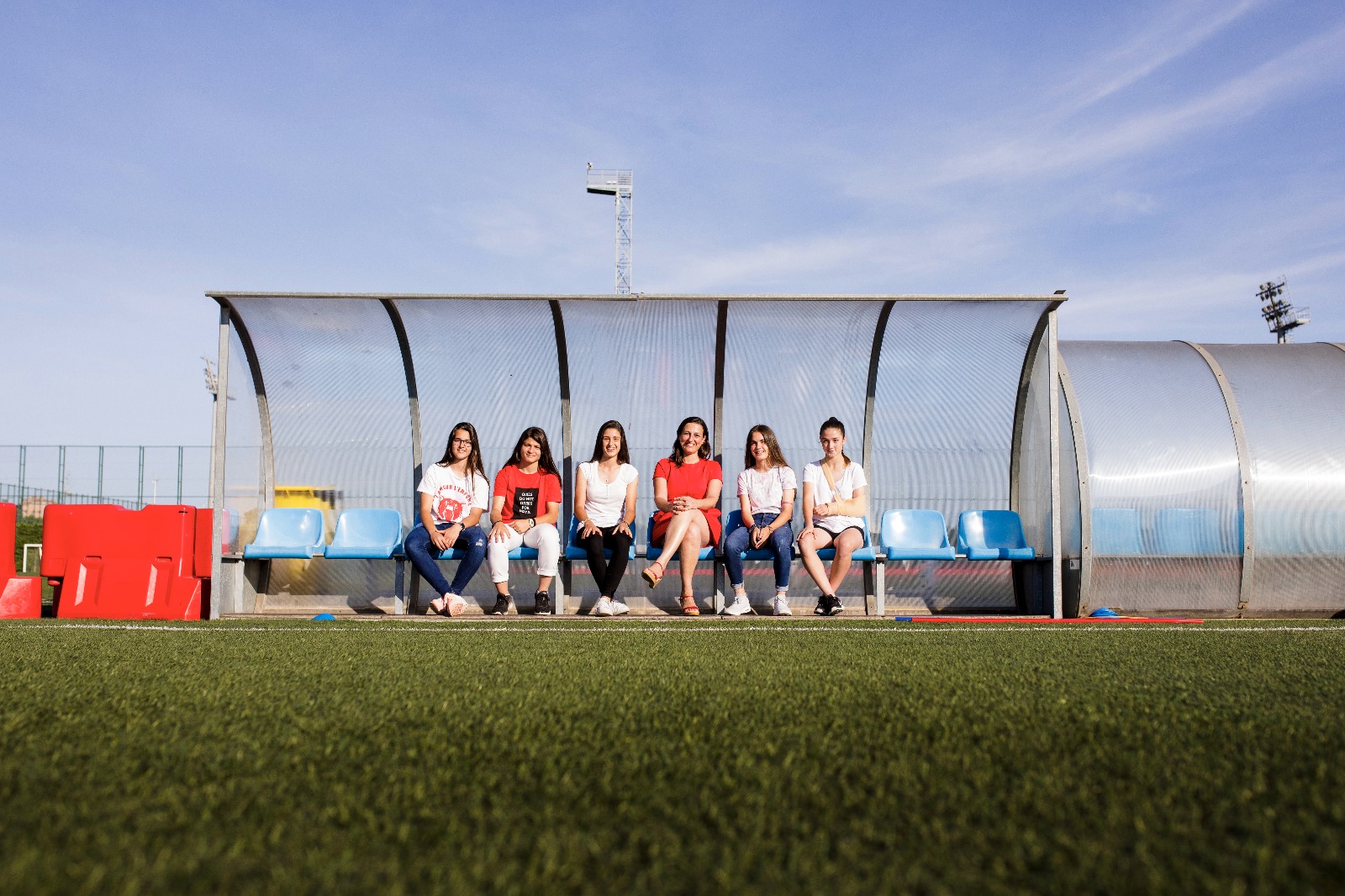 Besides football, I also sit over a working group in the Club which is called after its first female member, Edelmira Calveto. The group was set to reinforce women's voice within the Club, to recover the memory of women that have contributed to its' success and to foster women's participation. We, therefore, organize gatherings with women members of the Club to share ideas on which are the best ways to reach these goals. We also annually hold a conference on March, 8th  where we share views and learn from experts how to introduce a female touch in everything we do: from health, to medicine, from brands to language.
This year we have held this conference, focused in how trademarks can bring their messages to a female audience, and also in empowering our sportswomen in terms of building their own personal trademarks in order to get better sponsorships and therefore become a part of the game in all instances just as men do. Another thing we are doing is going back to our past as an association, looking for women who first fought for being there, like Edelmira Calveto the first woman that got the membership of the Club back in 1913, or Ana Maria Martinez Sagi the first woman that reached the board of directors in 1934. We have co-produced a documentary on the latter to bring out stories that inspire new generations of girls, as role models to follow. We need to show them that this is not something happening today, but there has been a wave of women thinking of equality and thinking that you can make it.
Q: How do you feel being part of this entire initiative? 
I feel great. I think at some point in life, you suddenly realize that you are here only once and that what you do really matters. I am a mother of two girls and what I leave behind will matter for them and for what they will be able to achieve. So, it is about seeing yourself as a part of the long story, the humanity story, and that humanity needs to evolve to a new stage. And the world is leading us there currently. So, I feel a part of the change, what has to be done and I am very proud of being able to lead these with the help of members of the club, colleagues on the board and also women who are fighting together with us. It is important to build and work for a diverse and balanced world where both women and men lead in equality.
Q: What advice do you have for women who look up to your journey and aspire to be like you?
My advice would be that life is something that you build day by day. So, everything you do matters and everything will lead you somewhere. Whenever you find yourself struggling, somewhere you don't like being because you are not treated fairly, let people know and just move on. There are plenty of opportunities and lots of women ready to help and we all need to denounce what's going wrong and take our part of responsibilities. So, dare to claim your rights, because you deserve it. It is all about making things happen and believing it is possible! 
Image Credits: German Parga / FCB