Leadership
For our people to learn and grow, we need to create an environment: Sondang Saktion, OLX Group, Indonesia
In an exclusive interaction with People Matters, Sondang Saktion, Director of Talent and Culture at the OLX Group in Indonesia shares with us the leadership lessons, she has learnt on the go, the one thing that leaders should do to make a difference, and the steps she is taking to develop a leadership culture in OLX.
Sondang Saktion is the Director of Talent and Culture at the OLX Group in Indonesia. An experienced HR executive, she was earlier responsible for driving the global leadership program at OLX, when she initially joined the online classifieds platform in 2014. Prior to OLX, she worked as the Head of HR Consumer Banking in ANZ. She has also worked with organizations such as Merck and Arthur Andersen Business Consulting in Indonesia.
In an exclusive interaction with People Matters, Sondang shares with us the leadership lessons, she has learned on the go, the one thing that leaders should do to make a difference, and the steps she is taking to develop a leadership culture in OLX.
1. Who is the one leader you look up to?
I would say it is our President Joko Widodo because he is a good example of leadership who has brought about revolutionary changes in the lives of Indonesian people with his very down to earth approach. Even as a President, he is a man of simplicity. 
2. What is the one leadership lesson that you learned on the go as a People Leader?
From my personal experience, I have learnt that as a people manager or leader, for our people to learn and grow, we need to create an environment The kind of input or the hire you make or the kind of people who leave you or if someone is demotivated in the team-it all affects the environment.
Secondly, no matter how much you talk about leadership concept and theory, but if you don't act it out and your decisions do not reflect what you say, the expected result won't be happy. You employees won't believe you unless the leadership practices what it preaches.
3. How digitally ready are you as a leader on a scale of one to ten?
I would say it would be between 9 to 10 because now I feel being a technology company, though may not think of us as perfect but we are a part of the Naspers group who invest immensely in tech and tool to ease our employees. 
4. Which was the last book you read on leadership?
The last book I read was Trillion Dollar Coach: The Leadership Playbook of Silicon Valley's Bill Campbell. It is a tribute to Bill Campbell, who coached, among others, Larry Page, Sergey Brin, Eric Schmidt, Steve Jobs, Marissa Mayer, and Sheryl Sandberg. What I learned from that book was that coach only the coachable. Not all people want to be coached and are coachable. They might say they want to be coached but do not spend time on them
5. What is the one thing leaders should do to make a difference?
Making decisions and moving forward - which is not easy especially that we are often faced with uncertainty and ambiguity. As a leader, sometimes even you don't know what the best choice is because of the large and complex dependencies. And many times you can't rely on your past experience. So that is the beauty. How you unlearn, think in the now, assess the situation, decide, execute, and learn from it.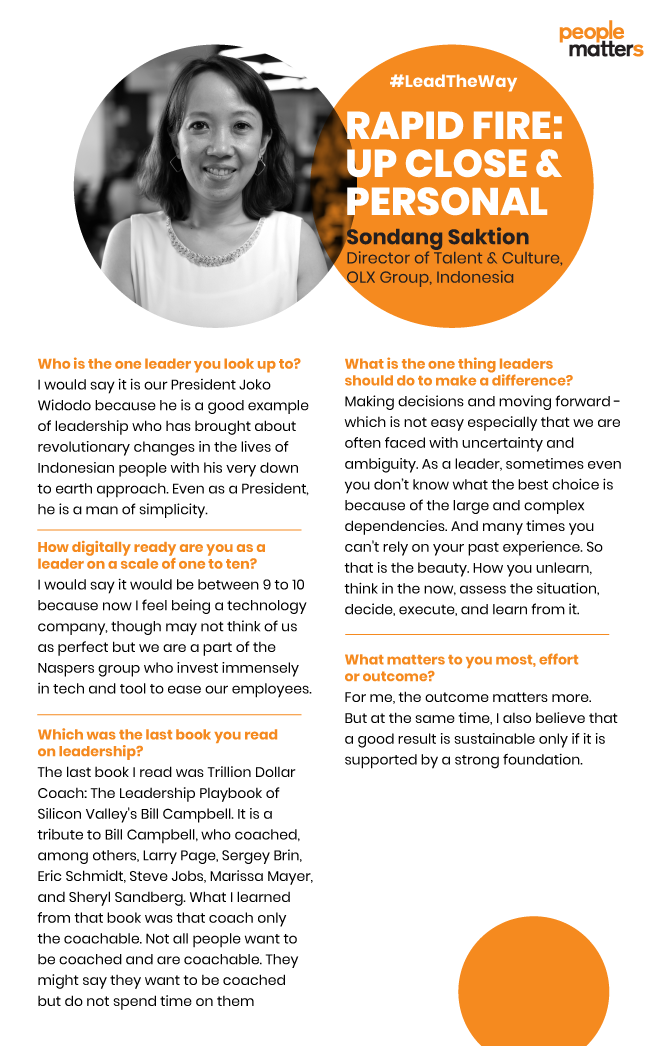 6. What is the one step that you are taking to develop a leadership culture in your organization?
I prefer to start at the top. I believe in having a great leader at the top and then surround them with a team of good leaders who would act as multipliers. Of course, there is no one perfect leader. But the basic qualifications need to be there-they need to have the growth mindset, they should take risks, communicate and bring the team together towards the goals setting clarity of expectations as to how they can create the company as a place where people can choose. 
7. What is the one thing that you consider as your strength and one thing that you would like to improve on?
I am very passionate, I drive things on the ground and make things happen, and collaborating and influencing is a part of my every second, every day.  This is also what I say to my team-they have to go and face challenges as that is how they will learn, be passionate and trust in what you do. You need to have a constant conversation, ask questions to build trust, and be brave to state your mindset. 
What I need to improve upon is the fact that I take my job very seriously! Sometimes a bit too personal. Sometimes I feel, it is also a part of being a woman, wherein I self-criticize a lot. 
8. What matters to you most, effort or outcome?
For me, the outcome matters more. But at the same time, I also believe that a good result is sustainable only if it is supported by a strong foundation. 
9. What is the one key learning that you have picked from your team?
I have learned that sometimes I am quite tough to my team. While I joke around with them, when it comes to work or deliverables, I demand very high. If I have to get feedback, I don't wait to give it. And in Indonesian culture especially, I come across as very candid and straightforward, though my team knows my intent. In the past, I used to have the mindset of bagging people together with their performance. But then I realized people come with their own strengths and weaknesses-it is human to make mistakes. And making mistakes, learning and improving is a process. So now I don't see things simply as black and white.
10. What's the one most important factor you consider when hiring someone?
There are two things I would say which are hard requirements we look for when hiring people for OLX. They are drive and curiosity. I believe that you cannot coach drive. It's either there or not. We need someone proactive to dive into uncharted water and get things done without much being told or instructed. 
Curiosity/growth mindset: your belief and passion to keep improving yourself will make you travel far to make a career in this technology era. There are many unknown things that were not heard of in the past. So you need to unlearn before you learn and continuously seek new ways of doing things.