Leadership Development
Employment revolution: Mercer lays down strategies to combat inflation, talent shortage, AI
In a span of only two years, there has been a rise from 44% to 71% in the proportion of employees who have observed automation causing substantial changes in work processes.
With global talent shortages, widespread layoffs and inflation, the last six months have felt incredibly long for employers. As we venture deeper into 2023, HR leaders are wondering about the obstacles that lie ahead.

During the 2023 APAC Rewards Trends and Insights webinar, Puneet Swani, Career Business Leader for Asia, IMEA, and the Pacific, as well as Kulapalee Tobing, Regional Industry and Solutions Leader for Asia and the Pacific at Mercer, cautioned employers to prepare for significant changes in the workplace.

With the increasing impact of inflation on the talent shortage, they highlighted the challenges in managing employee expectations to facilitate more flexible work arrangements. Simultaneously, the rapid advancement of generative AI is reshaping the world of work, further amplifying the shifts in the work environment.
Additionally, Puneet and Kulapalee discussed the latest trends in salary adjustments, incentives, and employee turnover. They further outlined the landscape of pay based on skills and addressed other workforce-related challenges in the Asia-Pacific region to assist employers discover actions they can take to rethink the future of work.
Economic recovery in 2023
The global economic forecast continues to be influenced by the impact of network disruptions over the past three years, resulting in unexpected consequences. Despite this, 2023 appears to be heading towards a strong economic recovery. However, different countries are taking varied approaches to tackle inflation. In contrast to the lower growth seen in some countries this year compared to the previous year, we expect higher growth in 2024. 
"While there is a downturn currently, there's optimism too," said Puneet Swani and added, "Asia's growth remains robust despite numerous challenges. This translates to increased investments in the region from a talent standpoint, with companies expanding their presence. This is directly linked to the demand for talent and subsequent changes in compensation or rewards over time."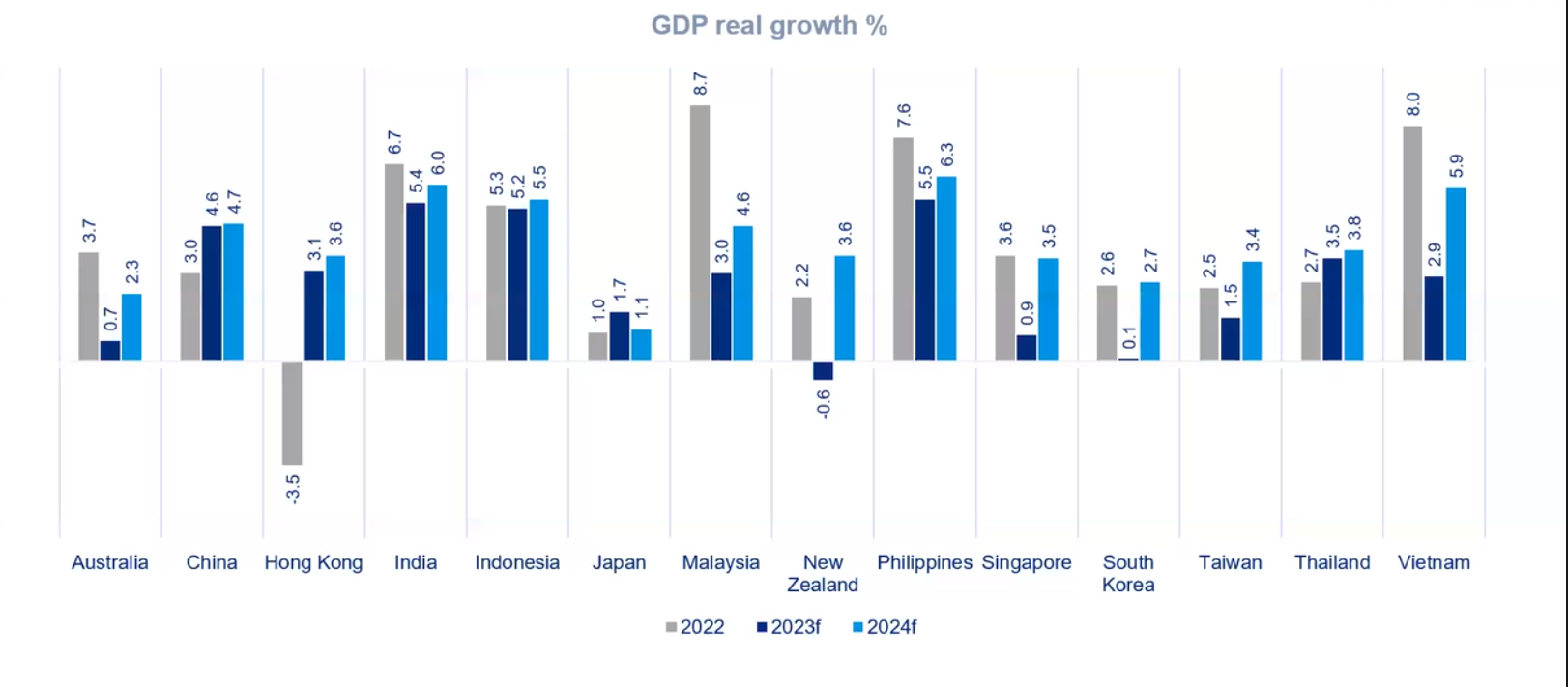 Unemployment variations and talent challenges
The job market has stayed strong in some regions, especially in countries like Japan, Korea, Singapore, New Zealand, and Australia. Unemployment rates are quite steady there. However, in developed markets with more informal sectors, there's more instability, leading to higher unemployment rates compared to the mentioned countries.
The main causes of talent shortages are the changing demographics due to an ageing workforce, shifts in business models towards automation and AI, and the evolving skill sets needed for jobs. 
As shown in this slide, there's a 17-year high in organisations facing these challenges. "It's crucial for companies to swiftly prioritise upskilling and reskilling their employees to meet current demands. While growth is expected to return, there's a risk of missing out on opportunities if the right talent isn't in place," stated the Career Business Leader at Mercer.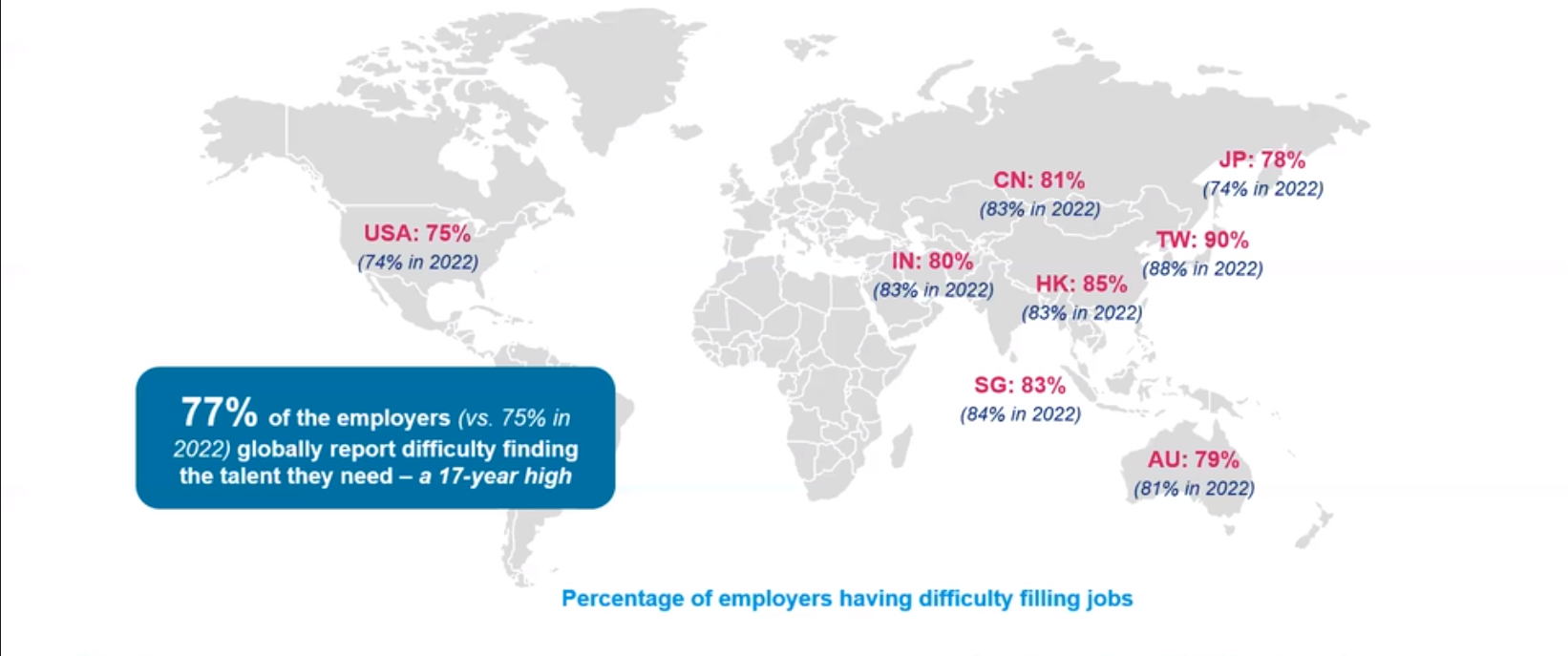 Work's new dimensions: Flexibility and purpose
Covid-19 brought about significant changes, particularly in terms of flexibility within organisations. This flexibility became highly valued by both employees and employers. Surveys show that this approach has been well received. Hybrid employees are not only more satisfied with their employers but also feel a stronger sense of belonging to their teams. However, onsite workers face challenges in balancing personal and work life. 
"The future of work goes beyond the traditional boundaries. While we used to concentrate mainly on where work happened, the pandemic compelled us to re-evaluate all aspects of work, particularly flexible arrangements. This shift offers numerous possibilities to optimise and adapt, considering various dimensions," said the Regional Industry and Solutions Leader, Asia and Pacific, Mercer
"Key questions include the nature of job roles, the feasibility of adjusting the workload's intensity, and determining the responsible individuals. Additionally, the automation potential of tasks needs consideration. Many companies are now questioning whether the work truly aligns with employees' purposes and if it serves a greater meaning beyond what was initially perceived," added Kulapalee. 
AI's growing influence on work
AI has been a major disruptor in recent times, with its accessible and transformative power poised to reshape our work processes. Insights from the Worksite Global Health Trend reveal a significant shift in employees' views on automation's impact on their work. The percentage of employees witnessing automation significantly altering work processes has increased from 44% to 71% in just two years.
Unlike previous instances of automation integration, work is about to experience substantial disruption due to generative AI. Over time, it's projected that around most of the current tasks can be augmented by generative AI capabilities. This will profoundly affect jobs and talent dynamics. While the conversation has shifted, it's important to note that the impact on the workforce won't be immediate.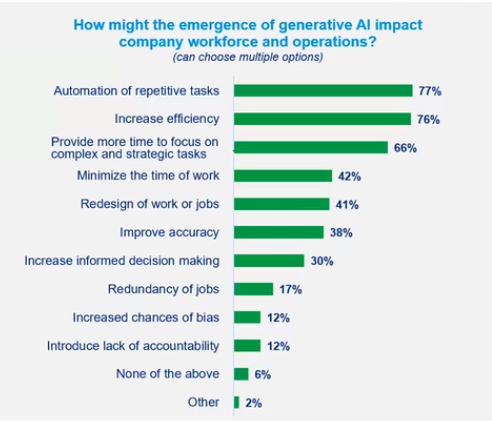 "In a recent Mercer survey conducted last June and July, only 6% of companies anticipated more than 20% of their tasks being automated by AI within the coming year. Additionally, one out of every three companies expected direct impacts on their organisation within the next 12 months," said Kulapalee Tobing. 
"However, the flip side is that merely five companies projected the possibility of eliminating jobs due to AI within the same timeframe. The scope and magnitude of generative AI's influence on work also vary significantly among companies. Furthermore, it's worth noting that this technology is anticipated to boost productivity by automating repetitive tasks and enhancing efficiency," she added. 
Limitations associated with AI
Generative AI is swiftly and significantly reshaping the dynamics of work. It's evident that this technology is positioned to revolutionise different aspects of work, including its potential to reshape manufacturing processes in the automotive industry. Nevertheless, it's crucial to recognise that there are constraints linked to this technology.
Experts are urging caution regarding generative AI due to its early stage of development, which can make it susceptible to errors. It's known that generative AI can produce false or biased information that still appears plausible. To combat this, "there are two primary points to consider. Firstly, it's crucial for more companies to strategise on establishing a functional operating model that incorporates the necessary tools and practices for analysing work and effectively implementing emerging AI and automation," advised the Regional Industry and Solutions Leader, Asia and Pacific, Mercer. 
She further added, "secondly, it's important to address talent concerns. Many organisations are concerned about the potential impact on talent dynamics. We've observed several organisations rapidly replacing junior-level positions with automation, but it's vital to remember that a significant portion of our workforce progresses from junior roles to more senior ones. This model should not be disregarded." 
Key areas companies need to focus on:
Carefully manage and nurture talent pipeline to cultivate future leaders. 
The development of future skills is imperative, as digital transformation continues to grow.
It's important to foster a culture of reinvention within the organisation, acknowledging the evolving landscape driven by AI and other advancements. 
2022 to 2023: The salary shifts
In the previous year, salary increases became prevalent and reached a wide range of people. However, despite these increases, the job market remained challenging. As we look ahead, salary projections for 2023 are expected to be higher than those in 2022 across various markets. Companies are striving to maintain this upward momentum, aiming to match the pace of market trends. 

Beyond the paycheck: Navigating non-financial compensation
Following best practices might not always be ideal. It can create extra financial strain on organisations, impacting their overall health and long-term sustainability. It's crucial to realise that industry pay raises are just one aspect. Many companies worldwide, about 75%, are giving more importance to non-financial compensation factors. However, this trend is less common in Asia, where it's only around 45%.
Additionally, around two-thirds of companies are prioritising effective communication of total rewards to their employees. Furthermore, 55% of companies are actively reviewing and updating their rewards philosophy.
"We've observed that employees are increasingly valuing what truly matters to them. This prompts organisations to find the right equilibrium between basic salary and comprehensive packages, along with other beneficial arrangements. An intriguing approach has emerged from the employee directory, indicating a shift towards non-financial considerations. In the face of competition, companies should explore these non-financial aspects to effectively address challenges," suggested Kulapalee Tobing. 
3 Key realities shaping the future of work: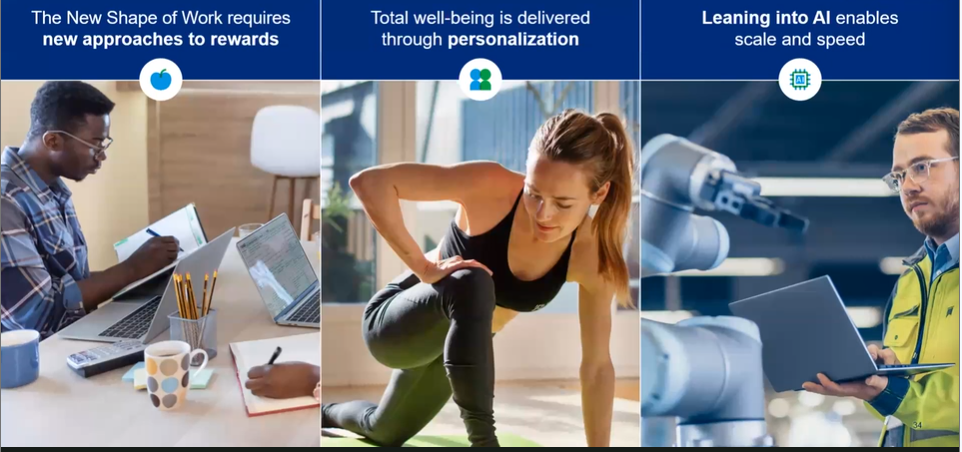 1. Evolving rewards and expectations: The future landscape of rewards closely aligns with our existing network and expectations. What's evident now is that our reward programs are reflective of current realities without the temporary nature we initially assumed. The new shape of work demands a closer look at how work is defined, transitioning beyond a mere focus on work-life balance to address the changing dynamics and needs of the workforce.
2. Personalisation and technology: A crucial factor is developing programs and technology that offer personalisation. With the emergence of diverse new generations, catering to individual preferences becomes essential. This trend impacts human resources profoundly, with the need to understand how this shift affects the organization's structure and function.
3. AI for scalability and speed in work: When it comes to generative AI, companies need to direct their attention to two crucial aspects. Firstly, they should formulate a strategy for creating a practical operational framework that integrates tools and methodologies for scrutinising work processes and effectively integrating emerging AI and automation technologies. 
Secondly, they should give due consideration to talent-related issues by meticulously overseeing and nurturing the talent pool, with a focus on cultivating future leaders. Moreover, it's imperative to prioritise the development of skills that align with the future, as this will foster a culture of adaptation within organisations, enabling them to navigate the changing landscape influenced by AI and technological progress.
This shift requires a paradigm change in how organisations approach workforce planning, leveraging data and analytics to adapt to the changing landscape. With the rise of digital nomads and remote work, the challenges of paying employees according to their location arise, demanding innovative solutions. Overall, as organisations evolve to meet these realities, the focus should be on fostering diversity, inclusivity, and empowering employees through technology and personalisation.