HR Technology
Storybuddy: Digital writing for employer branding
Leveraging on AI, content creation platform StoryBuddy helps its ever-growing database of users from more than 40 countries to elevate their content.
StoryBuddy, a Singaporean-based AI storytelling bot, aims to help professionals and businesses by combining AI with storytelling techniques to create content such as articles, social media captions and more. Businesses have always incorporated storytelling elements when promoting a product or in their communication, which has proven to be an effective strategy. StoryBuddy aims to be the tool that users can depend upon to create this content with the same quality, while also being more efficient using its AI technology. StoryBuddy is also aimed at employers looking to increase their employer advocacy, and to bolster the process of attracting new employees.
StoryBuddy was started by HR professional and tech start-up founder Sam Neo, when he set out to tackle the issue of balancing writing content projects while having to deal with limited resources and a small team. Seeking to solve the issue, Sam created StoryBuddy in August 2021, creating an AI bot that would assist users in creating engaging content that would allow them to express themselves better.
Applications for StoryBuddy are seemingly numerous, and include improving the writing and tactfulness of emails, developing sales pitches, or even writing informational articles of specific topics.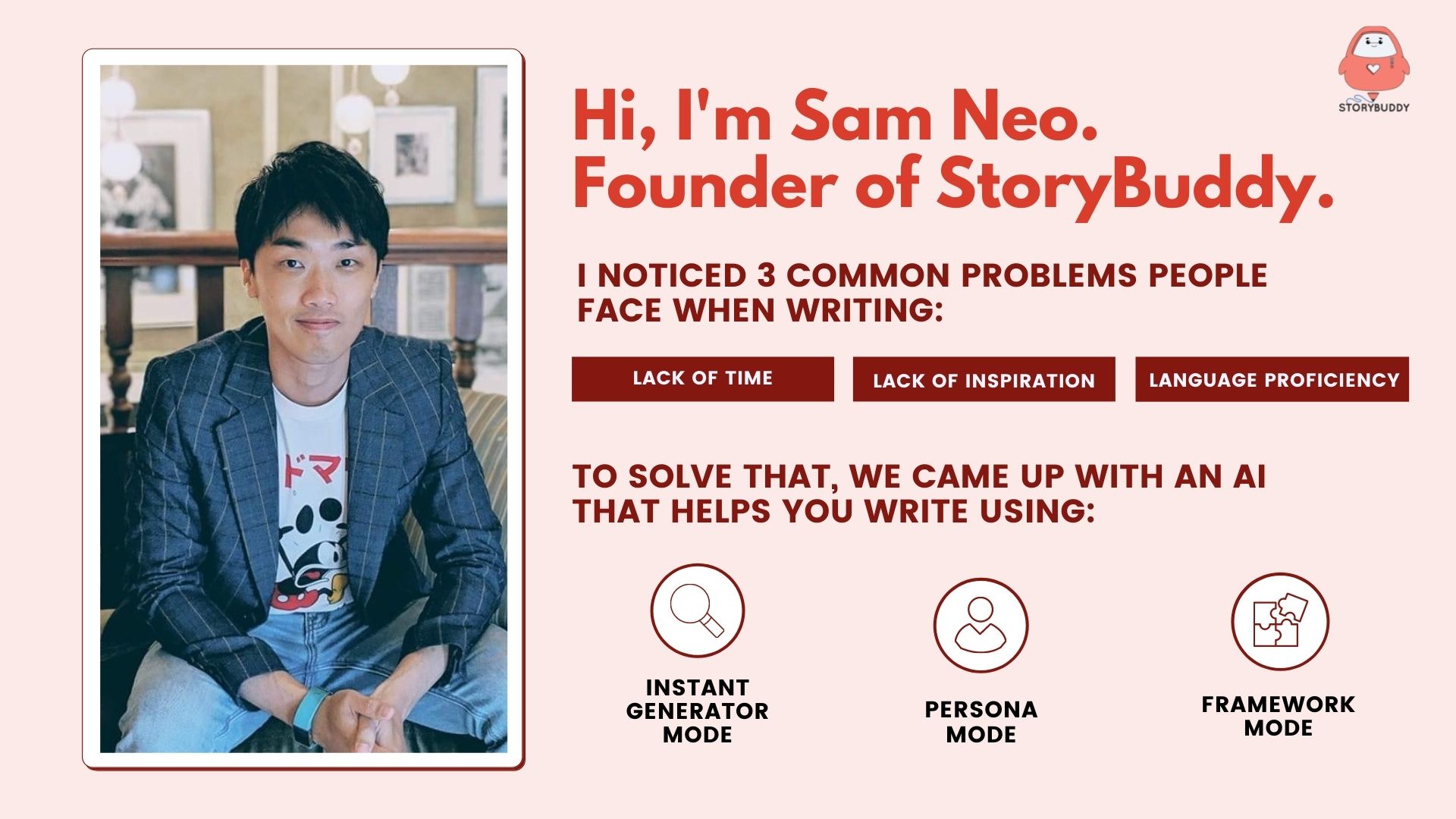 Founder of StoryBuddy, Sam Neo
An inclusive platform
StoryBuddy is a platform that encourages open, authentic, and inclusive communication. As a platform that is dependent on its users, StoryBuddy is a tool that is inclusive of all people, from all manner of backgrounds. While professionals in a company may not always have the same level of skill in writing, StoryBuddy was also created with evening out the field in that regard. Users can express themselves efficiently using the bot, and StoryBuddy wants to become a space that working professionals can feel comfortable in. For example, with StoryBuddy, employers can now ask their employees to complete writing-related tasks, even if they are not as skilled in the area. Due to the nature of the platform, StoryBuddy aims to continually expand its user base, a base that includes users from 40 countries and rising. StoryBuddy has also partnered with companies of different sizes, including Diageo and Under Armour SEA.
StoryBuddy CEO Sam Neo shared: "After testing it out in the market, I realised our target audience shouldn't be writers, but people who we wanted to help find their voice."
How it works
StoryBuddy is powered by AI bot Kob-i, named after the late Kobe Bryant, an idol of founder Sam. Kob-i is the brains behind StoryBuddy and will execute tasks after being fed "Buddy Tokens" by users. These tokens allow Kob-i to compute results depending on the input the user types in. Kob-i is capable of writing both long- and short-form content and is highly adaptable to whichever subject the user chooses to write about. Content that Kob-i produces ranges from producing short quotes to full informational articles about the topic that the user has specified using the instant generator. Giving Kob-i some context and a keyword on its instant generator mode can allow it to come up with one-liners that can be used as headlines, captions, and taglines.
Kob-i's instant generator functions
Language-wise, Kob-i is also capable of adopting several different personas. Kob-i can incorporate tones such as being passionate, excited, smart, direct, and much more. It is also capable of changing the perspective that it is being written from. For example, Kob-i can take on the writing style of a budding student, an entrepreneur, or even a seasoned business professional using the persona mode. Kob-i's AI was built using the foundation of OpenAI, a company founded by billionaire Elon Musk.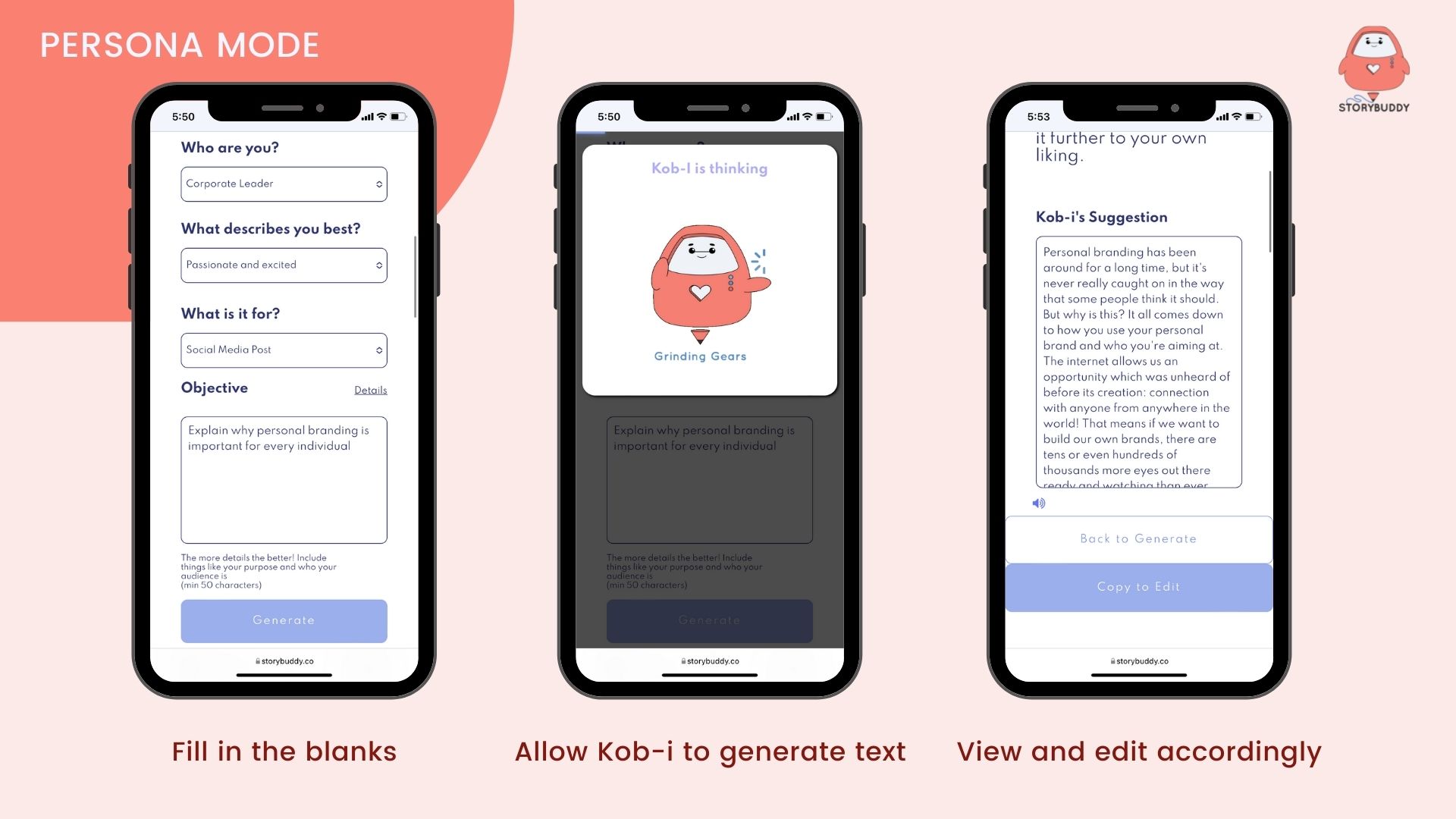 Kob-i's persona mode
Channeling the voice of the user
In Kob-i's framework feature, users also have access to a journal option, which can further help create structured content. Users can use this option without the help of the AI, but Kob-I can also help by being able to expand on a prompt. By writing a prompt such as "I have been feeling so tired and moody lately", Kob-i will then be able to create an output that expands on the potential feelings of the user. This will be able to help users discover how to express themselves in various ways and could also help to overcome writer's block. Additionally, this StoryBuddy feature allows users to post structured content that would fit on any social media platform.
Julia Chin, Head of Compliance at Hugo Save SG says, "StoryBuddy is a very user-friendly platform to help you to develop the right statement for any kind of purpose at work, it saves your time a lot!"
Constantly growing and improving
Kob-i is an AI, and is therefore continually growing and expanding, with StoryBuddy already capable of generating content two to three times faster. StoryBuddy aims to also have a collaborative mode for teams, a mobile app, and a language module in Bahasa Indonesia, all to be launched by late 2022. Through the various signed partnership agreements in various regions in Asia this year, Storybuddy is also expected to gain a captive audience of 4 million users and more.
"At StoryBuddy, we always want to provide individuals and companies without a voice the ability to do so and with the platform continuing to grow, our hope is that we will be able to empower storytellers with ways to make digital communication accessible for everyone," said Sam.