HR Technology
How Talocity enables touchless hiring through its AI-based video interface
In an exclusive interaction with People Matters, Talocity co-founder Ketan Dewan shares how the AI-based video platform is making touchless hiring possible.
AI-based one-way video interview platform Talocity was founded for a simple purpose-to enable employment for anyone willing to work. And this idea of helping others find their purpose came to co-founder Ketan Dewan not in any brainstorming session but rather on a meditation break in 2011! When Ketan deep dived into what drives him, he found that he was driven by helping someone find a job. He believed that there has to be an ecosystem such that if someone at 10'o clock in the night decides to get a job, he should have an offer letter in his inbox in a few hours. That's how Talocity came to being in 2015.  Founded in 2015 by Ketan Dewan, Dilpreet Singh, and Rajat Suneja, the HR tech startup which uses AI for providing touchless hiring to recruiters is on a purpose to enable employment for anyone willing to work.
The Gurugram based SaaS-based platform provides a one-way video interface to gauge the potential of existing employees' and future employees by generating a personality report. Talocity provides English and domain Multiple Choice Questions (MCQ) assessments and yields cognitive personality reports that smoothly integrate the recording of employee data for the purpose of recruitment and training, therefore making it a 90% touchless hiring system.
Video Interviews in 39 languages 
To begin with, recruiters using Talocity punch the CVs which they have into the engine. The engine sends an SMS, email, and IVR to the candidate with a video job description link. The candidate clicks on the link, watches the video JD, and if he likes the company, he applies through a one-way video interview. The employer presets the questions for the interview and they can be offered in 39 different languages of the world. This constitutes the direct way to source. One can also source through an indirect way wherein the recruiter can paste a QR code on the organization's career site or LinkedIn or social site and people can apply through that route as well.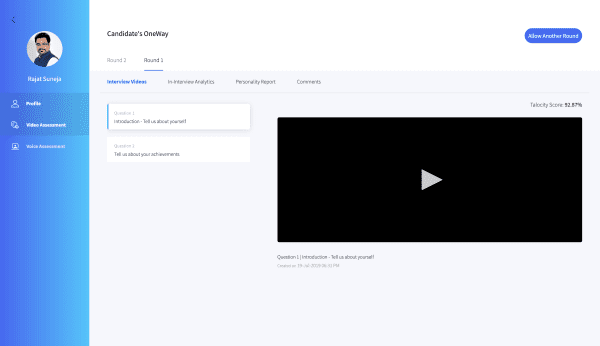 For the first time, you have to train the machine. The machine learns the personality attributes of the candidates applying by capturing eyeball movement, choice of words and tone and the system auto-generates a 48-word attribute personality report of the person, besides demographics inputs like skill rating, stability rating and relocation rating. So through this report, you can benchmark people on the four key competencies which are critical for any person in today's world, which are learnability, flexibility, collaboration, and coach-ability. If anyone possesses these four competencies, that person is the ideal hire for a given company. 
A company can benchmark people against these competencies plus more. So the next time, the machine will recognize which candidates are fit for hiring as per the company's standards-which means the recruiter does not have to meet 80% of the people who anyway he won't hire. 
250,000 transactions, 2,000 recruiters
Used by more than 2,000 recruiters every day, the startup claims to have crossed the 250,000 transaction mark. It is used across India and 25 other countries across the world. People pay the startup for the bundle of transactions-it's a perpetual license month on month and the companies pay basis their usage. Ketan adds that the product offers almost an 80% cost benefit to its users by bringing down the cost per hire. Currently, it claims to have around 27 paying customers such as YES Bank, MakeMyTrip, HDFC Life, Infosys, IFFCO, Synchrony, Bajaj Finserv, Sutherland, FWD, Aditya Birla and L&T Financial Services, and UrbanClap among others. The startup raised its first angel investment from Raj Bhatia in the 2016 and later raised another angel funding of over Rs 1 Cr.
Adds Ketan, "The transactions where human intervention is not required, are handled by the machine. And wherever, the human touch is required, it is handled by the humans-such as salary negotiations, candidate experience, and on-boarding. So it is a perfect combination of touch by humans and touchless by machines."
Differentiating through unstructured data
With the proliferation of AI-based recruiting startups, how does Talocity differentiate itself? Ketan reveals that most of the people are putting applied intelligence on keywords, which is structured data. What Talocity is doing is pulling out data from unstructured environment basis a candidate's eyeball movement, choice of words, and tone. The machine forms an opinion about the candidate through the interaction. This opinion can be used in hiring, in training, in exit interviews, even in matrimonials-basically anywhere where two humans have to decide a match.
When it comes to accuracy, the machine gives an outcome of the individual, which is 90-95% accurate and helps you shortlist the profile for success based on your previous successful hires. Also, with the data set of 200-300 interviews, you get a 50%-60% accuracy. That accuracy can go as high as 85-90% with 1500 data points. And this can happen in a span of mere four to five days in a volume hiring scenario.
It is on the back of this technology that the HR Tech startup is planning to make a foray into the US market next year. Currently, it has a physical presence in India and the Philippines and in 25 countries product-wise. Also on the anvil, are plans to raise another VC round to fund the US expansion and acquisition of one or two companies which have very interesting products and can be integrated with Talocity's platform. 
The right AI is not going to take away jobs
As like any other HR Tech startup in India, Talocity has had its share of challenges. And one of them is battling the myth about AI and jobs. 
Says Ketan, "The right technology and the right AI is not going to take away jobs and this is one misconception which should be removed around AI. It is going to empower people. Tomorrow's recruiter is going to be a human psychologist. You will have to upskill your teams on that. Recruiters will get adept in managing the emotional quotient of people while machines will handle all the transactions."
He also feels that Indian HR leaders should wake up to this reality. Currently, you have three types of leaders in HR- first is the tech evangelist who can understand and manage change in his organization and is super pepped about technology. The second one is a tech evangelist but cannot manage change-so they open up their doors to startups like Talocity, which enables them to co-build the change. The third kind is the tech enthusiast who knows nothing about change management. These are people who do not understand the real benefits of AI and are not very keen to drive real change in the organization.
Targeting an $8Bn recruitment market in India
The recruitment market in India is about $8Bn and in the US, it is about $120 Bn, as per Ketan. Globally it is about $700 Bn and very little of it is tech-enabled. As the number inches to a trillion dollars in the coming years, with growing tech implementation, the recruitment market is only going to go north from here. Which means startups like Talocity will have a much bigger pie to play for. But this also means there will be increased competition from players such as Talview, Harver, Monjin, Impress.AI, Xobin, and others.
Ketan adds, "As individuals today, the amount of technology that we are embracing is growing at a breakneck pace. And I think it is going to translate into technology adoption into the enterprise side as well. The only problem why adoption becomes challenging in India is everybody wants to do things their own way. That's why we created a template which can be tailored to everyone's requirements and kept everything DIY. This way we don't have to spend time and money on customization requests neither waste time to do things away from our roadmap." How smooth this road will be given the increasing number of players in the space will be something to watch out for.