HR Technology
How Phenom People aims to help one billion people find the right job
In an exclusive interaction with People Matters, Mahe Bayireddi, CEO and Co-founder of Phenom People shares how the Talent Experience Management helps companies to deliver a better talent and employee experience.
Talent experience has been highlighted as one of the major HR trends for the year 2020. It will occupy the center stage in the global HR market which is more than a $400 Bn, with over $32 Bn spent on technology solutions. In order to optimize talent experience for millions of job seekers, employers require data and automation throughout the entire journey in order to personalize and optimize every talent experience. This is the gap that firms like Phenom People aim to address.
The Philadelphia based leading Talent Experience Management (TXM) platform founded in 2010 by Mahe Bayireddi, Hari Bayireddy, and Brad Goldoor offers a single platform that eliminates the need for multiple HR tools—connects the four key stakeholder experiences in the talent lifecycle and reduces time-to-hire and cost-per-hire while improving talent quality and productivity. The HR tech firm with offices in Canada, India, Israel, London, and Rotterdam, has grown to 600 employees, over 200 customers across all industries and ranks 120 on the Deloitte Technology Fast 500.
In an exclusive interaction with People Matters, Mahe Bayireddi, CEO and co-founder of Phenom People shares how the Talent Experience Management helps companies to deliver a better talent and employee experience.
What was the tipping point behind creating Phenom People?
When we first founded the company, we specialized in mobile recruiting. As we've grown, we've expanded to the full talent experience for candidates, recruiters, employees, and management—Talent Experience Management (TXM). HR is built to only manage the process and workflow of the talent lifecycle, but there is an opportunity to improve individual experiences. 
"Our focus is to deliver a hyper-personalized experience throughout the talent lifecycle and turn work into moments, activity into productivity, job redesign into talent evolution, and reports into intelligence."
How exactly does Phenom People help companies to deliver a better talent and employee experience? Please explain in layman's terms.
Our platform is built using reliable and accurate Phenom AI, which means our features provide personalization, intelligent search, and actionable insights into the talent journey. What do these things mean? Let's break it down:
Personalization: On the candidate side, they get to experience what it's like to have page content change as they browse the career site, and even receive relevant job recommendations based on their interests, skills, and location. This means job seekers no longer need to face the void when they are on a career site—which can be one of the most daunting aspects of finding the right job. For employees, an internal career portal empowers talent to define their career path within the organization. Employees can discover best-fit open positions within their company, as well as the skills required. The platform then recommends learning courses to upskill and train talent to achieve their career goals.
Intelligent Search: Also on the candidate side—keeping in mind this can also mean an employee looking for internal jobs—we provide advanced searching capabilities. When a job seeker searches for a specific type of position, our AI understands the intent behind what they are looking for—regardless of typos, abbreviations, or synonyms. This is the true benefit to natural language processing and means talent finds what they need, faster.
Actionable Insights: For recruiters and management, we are the first solution to offer deeper analytics and insights into all touchpoints along the talent journey. This is one of the most powerful pieces of our platform. Analytics are multifaceted, but from them, recruiters can get advice on how to improve their talent marketing tactics—such as email or SMS campaigns—and management gets better insights on how to increase ROI, from CRM usage to overall hiring strategy. These insights ultimately shape better time-to-hire and cost-per-hire metrics.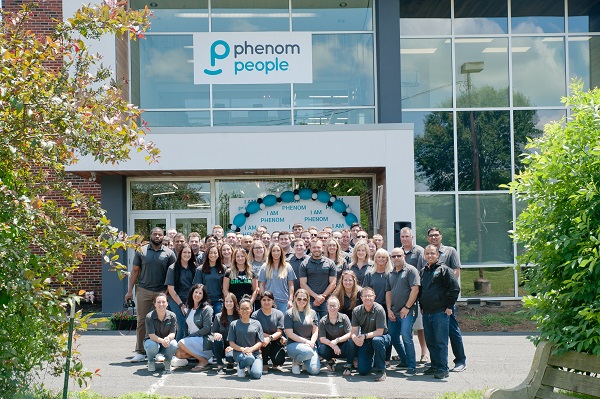 How has the traction been since its founding? How many customers does Phenom People have? How do you monetize the platform?
With over 300 customers worldwide, we are well on our way to fulfilling our mission of helping a billion people find the right job. Our platform is a licensed-based modular solution. We host the following for enterprise organizations: career site, chatbot (for candidates and employees), CRM, CMS, email & SMS campaigns, university recruiting, internal mobility, career pathing, diversity & inclusion (such as employee resource groups), reporting, forecasting, and talent analytics.
We have been very excited about our growth since our founding. Just a few weeks ago, we announced raising $30 Mn in Series C funding.
What differentiates Phenom People from competitors that offer similar solutions?
Phenom People's single platform approach to the talent experience is in and is its advantage. Because all stakeholder interactions occur on the Phenom TXM platform, our Phenom AI understands the intent of everyone and can deliver better job recommendations, more qualified candidates, and stronger tactics for recruiting and retention strategies. These interactions make up our massive data network and predictive modeling that powers our AI.
We are also seeing impressive chatbot adoption. In just one year, our AI-powered and machine learning chatbot has captured 20 million interactions—getting smarter with each one. To help the chatbot learn and better personalize the talent experience, our customers feed it the information it needs to answer questions and provide facts about the organization.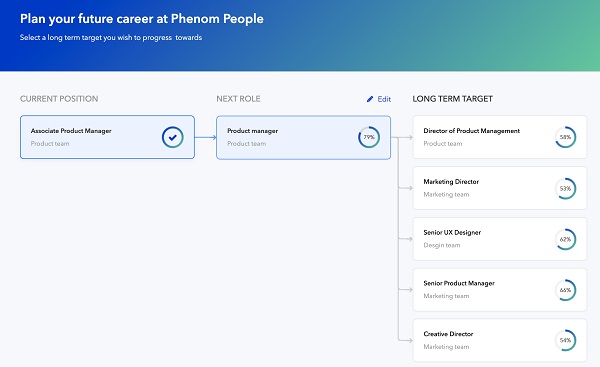 What are going to be your future plans as far as product and expansion are concerned?
Personalizing each experience has been at the forefront of what we do. But now it's time to integrate each experience for a holistic talent lifecycle from job seeker to employer brand advocate. There's also a lot of talk in the industry about whether or not AI should be used in the candidate selection process. Our belief is that it should be used to point candidates in the direction of the right job, the recruiter in the direction of the right candidate, the employee in the direction of the right career path, and management in the direction of the right talent strategy. 
"When employers adopt AI in their talent acquisition and talent development efforts, more of the right talent is brought in and recruiting velocity is accomplished."
How do you see talent experience space changing in the coming years? What will be some of the trends?
We believe AI will have a positive impact on all talent experiences. It's already changing our industry for the better, such as taking recruiters out of the weeds of tedious tasks and empowering them to focus more on what's important: building relationships with top talent. We're also seeing AI provide richer experiences for job seekers, connecting them to the right job while feeling seen in the whole hiring process—just like everyone deserves. We have a lot of plans to shift the talent experience and evolve the whole talent journey so everyone can focus on what matters. That is how we will help one billion people find the right job!