HR Analytics
Driving business productivity with people analytics
In a virtual session conducted by People Matters, David Green, Managing Director- The People Analytics Program, Insight222, shared how organizations can derive more value from people analytics.
People analytics offers tremendous potential to companies to support business strategy, improve productivity and performance, and personalize and enhance the employee experience. Despite this and significant growth in interest and adoption, business and HR leaders are still struggling to derive value from people analytics.
Challenges include managing increasing amounts of people data, developing the data literacy skills of HR Business Partners, managing ethics and translating analytical insights to value.
Two questions that prevail are: "How can I improve my impact?" and "What should I focus on?" In order to answer these queries, David Green, Managing Director- The People Analytics Program, Insight222, conducted a virtual session to help delegates identify business challenges within their own organizations that they could potentially use people analytics to help solve.
Here are some key insights from the session-
People Analytics is the fastest growing area of HR
David kick-started his session by stating that change has never happened this fast before and will never be this slow again. In fact, a recent Emerging Risks Monitor Report from Gartner in 2019 found that the pace of change is the biggest risk facing organizations today according to CEOs. Hence as organizations operate more distributed business models, leaders will need to lead from the edge, adopt the right technologies, and drive a new vision of organizational culture and shape innovative people strategies for the future of work. As the way work gets done is changing, a growing area of responsibility for HR is to partner with CEOs and C-suite leaders to achieve the optimal combination of human workforce and automation to ensure a positive impact on the future of work. Hence the rising need of people analytics. As per a LinkedIn report, 85% of talent professionals agree people analytics is one of the trends to watch out for in the future of recruiting and HR.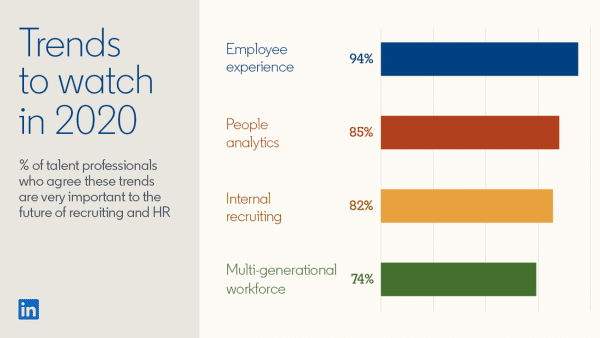 Almost 69% of large organizations now have a people analytics team. Moreover, there has been a 242% increase in the LinkedIn profiles of HR professionals with data analysis skills in the last five years.
The seven criteria for success for world-class analytics functions 
David revealed that his experience shows world-class analytics functions demonstrate seven criteria for success
1. They have a well-defined and communicated Ethics Code of Conduct for data and analytics, with an integrated data model for people analytics (examples: Vertex Pharmaceuticals, HSBC, Lloyds Banking Group)
2. They have well organized and defined criteria for the selection of advanced people analytics projects (examples: IBM, ING Bank)
3. They secure the sponsorship of Senior Business Executives (GM, EVP level) for significant people analytics projects (examples: Johnson & Johnson, Swarovski)
4. They have a Chief Human Resources Officer actively involved in people analytics projects and who invests in the function, even if the total cost of HR is declining (examples: Bosch, IBM, Swarovski, Viessmann Group)
5. They have outstanding People Analytics Leaders who "get things done" (examples: Microsoft, Facebook, Capital One)
6. They focus the function on delivering financial and employee value (examples: IBM, ISS, Nielsen, Rentokil Initial)
7. They create the appropriate level of data and analytics skills across HR, especially HRBPs (examples: Ahold Delhaize, Deutsche Bank, Lloyds)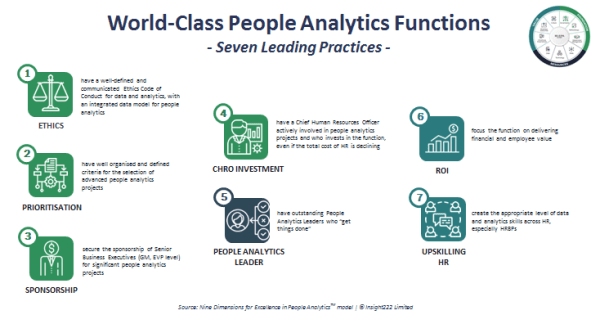 When it comes to ethics, David revealed that 92% of employees are open to the collection of data about them but only if it provides personal benefits. He further added that $3 Tn is the amount of revenue growth that exists in public limited companies by using workforce data responsibly.
Citing the instance of Virgin Media as to why it's important to focus the function on delivering financial and employee value, David shared that a couple of years ago Virgin Media lost 7,500 customers as a result of direct candidate rejection or poor candidate experience. So much so that customers left within four weeks of the end of the recruitment process. Working together with Ph Creative, it realized this was leading to a $6 Mn loss of revenue. The challenge lay in the basic principles of understanding people, their behaviors and what drives and influences them. The team worked on reshaping the candidate experience through persona and empathy mapping to not only reverse losses but also to grab the opportunity to support new revenue growth by providing a good candidate experience to non-Virgin Media customers such that it has a direct impact on their propensity to sign-up.
Culture & Training will enhance the adoption of People Analytics
David revealed that HR professionals strongly agree that being data literate can improve their career – and they want to learn. Hence culture and training, upskilling HR will enhance the adoption of people analytics. However, he noted that though a strong culture of data & analytics and access to relevant training is key yet most companies don't offer training for HR in analytics. This is the gap organizations need to fulfill as people analytics helps everyone from leaders to employers. It can help leaders make more informed decisions about people, help managers by democratizing data and supports decision making, helps employees by personalizing and improving the employee experience and wellness, and ultimately HR by increasing the impact and customer experience of HR.
In conclusion, if we build trust and use people data ethically, then we can unlock significant value both for the organization and for the people who work for it.
Join us in Singapore for People Matters TechHR 2020, Asia's Largest HR & WorkTech Conference from 1-3 September 2020. Click here to register.