HR Analytics
Analytics has moved from the periphery towards the centre of HR: David Green
In an exclusive interaction with People Matters, David Green, Managing Director, The People Analytics Program at Insight222, who will be speaking at TechHR 2019 shares his views on how can organizations leverage people analytics to achieve positive business and employee outcomes.
David Green is a globally respected writer, speaker, conference chair, and executive consultant on people analytics, data-driven HR and the future of work. As Managing Director of The People Analytics Program at Insight222, he helps global organizations create more cultural and economic value through the wise and ethical use of people data and analytics.
David has extensive experience in helping organizations embark upon and accelerate their people analytics journeys. In an exclusive interaction with People Matters, David, shares his views on how can organizations leverage people analytics to achieve positive business and employee outcomes.
What are some of the key trends in people analytics making waves globally?
The rise in interest levels, adoption, and importance of people analytics since I first entered the field six years ago is staggering. During this time, I have seen people analytics move from the periphery towards the center of HR, where the practice is now a core component of workforce strategy, digital transformation, and efforts to improve the employee experience.
Research studies on people analytics consistently highlight the growth of the space. For example, the Corporate Research Forum's 2017 Strategic Workforce Analytics research found that 69% of large organizations now have a people analytics team. Consequently, a swell of talent has entered the field, with a study by LinkedIn finding that there has been a 70% increase in the Asia Pacific region alone for specialized analytics professionals in HR in the five years to 2018. Perhaps not surprisingly, people analytics was also the most in-demand skill HR professionals wanted to learn in 2019, according to research we conducted at myHRfuture on HR Skills for the Future.
Given that there is increasing evidence that people analytics can radically improve a company's bottom line, we can expect to see continued growth in the coming years.
What are some of the key questions people analytics (and HR) leaders should be asking themselves to ensure they're on the right path for business impact and differentiated employee experience?
In the Nine Dimensions for People Analytics model I developed with Jonathan Ferrar as part of our work at Insight222, we identified seven key questions that HR leaders should ask themselves to check they are on the right path to being successful with people analytics. 
1. Do you have an Ethics Code of Conduct for People Analytics?
2. Are your People Analytics projects selected and prioritized using proper governance and criteria?
3. Do your senior business executives sponsor People Analytics projects?
4. Does your Chief Human Resources Officer invest in People Analytics?
5. Does your People Analytics Leader have the skills to "get things done"?
6. Do you measure the ROI of your People Analytics projects?
7. Are your HR Business Partners capable of having evidence-based discussions?
What are some of the business challenges that could potentially be solved through the insights offered by people analytics?
People analytics offers tremendous potential to organizations to drive business strategy, improve productivity and performance, and personalize and enhance the employee experience. 
For example, Nielsen found that for every 1-percent decrease of attrition, they could avoid $5 Mn in business costs. The same analysis identified internal mobility as the key driver of retention. As a result, leadership made it easier for employees to pursue opportunities within the company and an HR program was created to promote internal mobility. This program enabled Nielsen to save more than $10 Mn in the first eight months alone, increase the number of lateral moves, and was subsequently rolled out across the company.
This is just one example of a business challenge that can be solved by people analytics. FIG 1 below illustrates examples of other business challenges I have seen companies solve using people analytics.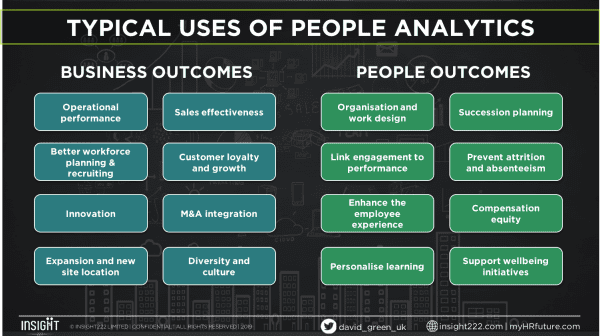 FIG 1: Examples of the business and people outcomes of people analytics projects (Source: David Green) 
How can organizations leverage people analytics to achieve positive business and employee outcomes as well as improve the impact of HR?
When Jonathan and I developed the aforementioned Nine Dimensions for Excellence in People Analytics model, we identified the factors required for organizations to create more impact and value – for the business, for employees, and for HR – from their work. 
In summary, these nine dimensions, grouped into three core areas: Foundation, Resources and Value are:
People Analytics needs a strong foundation in order to be impactful:
Strong governance, data standards, and ethics
Robust methodologies and prioritization – 'start with the business problem, not the data'
Supportive stakeholders and business sponsors 
 The right resources need to be in place in order for people analytics to deliver outcomes:
Balanced and skilled team
Effective technology
High-quality HR and business data
Impactful people analytics creates value at numerous levels:
Workforce experiences for employees, managers, and leaders
Business outcomes for executives
A data-driven culture and increased impact for HR
What are some of the opportunities offered by people analytics whilst navigating the challenges of digital transformation?
We hear a lot of talk – and frankly a lot of hype – about the future of work and the use of AI in HR. 
"One opportunity that I am seeing more companies actively pursuing though revolves around the topic of personalization – giving employees 'consumer-like' experiences at work."
Where I see this working best is where HR works directly with employees to co-create HR programs that drive personalization in areas such as onboarding, learning and career paths within an organization. This involves a radical and much-welcomed shift from the 'one size fits all' HR programs of the past and is not only better for employees, but also supports initiatives such as better workforce planning and increased employee engagement and retention for businesses.
None of this is possible without data and analytics. How can you personalize learning and career paths for employees without data? You can't. This is perhaps the best indicator of why the companies that are further forward with digital HR transformation are also those that are more advanced with people analytics. Digital and analytics go hand-in-hand.