Employee Engagement
A culture that prioritizes employee experience will be the reason employees choose to stay: Katharine Coombes, Culture Amp
Culture Amp enables organisations by helping them take a data-driven, three-pronged approach to building an employee experience that people love.
While Culture Amp started as a survey platform in 2009, it has grown to encompass analytics for managers, help them action the employee data they collect and has grown to become one of the leading employee engagement platforms globally.
In July this year, the company raised $100 million in Series F funding, led by returning investors Sequoia Capital China and TDM Growth Partners, taking its valuation to $1.5 billion. Today, it revolutionizes how over 25 million employees across 4,500 companies create a better world of work. The most innovative companies across the globe, including Salesforce, Unilever, PwC, KIND, SoulCycle, and BigCommerce depend on Culture Amp every day.
Recently, Culture Amp has named Katharine Coombes as Vice-president of Talent. Based in London, Katharine joins Culture Amp after 10 years at LinkedIn, where she led the talent acquisition strategy across a variety of geographies, including two years leading a global team during a period of hyper growth. 
We spoke to Katharine on Culture Amp's vision and how that vision can help organisations in retention and battling the Great Resignation.
Here are a few excerpts.
Helping create a better world of work
"Our mission at Culture Amp is to create a better world of work and we have set out to do this for 100 million people. We believe that the most successful business leaders put their culture first. We have seen it first hand in the more than 4,500 companies we work with," Katharine shared.
Culture First companies understand that their competitive advantage is their employees: people with unique skills, diverse backgrounds and needs. Before anything else, they focus on creating an experience and environment that supports employees to be purpose-driven, do their job well, and have a clear path for career development and growth. 
How Culture Amp enables them is by helping them take a data-driven, three-pronged approach to building an employee experience that people love. 
Listen to your employees, Build high-performing teams, Develop your people
These three pillars - employee engagement, performance, and development - are inextricably tied together. It's a proven, uncomplicated relationship that has been the cornerstone to the firm's customers' innovation, customer satisfaction, and profitability.
Listen to your employees: Organisations with the most engaged employees have a proactive, multimodal, science-backed approach to understanding how their people feel. They leverage follow-on insights and tools (and executive sponsorship) to implement meaningful action that creates real change. 
Build high-performing teams: Performance development is more than a process. It's ongoing feedback: conversations and inclusive coaching built right into the flow of work and seamlessly connected to the applications and devices that employees use most. It's bringing decades of research into how to build psychological safety, and into focusing not just on performance management, but on how to lean into the development of that performance.
Develop your people: In driving employee experience, we need to focus on driving the capability of managers and leaders to have the right conversations at every level. In this globally-dispersed, always-on world of work, a company's people - especially managers - must have access to just-in-time learning and development to help them identify, learn, and practice the skills that will make them more impactful, and better performers and leaders.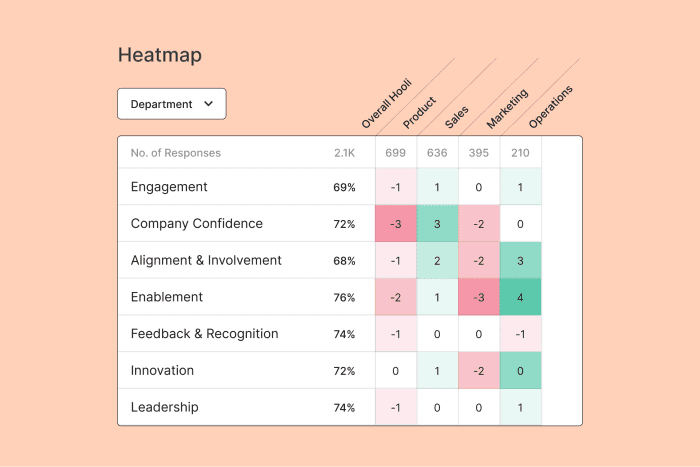 Helping companies act on how the Great Resignation is impacting their organisation
Currently, different industries, countries and company functions are seeing the Great Resignation manifest in different ways. The Culture Amp platform helps companies to collect data, understand and act on how the Great Resignation is impacting their own organisation.
The platform provides predictive attrition insights and benchmarks that are tailored to a specific industry, company and demographics (e.g. careers, women, job functions). Then it intelligently identifies how HR and managers should best focus their efforts to increase retention for these demographics, for example, by focusing more on development, pay or manager skills. The platform then offers a suite of tools to support managers and HR with these focus areas e.g. templates, employee growth check-ins, manager and employee skill resources, and Skills Coach, its development tool.
Future for employee engagement-stay focused on humanizing the workplace
When it comes to the future outlook for employee experience, Katharine advises organisations to stay focused on humanizing our workplace and doing so by continuing to listen to their employees and understanding their needs. 
"As employees we have the same set of human needs at work that we have in life and that includes things like; we contribute - our work is meaningful and recognized, we belong - are part of the tribe and we are enabled - have the tools and information to get our job done. We want to make sure we understand where our employees are at. The listening and dialogue allows for two way education and conversation and it creates room for compassion and awareness," she adds.
As organisations lean in to elevating employee experience a few areas to focus on would be:
Listening and understanding employees through engagement tools. Bringing in someone to facilitate the insights can also help us as leaders take a step back and really hear what our employees are saying
Offer flexible work options. Remote does not always mean flexible. We have seen the data that going remote has not impacted productivity, in fact in many areas it has increased. Employees want the flexibility to complete their work at more flexible times.
Clearly communicate return to work plans. Employees are seeking clarity in order to plan and feel safe and not doing so in a time efficient way could mean losing talent to organisations that can provide this.
Put employee development and culture first. The pandemic has made employees feel stagnant and they are looking for change and growth. A culture that prioritises employee experience will be the reason employees choose to stay.
In conclusion, Katherine quotes CEO Didier Elzinga's words, "If you don't deliver on your culture in a crisis, then your culture meant nothing to start with. And when you stand successful on the other side, your culture will be why."