Diversity
Top most diverse and inclusive companies 2018
Let us take a look at the top-most diverse and inclusive companies in the world and examine why Asian organisations should learn from them.
In the last few years, employers all over the world have made conscious efforts to diversify their workforce and make the workplace more inclusive. However, they have also struggled to design and implement truly diverse and inclusive workplace policies. And if the results of a recent study are anything to go by, Asian companies are far less open, inclusive, and diverse than their global peers. 
Thomson Reuters recently released the Global Diversity & Inclusion Index 2018 to identify the 100 most diverse and inclusive companies globally. In its third year, the index evaluated more than 7,000 publically-listed organizations on diversity, inclusion, news, and controversy, and people development.  
After a comprehensive analysis, the top 100 most diverse and inclusive organizations were indexed. In the 2018 edition of the index, 52 new companies made it to the list, 17 managed to rank for the second time, and another 12 were able to reclaim their lost spot. 
Although not a single Asian company made it to the top 20, the following were a part of the top 100: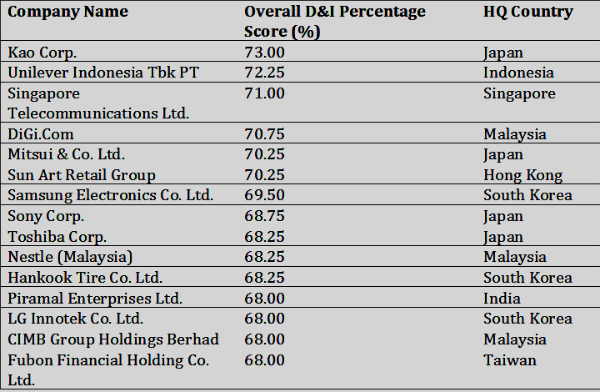 The fact that only 15 of the top 100 most diverse and inclusive organizations in the world are based in Asia is indicative of the ground that is yet to be covered. As the workforce continues to evolve and disruptive business environments reshape business models and strategies, employers need to urgently identify the benefits of a diverse workforce and an inclusive workplace. Talent acquisition and recruitment trends suggest that the scouting for the right talent isn't going to simplify anytime soon. In such a situation, widening the net and expanding the pool to be as inclusive and innovative as possible is key to maintain a competitive edge. 
Employers, leaders, and managers need to take a cue from the companies that made it to the index and emulate proven policies and strategies in the context of their company. Asian countries have proven to be economic powerhouses and produced world-class MNCs, but are yet to fully tap into the potentials of a diverse workforce. This can prove to be a moment of reckoning and course-correction, thereby, helping Asian organizations tackle talent challenges and become future-ready.