Diversity
The case for DEI budgets, beyond programmes
Although many companies vow to make workplaces more diverse, equitable, and inclusive, they remain reluctant to commit budget to empower their DEI strategy. Where is the gap?
There is no doubt that diversity, equity and inclusion have risen to the fore in the list of C-suite priorities. A PwC study found that 76% of organisations say investment in D&I programmes is a value or priority. Yet, many firms remain on the fence when it comes to actually allocating resources, whether monetary, technological or human, and rely on the decade-old voluntary ad-hoc programs to cascade the message of diversity and inclusion.
A recent LinkedIn poll by People Matters found that much under half (39%) of the 347 respondents have a dedicated DEI budget. In fact, while 21% stated DEI budgets are more likely to be ad-hoc approvals, a similar percentage (22%) admitted DEI is not a priority for their organisation. Another 18% went on to say they were not aware if their organisation had a DEI budget in place.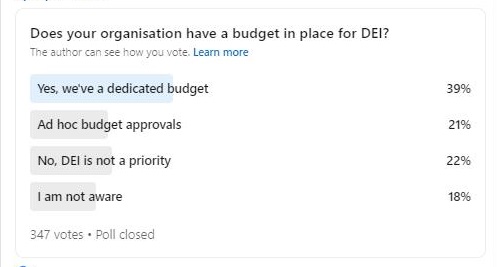 So, is DEI all talk and no action despite the heaps of conversation that stir a buzz all year round and intensify around marked calendar days? Let's find out.
What do industry studies say about DEI budget and spending?
Here are some key statistics around DEI budgets and spending gathered by multiple industry reports in recent years:
Companies spend a combined $8 Bn on D&I training annually [Workforce Management]
A Mercer report found that D&I tech is focused mostly on: 

Talent acquisition (43%) 
Analytics (26%)  
Development and advancement (19%) 
Engagement and retention (12%) 

60% of D&I tech vendors are small companies whose primary customers are: Tech, BFSI ,and professional services industries [Mercer report]
So, what's causing this gap in intention, commitment and action?
"58% of DEI leaders said their CEO and/or executive management team are involved in decisions to endorse and advance DEI, yet only 13% of those senior leaders are proactive and visible in demonstrating their support," stated a report by workplace training solutions provider Traliant and World Business Research.
The same report also found that 79% executives are looking to allocate more budget and/or resources to DEI in 2022.
While the recent years have intensified the spotlight on DEI, the focus on allocating resources and onboarding DEI specialists has seen slow progress. Despite the numbers quoted above, DEI appears to be an afterthought for many with conversations surfacing around key calendar day(s)/ month(s).
Playing on passion to paying attention and sponsorship
Commenting on how organisations should approach DEI strategy and budgets, Janelle Aaker, Chief Equity & People Officer, Vancity in a LinkedIn article, said that an organisation must have someone dedicated to a DEI strategy (with a voice at the highest tables) and a team that supports the ongoing efforts. "Resource the work appropriately."
"Listen to your DEI practitioners or consultants on what investment amount is required to deliver your goals. Don't take advantage of passionate people within your organisation by expecting them to do the work for free. In other words, put your money where your mouth is." 
Aaker advised organisations to have a consulting budget in place and not rely on volunteers as a strategy.  "For some reason, many companies see DEI work as 'passion work' for employees, where countless individuals (usually the marginalised and under-represented) are asked to take on side projects and volunteer work related to ERGs, D&I, cultural events, etc. While this can be a good starting place, it's not sustainable unless you are paying your employees for this extra work. Invest in a centralised team that can do the work alongside volunteers who want to get involved."
Aeker noted that in addition to a centralised team focused on DEI, companies also need a consulting budget. "This allows you to tap into specialised expertise, up-skill your team, gut-check your approach, and bring new thinking into the work. The space of DEI is ever-evolving and it can be difficult for an internal team to keep up with the latest and greatest thinking, solutions, and information."  
Where are organisations investing DEI budgets?
While the progress remains slow, organisations are steadily demonstrating a focus across various employee touch points to further the DEI agenda. 
In another LinkedIn poll, People Matters sought insights from industry leaders on where they are investing DEI budgets. Here's what we found: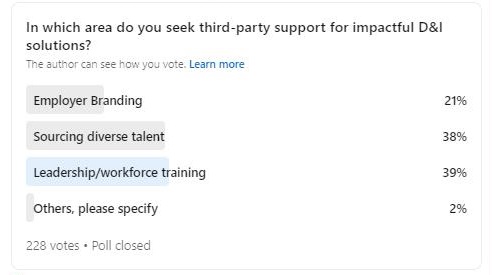 Industry reports echo these findings. Close to half of the companies allocate the greatest percentage of their overall diversity budget to D&I training programs (57%), followed by recruitment (45%).
"Putting DEI on the agenda and ensuring there is an empowered leader running the effort is a start, but businesses must dedicate resources—for example, budget and staff—accordingly," suggested a McKinsey study. 
"Globally, two out of five companies in our survey have increased their budgets for gender, race/ethnicity, and/or LGBTQ+ initiatives over the past six months. In our survey, almost 100 percent of employees in emerging economies agreed that employers should engage in external DEI measures. Looking ahead, employers should understand that employee expectations surrounding DEI initiatives are strong."
According to a Glassdoor report, 67% of job seekers consider workplace diversity an important factor when considering employment opportunities, with more than 50% of current employees wanting their workplace to do more to increase diversity.
DEI has over the years grown to become a critical business imperative. Employers that fail to recognise and act on the same remain under the threat of cultural crisis, weakened engagement and loyalty, and consequently redundant business practices and poor workforce performance.
There is a pressing need to ensure a more concrete DEI strategy and commitment, backed up by required budgets and staff to deliver on the increasingly strong employee expectations. The opportunity to rebuild systems, technology and workflows is one that leaders must leverage to weave in diversity, equity and inclusion across organisational layers. 
How are industries performing on their DEI strategies? What are the deterrents, markers of progress and the next steps on making workplaces more diverse, equitable and inclusive? Participate in the multi-industry DEI survey and share your inputs. Click here to take the survey now.