Diversity
Charoen Pokphand Group's CEO on transforming to lead
Suphachai Chearavanont, the CEO of Charoen Pokphand Group and Chairman of the Executive Committee, True Corporation, shares his perspectives on the focus of the group on transforming the conglomerate to a digital organization.
Charoen Pokphand Group (C.P. Group) is a Thai conglomerate based in Bangkok and is Thailand's largest private company and one of the world's largest conglomerates. It consists of three core businesses that operate in agribusiness and food, retail and distribution, and the telecommunications industries with investments in over 30 countries, employing over 300,000 people. 
Mr Suphachai Chearavanont is the Chief Executive Officer of Charoen Pokphand Group.  He also serves as the Chairman of the Executive Committee of True Corporation and oversees group-wide strategies on sustainability policies and corporate communications. Mr Chearavanont has been a member of the Thai Government's Independent Committee for Educational Reform since May 2017 and Chair of the Preparatory Committee for the United Nations Global Compact Network Thailand since 2016. In 2013, he helped launch Thailand's first telecommunications infrastructure fund (Digital Infrastructure Fund) and established True's CSR initiative that helped deliver education to underprivileged children in 6,000 schools in rural areas of Thailand. In 2015 he was awarded "Frost & Sullivan Asia Pacific Telecom CEO of the Year" at the Asia Pacific ICT Awards and also elected President of the Telecommunications Association of Thailand appointed under The Royal Patronage. He was appointed a Counselor and Advisory Board Member for One Young World Summit 2015. He graduated with a Bachelor's Degree in Business Administration focusing on Financial Management from Boston University and awarded an Honorary Doctorate degree in Mass Communications from Ramkhamhaeng University in March 2016.
What is your vision for the C.P. Group and what has been the transformation journey of the group till now?
Our vision is truly about creating 'value' and becoming a regional technology hub. We also envision being a part of sustainable development in all communities and societies of countries in which we operate through our vision "to provide food for both body and mind that creates shared value and brings health and well-being for all." 
To ensure that our business operations are implemented in line with this vision and respond to the future needs of our businesses, which are transforming rapidly in this 4.0 era, we are determined to be the leaders of change by concentrating on augmenting and developing these 4 core areas: 
Promoting research and development to foster innovations in food and health biotechnology, robotics and artificial intelligence, automation, and logistics systems; 
Digitizing the organization's performance data to allow for efficient data analysis on manufacturing processes, management systems, marketing, and customer services; 
Developing capable employees and building various ecosystems within the organization to create good and competent individuals, as well as strong, capable, and ethical leaders, and building a new generation of leaders to create a culture where this new generation of employees will have the opportunity to openly demonstrate their capabilities; 
Embedding the 6 core values (Three-Benefits Principle, Speed and Quality, Simplification, Accept Change, Innovativeness, and Integrity and Honesty) within the organization to encourage employees to consider business growth in relation to sustainability, thereby enabling the mutual growth of the country, society, and company. 
Today, technology is crucial for enhancing businesses and platforms for future ventures and we are executing a strategic plan and roadmap to grow our businesses in a sustainable manner. We have to digitize our operating and management processes including the sales operations to give an impetus to operational efficiency and workforce productivity. The C.P. Group has three core businesses operating in agribusiness and food, retail and distribution and the telecommunications industries, and we have expanded our businesses to several other business lines which include agro-food, retail and distribution, telecommunication and media, e-commerce and digital, property development, automotive and industrials, finance and investment, and pharmaceutical — thus, with all the ecosystems we have in different industries, we want to transform ourselves by moving to digital service platforms. 
What does it truly take to transform such a big conglomerate such as the C.P. Group?
We have a network of more than 300,000 partners and employees combined and transforming at such a scale is hard work. This process of transformation that we have undertaken is more about architecting the structure of the organization in a way that in every part of the organization, different abilities and capabilities are present. It is about transforming the existing views while setting new ones in every part of the organization. 
Having said that, at the same time, we also want to see that the people mix also changes. Our focus has been on recruiting and developing the very best talent to support our strategic growth ambitions. We are focusing more on both research and development and investment in promising tech start-ups to add value to its businesses while developing talent locally and pooling the talents of its global operations.
What are some of the strategic initiatives that you are driving to support this organizational transformation?
We are actively embracing innovation, robotics, and the digital revolution to transform the conglomerate. This is in tune with the global trends, which pivot on adopting advanced technologies and innovations to add value to businesses. So, if you look at our strategy, the first is that we are exploring new business areas, which are more technology-driven and platform-based. Second is the digital transformation and the strategy around this is both about digitalizing our business processes, and about the people and people mix. We are actively involving all the business units and the top management so that they understand the group's mission and goals towards becoming a technology hub. This is the exercise we have been doing since last year and our people are engaged in cascading the targeted goals through the organization. So now we have certain targeted KPIs that are about the digital transformation and we are working towards building them. 
For a large conglomerate like us to transform, we need to align the vision with what people think, set the goals, and then set the targets (meaningful KPIs) that really show that we are shaping ourselves correctly. And this transformation is intricately intertwined with sustainability, which is an integral part of how we operate our business. 
The momentum is huge but we are transforming progressively. We are a very execution-focused culture because our background is in manufacturing and engineering, and once people understand the 'why' of what we are doing, they get aligned. At C.P. Group, understanding our purpose in work is of great importance. 
Why is sustainability so crucial for the C.P. Group? Do your sustainability practices go beyond the commonplace CSR activities that other organizations indulge in?
We live in an era that is driven by a new generation of people, talent, and corporations who are stressing on the importance of sustainability. And any organization seeking profit but without clear sustainability goals is set for failure. Therefore, when it comes to continued development, sustainability has to be the foundation for the mutual benefit of all stakeholders and to maintain balance amongst the economy, society and environment. 
For us, our mission and values need to go together. We firmly believe that all parts of society must work together to create the balance in equal harmony among economic, environmental and social factors our country and the world for a sustainable future. Throughout the C.P. Group, we can see real changes taking place as we seek to make a positive contribution to society in Thailand and beyond. We have six core values that are deeply rooted within our global operations, our people and our approach to how we do business. They are centered around our commitment to sustainably advance and grow our businesses with spirit and integrity. These are — Three-Benefits Principle, Speed and Quality, Simplification, Accept Change, Innovativeness, and Integrity and Honesty. The Three-Benefits principle is at the core of our approach to business. We firmly believe that we have the capability create prosperity on three levels: First for the countries where we operate, second for the communities we engage with, and third for our company and its people. This principle guides our growth and ensures that the actions of C.P. Group and our people, in Thailand and in all countries in which we operate, are not only contributing to the growth of our business but of society as a whole. Our business philosophy is based on the principle that wherever we conduct our business, the country has to benefit first, then the people, and then the company. And this is the only way we can be sustainable. 
If you reflect on your own leadership journey, what are some of the learning that you have gained over the years? 
Since the time I started the telecom and media business a few years ago till now, as a CEO I have seen a lot of change. Being in the telecom business, I have seen the rise and fall of technology, which has been the biggest learning because it propels you to accept change and also instills courage in you to move forward. 
Change is always fearful but this fear factor is good as it pushes you to have the courage to move from Point A to Point B. 
And only if you are hooked on to the values of positivity and courage, you can always face the ups and downs, which are natural things in business. Being a leader has taught me that one always has a mission and something to look forward to, and constantly learn. But a leader has to lead by example. 
I believe that teaching is not about giving lectures, but about being a good example. I have also come to the conclusion that being collaborative is where the power is. C.P. group used to be authoritative but going forward, we have transformed ourselves into a more collaborative and modular organization — this is about empowering people and letting people see the holistic view of the organization, business units and function. We want people to see how they create impact – economically, socially, and environmentally. 
Our sustainability agenda is closely tied to our values
In continuation of our conversation with the C.P. Group executives, we also spoke to Kulshaan Singh, Co-Chief People Officer (Co-CPO) of the Charoen Pokphand Group Co. Ltd. who shares his perspectives on how HR at CP Group is devising structured approaches for digital transformation and how the Group is differentiating itself from the rest when it comes to its people practices.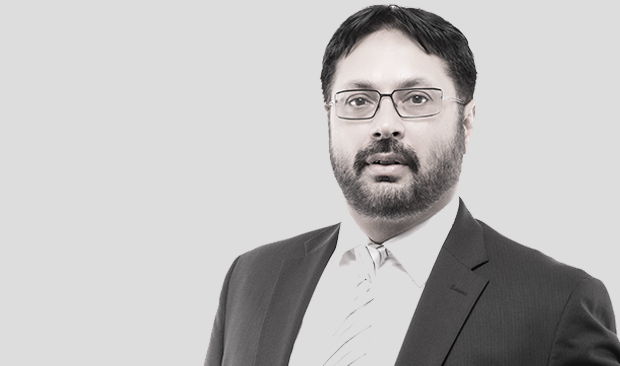 Kulshaan Singh is the Co-Chief People Officer ("Co-CPO") and joined the Group in 2017. He is responsible for building and managing C.P. Group's global employer brand as well as developing a strategy to build world-class human resources (HR) functions across the Group. He was most recently the Chief Executive Officer of Mercer Singapore, and before that, Managing Director of Aon Hewitt Southeast Asia.  Kulshaan has 20 years of global experience in the Professional Services and Management Consulting Industry with expertise in Talent & Leadership Development, Organization Change & HR Transformation, Employee Engagement and Performance and Talent Management.  
You have previously been in executive roles and have a tremendous track record in leading large-scale organizational transformations. When you look at the CP Group and its journey of digitally transforming its businesses, what insights can you lend from your perspective?
Diversity, scale, and geographic spread of our company's portfolio is a clear asset and the reason for our immense pride, but at the same time, it poses challenges of a unique nature. Each of our businesses irrespective of the scale and industry is going through transformation and disruption at the same time. And our strategy is to provide our businesses with a vision and a high-level framework to ensure they are covering all aspects and angles. However, we let the businesses decide the "how" of it and also decide their own pace of transformation. The idea is not to be consistent but to become our own best possible version. We have a huge opportunity of leveraging strengths across businesses and learning from each other and that is an advantage in our journey. Our biggest strength is that this transformation is led by our Group CEO and therefore, aligning agendas and resources has become relatively easier. 
Building capacities and cultivating the right capabilities is one of the most important aspects to deliver on a company's vision. How is the HR at CP Group devising structured approaches for digital transformation taking into account the digital divide and issues of skilling and reskilling? 
This indeed is a big challenge for us and our approach (from my experience) is uniquely different from the conventional approaches of pushing a churn to ensure the right skills. Our approach here rests on two big principles. The first is agility across all our businesses. We have identified areas where we will need an aggressive build-up of capacities and have plans to super-accelerate the development of capabilities while at the same time, engaging global experts to partner with us through the journey. Our Senior Chairman, Chairman, Group CEO and Business CEOs directly guide the development of our fresh hires through our Future Leaders Program. This accelerated program is aimed to deliver business leaders with digital upbringing. Secondly, no one will be left behind and each individual employee is important to us in this journey. We will soon be embarking on a digital literacy drive which will cover everyone. We aim to provide not only digital literacy needed for one's particular job but also life-skills in the digital era 
How is the CP Group's vision of sustainability translated for CP group employees? How does the company differentiate itself when it comes to its people practices?
Our sustainability agenda is closely tied with our values, which we would expect our employees to exhibit in their thinking and actions all the time. Our 3 Benefits principle, which is also our first value, provides the guiding light to our employees on our investments in home country and abroad. We need to ensure that we bring value to the country, the society, and our employees (in the order) through all our activities. Leading by the power of purpose is what our senior leaders have always demonstrated. Financial success is a by-product of leading with purpose and not the aim. 
Innovation and Accepting Change are other two values which help in traction of sustainability agenda and we encourage, support, and hold every individual accountable for bringing something new in our products/services or how these products are developed and delivered to the consumer. 
Also, our investment in CP Leadership Institute (CPLI) manifests our belief that for a sustainable world, we all need to adopt lifelong learning and that is why CPLI offers development and skilling opportunities for all employee levels.