Compensation & Benefits
Where people work the fewest hours in the world
And they can for the most part still make a decent living.
Everyone would like to work less, and some people actually do get that wish. Just earlier this week, for instance, the UAE revamped its working week from 5 days (Sunday-Thursday) to 4.5 days (Monday-Friday afternoon). Here are some other countries where people aren't being held to the 40-hour-per-week grind. All numbers come from the International Labour Organization's statistics and date to 2020 or 2019 at the latest.

Netherlands: 1,650
Right at the top of the list is the Netherlands with an average of 32 working hours per week – that's about 6.5 hours per weekday, only a little more than half the legal maximum cap of 12 hours per day. Part-time work is common, and the workplace culture is very friendly to childcare scheduling needs.
Canada: 1,669
On the other side of the world, Canada comes a close second with only 19 more hours per year in total. Employees' daily and weekly break time is legally mandated, and so is their minimum vacation time.
New Zealand: 1,716
Australia: 1,728
With a reputation for being laid back, Australia and New Zealand represent the southern hemisphere at the top of the list. Work-life balance is important, people leave work punctually, and vacation laws are generous with paid leave.
Norway: 1,760
Austria: 1,776
Germany: 1,777
Denmark: 1.780
It's not surprising to see the Germanic countries, with their legally and socially codified emphasis on employee welfare, occupying the rest of the top eight slots. Only a very small percentage of their population works overtime, for that matter – 8% or less.
What about the Asian countries? 
Unfortunately, they're much further down the list. It turns out that employees in Asia work many more hours than their counterparts on the other side of the world.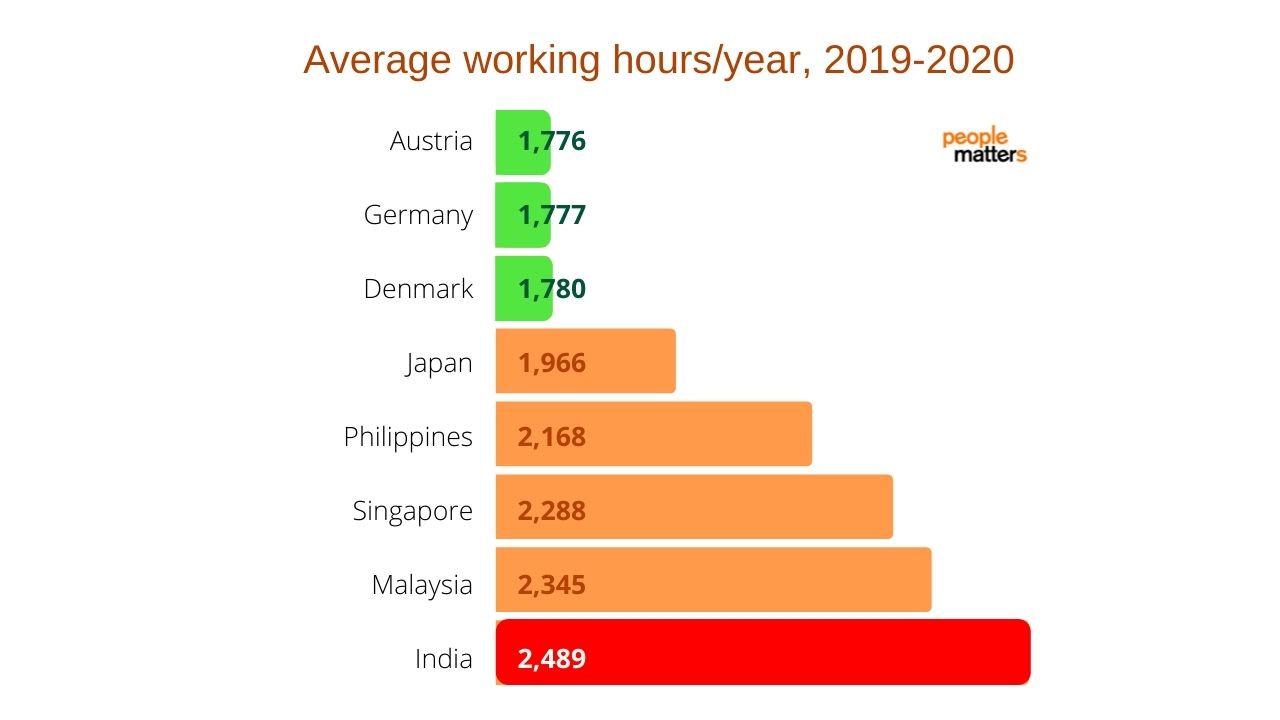 Japan: 1,966
Surprisingly, Japan, so notorious for outrageous working hours that the populace even coined a term 'karoshi' meaning death by overwork, has managed to climb the list and now boasts fewer average hours per employee than any other country on the Pacific side of Asia. For that, Japanese workers can thank a labour reform law passed in 2018 that limits overtime work to no more than 360 hours a year. It's still not ideal – 18% of the population works more than 49 hours a week – but it's a lot better than it used to be.
Philippines: 2,168
In the Philippines, labour laws state that employees shall not work more than 8 hours a day and shall get one day off a week. But no provisions exist for working from home, which might explain why, in 2019, 23% of the population was working more than 49 hours a week anyway.
Singapore: 2,288
Singaporean workers have a reputation in the region for being workaholics on par with the Japanese and the Koreans, due to a similar working culture that values face time. And they live up to it with 45 working hours a week – 9 hours a day on average, since the city-state phased out six-day weeks in 2005.
Malaysia: 2,345
Clocking in slightly more than 45 working hours per week, and with 16% of the population doing overtime, Malaysia is another overworked nation. The long hours took on a darker cast during the pandemic, however, as the country's largest manufacturer of personal protective equipment – global supplier Top Glove – was accused of forced labour.
India: 2,489
India takes the dubious title of being the most workaholic of all the Asian countries – and one of the most workaholic in the world, for that matter. Pulling nearly 48 hours a week, Indian workers all too often succumb to a punishing culture of hustle, face time, and less than ideal time management, creating a pressure chamber where work and home hours are all but indistinguishable.