C-Suite
Major HR movements from July 2020 to September 2020
The industry has witnessed multiple senior leadership exits across the industry and despite the pandemic, there have been some major appointments of senior HR professionals. In this article, we highlight some of the major movements which took place from July 2020 to September 2020.
The last three months have been quite tough on jobs across the globe. We have seen multiple senior leadership exits across the industry and despite the pandemic, there have been some major appointments of senior HR professionals. Some moved to a new organization, some of them got elevated while others headed toward the entrepreneurial route. 
Read on to highlight some of the significant movements which took place from July 2020 to September 2020.
July
Kathleen Weslock- Avalara, a leading provider of cloud-based tax compliance automation for businesses of all sizes has announced the appointment of human resources veteran Kathleen Weslock as its new Chief Human Resources Officer. Her responsibilities include overseeing the company's human resources strategy, focusing on people, culture, and continued growth.
Michael D'Ambrose- Boeing has appointed Michael D'Ambrose as Executive Vice President of Human Resources. He succeeded Wendy Livingston, who has served in an interim capacity since April. In this role, D'Ambrose is responsible for the company's leadership and learning, talent planning, employee and labor relations, total rewards, and diversity and inclusion initiatives. He reports to Boeing President and CEO David Calhoun, serves on the company's Executive Council and is based in Chicago. D'Ambrose has more than four decades of business experience across multiple industries, spending the past 14 years at ADM.
Colin Hindman- The Shyft Group which specializes in vehicle manufacturing, assembly, and upfit for the commercial, retail, and service specialty vehicle markets, has announced the appointment of Colin Hindman as Chief Human Resources Officer.
In this role, Hindman is responsible for developing and executing human resources strategy in support of the overall business direction of the company, which includes talent and change management, anti-discrimination and cultural competence initiatives, organizational and performance supervision, competitive benefits analysis and administration, and employee training and development. He will report directly to Daryl Adams, President, and Chief Executive Officer. 
August 
David W. Hollis- Flagstar Bank has named David W. Hollis as Executive Vice President and Chief Human Resources Officer with responsibility for all of the company's HR initiatives. In this role, he oversees recruiting, training, business partnerships, HR information systems, compensation, pay and benefits, internal communications, employee engagement, and HR's role in implementing diversity and inclusion initiatives.  
He brings to Flagstar over 25 years of HR leadership in financial services, manufacturing/industrial, and retail industries. Most recently he served as Chief Talent Officer at Goodyear Tire and Rubber where he had extensive HR responsibilities encompassing 64,000 employees in 22 countries. 
Ellen Shultz- Rent the Runway, the designer dress and accessory rentals company, announced that Ellen Shultz is joining as the company's Chief People Officer.  Shultz--who previously served as The New York Times' most senior HR leader and member of the organization's Executive Committee--will play a critical role in accelerating Rent the Runway's continued transformation of consumer behavior change. She brings to Rent the Runway more than 20 years of experience pioneering people strategies and building diverse and inclusive organizations. Her start date is September 8, 2020.
Terri Lewis- One Call, that deals specialty network management services for the workers' compensation industry, announced the appointment of Terri Lewis to Chief Human Resources Officer. Lewis joins the organization's senior leadership team to focus on the company's most valuable asset – its employees.  Over the last decade, One Call has experienced rapid growth while developing a comprehensive suite of post-injury solutions for customers and the injured workers they serve. More growth is underway as the company expands its suite of solutions to include pre-injury offerings – such as safety, injury prevention and wellness – for a post-COVID workforce. 
September 
Robin Kirby- Benefitfocus, a technology platform provider enabling rapid innovation for employers, health plans and consumers, announced Robin Kirby as the company's new Chief Human Resources Officer. Kirby formerly served as Senior Vice President of HR for USAA and is a current member of the Forbes HR Council. Kirby will be responsible for Benefitfocus' future-of-work strategies and expanding its talent acquisition and development capabilities in all areas. 
Katharina Rath- DB Schenker announced last week that its global supervisory board has appointed Katharina Rath the new global head of human resources, effective December 1. Her full title will be Member of the Board of Management for Human Resources. Calling her an internationally experienced expert in various fields of HR, Dr. Levin Holle, Chairman of the Supervisory Board of Schenker AG, said: "The Supervisory Board and I are very pleased to have gained her talent, knowledge and leadership skills for the DB Schenker Board of Management."
Rebecca Lucas- EggLife Foods, Inc., the Chicago-based food brand that uses cage-free eggs, not flour, to reimagine carbohydrate-heavy foods, announces that Rebecca Lucas has joined as the company's Vice President of HR & External Affairs. Lucas joins EggLife Foods at a stage of groundbreaking success and exponential growth, as their debut product, egglifeTM egg white wraps, is currently taking the health and wellness industry by storm.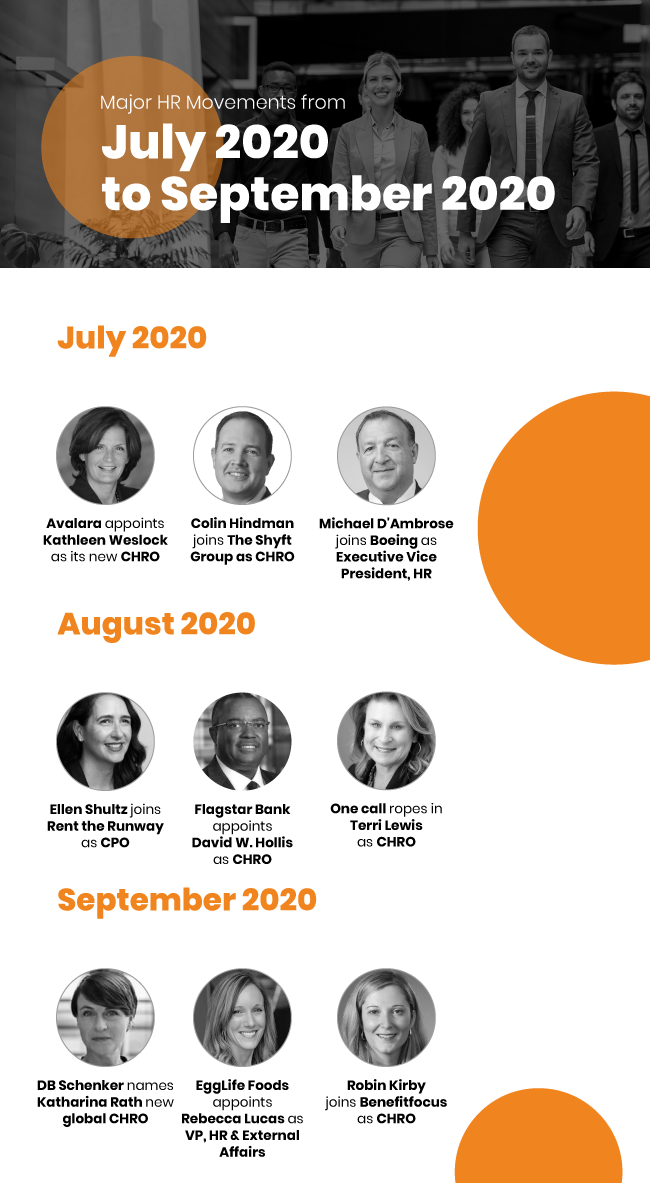 Note: We have tried to include all the essential movements among the senior HR leaders. If we have missed anyone, please let us know and we would be happy to add it to our list.