C-Suite
Major C-suite movements for Jan-March 2021
The fourth quarter of the FY 2020-2021 has been an intriguing affair. Many C-suite leaders have been shifting their workplace paradigm while some of them have taken an internal path towards leadership.
It has been an interesting start of the New Year for the businesses and leaders as businesses gradually bounce back from the effects of the pandemic. The first three months have seen many new appointments and movements among the C-Suite. Here's a quick look at some of the major leadership movements from Jan-Mar 2021.
January:
Odd Bolin: Truecaller appointed Odd Bolin as their new Chief Financial Officer (CFO). Odd will be joining the management team and overseeing the financial management and operations to support the company's growth, and to prepare the company for an initial public offering (IPO.) Prior to this appointment, Odd was the Group CFO at Sinch, a global player in cloud communications for mobile customer engagement where he helped take the company public and led half a dozen international acquisitions, including Sinch's 130 million USD acquisition of Mblox in 2016.
Olivier Sevillia: Capgemini announced the appointment of Olivier Sevillia as its Group Chief Operating Officer. In this role Olivier is responsible for the Group's strategic business units and sales, with a focus on applying the Group's deep and broad industry expertise to be a strategic business partner to its clients. Previously, Olivier had been CEO of Capgemini's Europe  Strategic Business Unit since July 2018. 
Mary Dickerson:  Radian Group announced the appointment of Mary Dickerson as Executive Vice President, Chief People Officer. Before joining Radian, she served as Executive Vice President, Human Resources at DLL Group, a subsidiary of Rabobank Group, where she led a team of 150 human resource professionals globally for its 6,000 employees in 32 countries.
Pat Gelsinger: Intel appointed Pat Gelsinger as its new Chief Executive Officer, effective Feb. 15, 2021. He is a 40-year technology industry leader with more than four decades of technology and leadership experience, including 30 years at Intel where he began his career.
February:
Dr. Celine Herweijer: HSBC Holdings appointed Dr Celine Herweijer as Group Chief Sustainability Officer. She joins from PwC, where she has held roles including leading PwC's Global Innovation and Sustainability capability, and acting as PwC's Global Climate Change Leader.
Anne-Sophie Castelnau: ING France appointed Anne-Sophie Castelnau as Global Head of Sustainability. Before she became head of Wholesale Banking in France, she held various senior management positions, including Head of Corporate Lending and head of Client Coverage. Before she joined ING, Anne-Sophie worked for French banks Natixis and Crédit Industriel et Commercial.
Martin Schulz: Mercedes-Benz Cars Middle East appointed Martin Schulz as the President and CEO of the German automobile company. Prior to joining Mercedes-Benz Cars Middle East, Schulz was CEO of Mercedes-Benz Romania, where he headed Market Operations MBC Eastern and Central Europe (MBCEE) since 2019.
March:
Erika Irish Brown: Citi Group appointed Erika Irish Brown  as its Chief Diversity, Equity, and Inclusion Officer. She led a similar effort at Goldman Sachs Group Inc since mid-2018. Brown previously worked at Bloomberg in the same role.
Adam Selipsky: Amazon roped in Adam Selipsky from visual analytics firm Tableau, to be the next CEO of Amazon Web Services. Previously, he was the CEO of Tableau and also spent a decade at AWS too.
Melissa Schoeb: Nokia appointed Melissa Schoeb as Chief Corporate Affairs Officer and member of the Group Leadership Team effective from 12 April 2021. She is joining Nokia from Occidental, one of the leading independent oil and gas companies, where she is the Vice President, Corporate Affairs.
Peter Kelaher: Property and casualty insurance multinational Chubb appointed Peter Kelaheras the  Country President for Australia and New Zealand. He has been with Chubb since 2008. He was previously Vice President and Head of Property and Casualty (P&C) for Australia and New Zealand, a position he has held since 2016.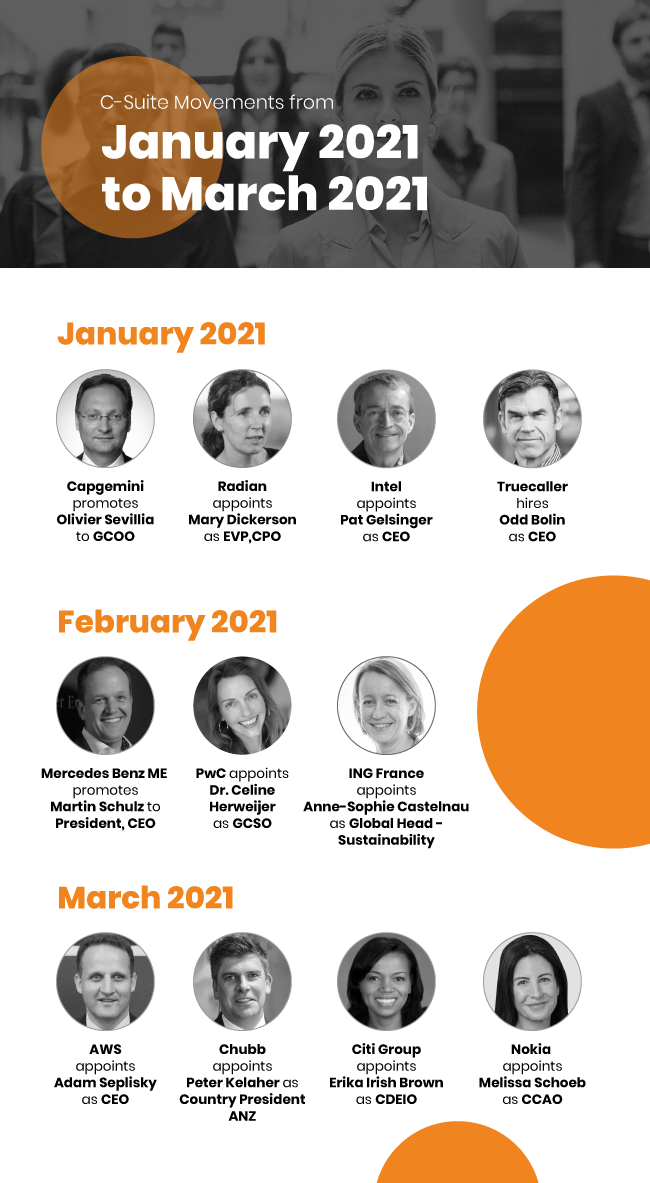 Note: We have tried to include all the essential movements among the senior HR leaders. If we have missed anyone, please let us know and we would be happy to add it to our list. See you all in the next quarter!