Talent Management
140,000 employers in Singapore to get over $4 Bn in Jobs Support Scheme
Under the upcoming payout for this month, the Singaporean government will pay 75 percent of the first $4,600 of gross monthly wages per local worker to help firms during the coronavirus pandemic.
Singapore's Deputy Prime Minister Heng Swee Keat shared that more than 140,000 employers will get over $4 billion in Jobs Support Scheme (JSS) payouts from May 28. The wage support for firms in Singapore is very significant, and urged companies to use the subsidies to retain their workers.
On the same day, the Ministry of Finance (MOF) said employers need not apply for the scheme as the money will be automatically computed using Central Provident Fund data as at Feb 14. Employers who register for PayNow Corporate with their banks by Friday (May 22) can expect to receive the payment by May 28, the ministry added. Others will get cheques between June 3 and 5.
In a Facebook post on Sunday, Keat mentioned that this is part of the more than $20 Bn the Government has committed over three Budgets to the scheme. This month's payouts will be computed based on last November's wages, and future JSS payouts will be adjusted to account for the actual wages paid this month, as per MOF
Additionally,  some local shareholder-directors will also qualify for the JSS under an enhancement to the scheme announced on April 21.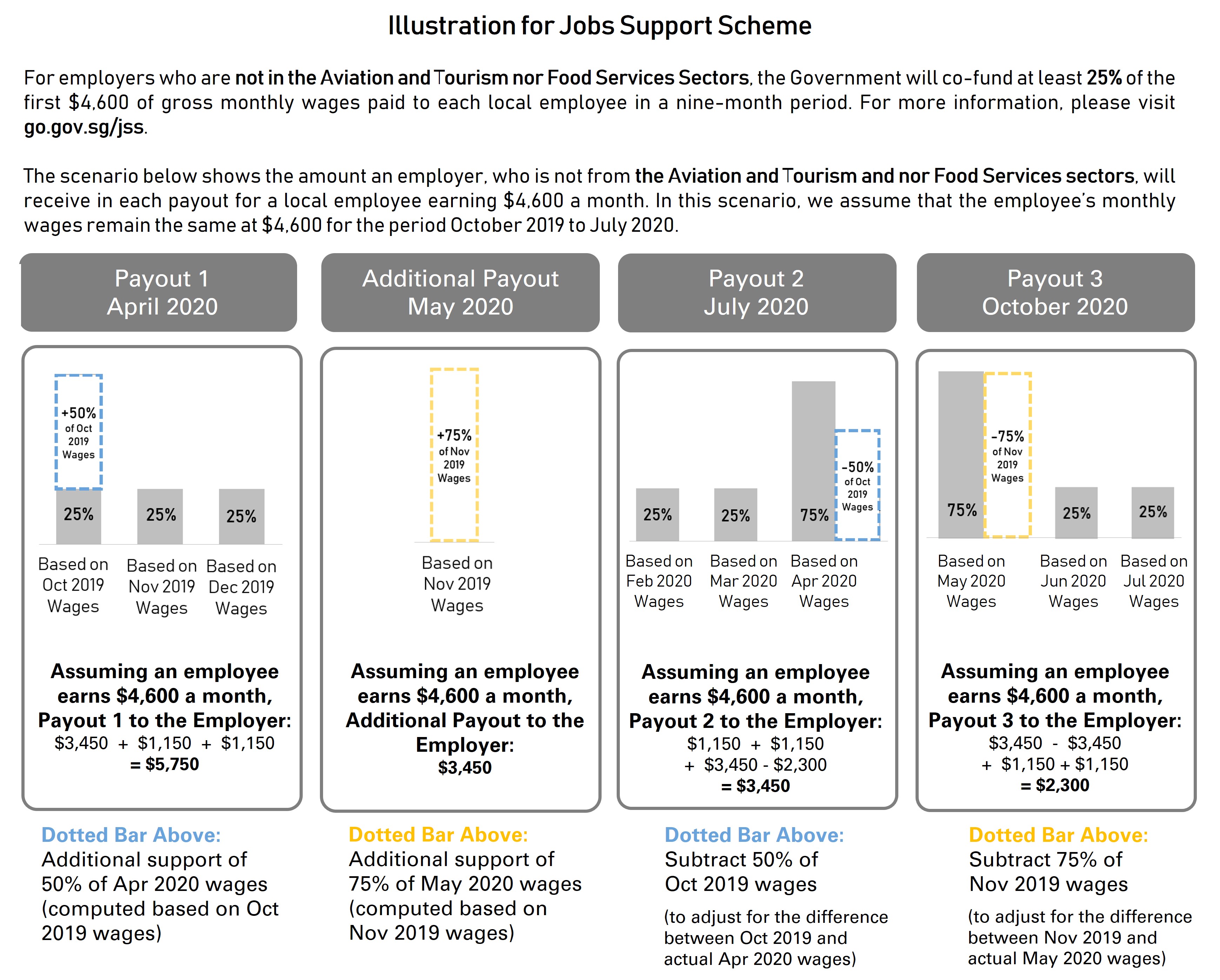 GRAPHIC: IRAS
The Singapore government had introduced wage subsidies intended to save jobs amid enhanced safe distancing measures, effectively requiring most workers to telecommute and those in non-essential services to temporarily cease operations to stem the spread of the coronavirus. However, last week, it was reported that a total of 32 companies have returned the payout, and will not take future payouts from Singapore government's Jobs Support Scheme (JSS) payments. The aim of the Jobs Support Scheme (JSS) was to provide wage support for companies and help them retain local employees. Some companies have coped better than others and a number of them have come forward to return the first payment of JSS they received and declined future payments. These include MNCs, financial institutions as well as other local enterprises across different sectors. 
Let's see how the phase two of the scheme to support both employers and employees in Singapore fares.