Leadership
Microsoft names Rachel Bondi as new APAC channel head
Bondi's career started in 1997 with Microsoft Australia as the partner account manager.
Microsoft has announced that Microsoft Australia's Rachel Bondi is moving to headline the tech behemoth's business in Asia. This move culminates the three years Rachel spent in the Australia office while heading the ANZ business. Succeeding her in the role would be Vanessa Sorenson, who has been leading the New Zealand business till now.
Announcing the move to her fellow connections, Rachel posted her announcement on linkedin.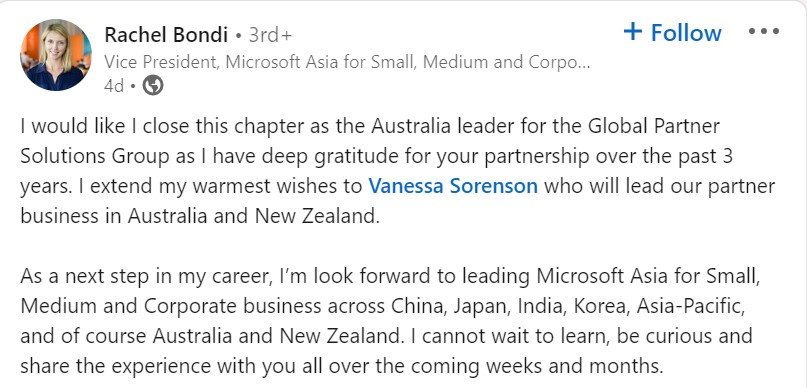 Previously, Bondi was Microsoft Australia's Chief Partner Officer in 2019 after a three-year stint as chief operating officer from 2016 to 2019. Prior to that, she worked in various leadership roles at Microsoft US from 1999 to 2015. Bondi's journey started with Microsoft in 1997 as partner account manager in the Australia office. 
In another post, Bondi said, "In the past three years, I've been fortunate to work with partners in Australia and New Zealand and experience first-hand the support they're extending to ANZ businesses on the latest technological trends. This new leadership position is a tremendous opportunity. Our small and medium business customers and partners fuel the economy of Asia. Not only do they employ tens of millions of citizens but they deliver technology innovation that empowers their customers and employees to achieve more."
She also added that she was inspired by the impact Microsoft had on customers and she constantly reflected on it.  She couldn't be more excited to be leading her new team.