C-Suite
New CEO at Lee Kum Kee Sauce Group
Katty Lam, the former Chairman of Pepsico in Greater China, has been appointed CEO of the five-generation family business with immediate effect.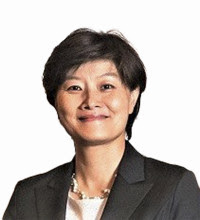 Chinese cuisine household brand Lee Kum Kee announced on December 1 that it has appointed Katty Lam (right) as Chief Executive Officer with immediate effect. Her appointment marks the willingness of the 130-year-old family business to bring in new talent: prior to Lam's appointment, the position of CEO was held by fourth-generation leader Charlie Lee, the son of former chairman Lee Man Tat.
Lam has over 25 years' experience with major multinational companies in the F&B industry. Prior to joining Lee Kum Kee, she was Regional Vice President of Danone's Early Life Nutrition Division in Greater China, and before that, she spent 22 years with PepsiCo China, holding a range of management roles across the company's operations and finally being appointed as Chairman for the Greater China region.
Charlie Lee, who took over as Chairman of Lee Kum Kee Sauce Group earlier this year, welcomed Lam to the role, saying: "With her extensive experience, Ms. Lam will lead the Group's overall business strategy and development, strengthen collaboration and drive innovation initiatives to ensure the Group continues to be recognised as a global leader in Asian sauces and condiments."
The Lee Kum Kee Sauce Group has been helmed by members of the Lee family since its establishment in 1888, with its constitution stating that only family members can own shares in the business. However while some members of the fifth generation have joined the business, they have reportedly shown little interest in continuing family succession in the leadership—which may be why the owners have sought experienced external talent to run the business going forward.