Technology
How Lark enabled Yummy Corp to increase digital collaboration and productivity
Read on to know how Lark's powerful workforce productivity suite enabled Yummy Corp. to effectively connect teams across the country, build greater efficiencies and help the company with its goal to serve more customers.
One great learning from the past year has been the realization of how important digital collaboration, digital readiness, and having the right collaboration tools are to survive and thrive in today's work environment. In fact, pandemic or no pandemic, the rise of the hybrid workplace, and increasing globalization of talent mean greater investment in digital collaboration tools and technologies.
To foster more collaboration and contribution among a geographically distributed workforce, what organizations need is a common platform. This platform should enable employees from across the globe to share, organize, and analyze feedback, regularly and on a real-time basis; thus helping to build a seamless culture of collaboration and coordination.
It is clear from our global hybrid workplace experience that the use of these platforms is paramount to the success of an organization during these difficult times, and even going forward as work and workplaces become smarter. 
Yummy Corp, one of the largest cloud kitchen management companies in Indonesia with 70 kitchens, also felt the need for such a collaboration platform as it continued charting its regional growth trajectory. The foodtech firm has raised $19.5 million in investment and provides a fully managed cloud kitchen and food facility management to enable F&B businesses to scale up quickly without worrying about the infrastructure, human resources, and financial resources needed to grow fast.
Yummy Corp's Vision: Increase efficiency and co-ordination
Yummy Corp was expanding rapidly and at the time mainly used chat apps that came with their corporate email provider, but were not available to everyone in the organization. To increase efficiency and to allow management to coordinate more easily, executives needed a more centralized, feature-rich collaboration platform. 
As the company continued to grow and opened up more cloud kitchens, working with giants like Grab, there was a need to streamline communication and collaboration between staff, management, and other stakeholders across Indonesia.
Beyond that, Yummy Corp needed a technology partner that could grow and scale with them, offering more advanced solutions as the needs of the team continued to expand.
Partnering with Lark for better digital collaboration
This is where Lark stepped in. Lark is a full-stack collaboration suite that provides a consolidated platform that enables employees to collaborate effectively and seamlessly, irrespective of their size or location. All conversations, documents, and meetings can be accessed with a mere click, increasing efficiency and furthering collaboration.
For Yummy Corp, Lark's comprehensive suite of collaboration tools allowed the company to engage better with internal stakeholders through richer chat features. In particular, Lark's open API design allowed Yummy's engineering team to integrate important third-party tools such as Salesforce, straight into Lark. 
Yummy also benefited from the ability to perform HR-specific needs like attendance tracking and payroll, right in Lark making life easier for the company's 800 employees. 
Moreover, migrating employees to Lark was also a breeze for Yummy due to Lark's simple design that was intuitively useable as opposed to competitor products.
Impact and outcome
For Yummy Corp, it just took only 3 weeks to design and implement the API Yummy needed. And the results are far-reaching.
By implementing Lark as their default collaboration suite, Yummy Corp was able to register higher levels of efficiency. Lark has become the default communication and collaboration platform across the whole company.
Moreover, employees are able to communicate and collaborate with greater efficiency, something that was not possible with the older tools. This has ultimately led to a better employee experience and as a result, enhanced productivity.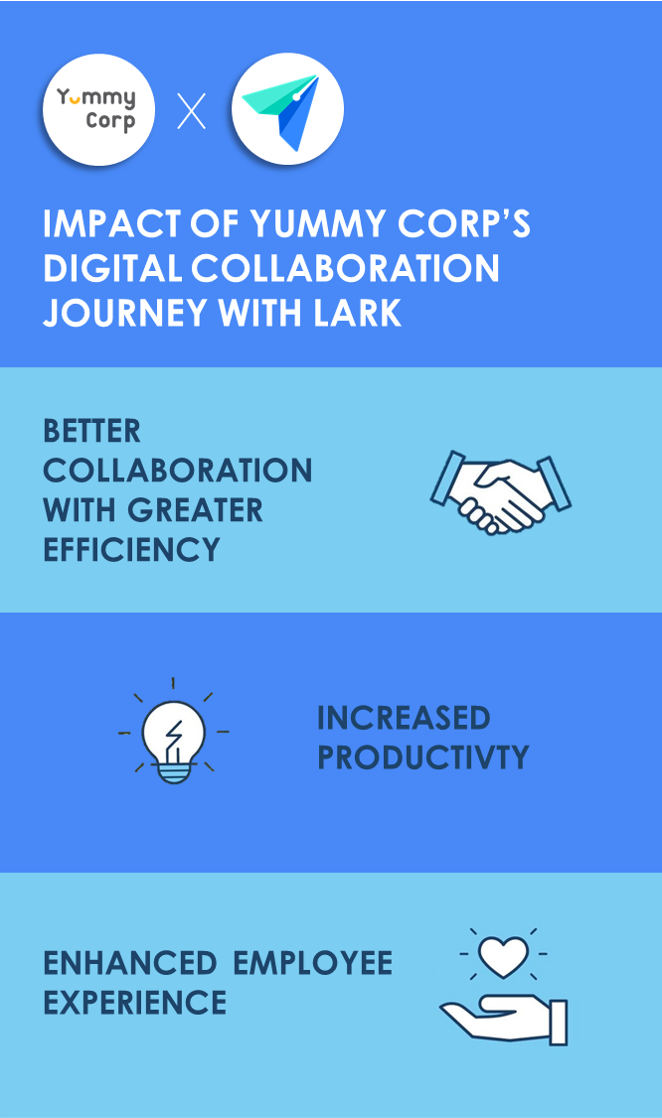 Mario Suntanu, CEO, Co –Founder Yummy Corp aptly sums up the benefits of this transformation, "We have had a wonderful experience on Lark. Our teams are more connected than ever before, and this has really helped productivity. Older tools simply aren't enough and these days, everything happens on Lark."
Ultimately, Lark's powerful workforce productivity suite enabled Yummy Corp. to effectively connect teams across the country, build greater efficiencies and help the company with its goal to serve more customers.
Wondering how Lark can help your organization in amping up digital collaboration? Click here and start thriving in the hybrid world of work.