Talent Management
Dave Ulrich on the 'new normal' for HR
Dave Ulrich, the co-founder of The RBL Group, throws light on the future of work, digital disruption, and the 'new normal' for HR.
Dave Ulrich is a university professor, author, speaker, management coach, and management consultant. Ulrich is a professor of business at the Ross School of Business, University of Michigan and co-founder of The RBL Group, an HR consulting firm.
He has helped generate award winning data bases that assess alignment between strategies, organization capabilities, HR practices, HR competencies, and customer and investor results. 
Here are the excerpts of the interview with Dave.
Do you think organizations are getting better at adapting to digital disruption? Or do we still have a long way to go?
Change is not a new topic and organizations have always had to "change or die." The digital disruption of the last decade has been a new impetus for rapid change. I would say organizations' ability to respond to this disruption would be in a normal distribution:  20 percent great, 60 percent average; 20 percent not so good.  Only tweak is that the 20 percent not so good likely end up failing, so this is a moving distribution. 
How can HR bring new value to business in times of disruption? 
We have argued that HR delivers unique value to a firm by delivering three elements:  talent, organization, and leadership. Talent means:  do we have the right people with the right skills in the right places with the right sense of commitment and contribution to win in the market? Organization means: do we have the right culture (or more broadly, capabilities) to win in the market? Leadership means:  do we have the right individual leaders and leadership capabilities to win in the market. HR is not just talent, but also organization  
Talent, leadership, and organization would apply to any changing business conditions (disruptive technology, globalization) or business strategy (customer intimacy, product innovation).
How do you envisage the future of HR and talent? 
Talent has been a primary agenda, if not obsession, for many general managers and human resource professionals for the last 20 years as captured in the maxim, "war for talent."  This talent emphasis has led to innumerable innovations in how organizations bring people into the organization, move them through the organization, and appropriately move them out of the organization as summaries in Table 1.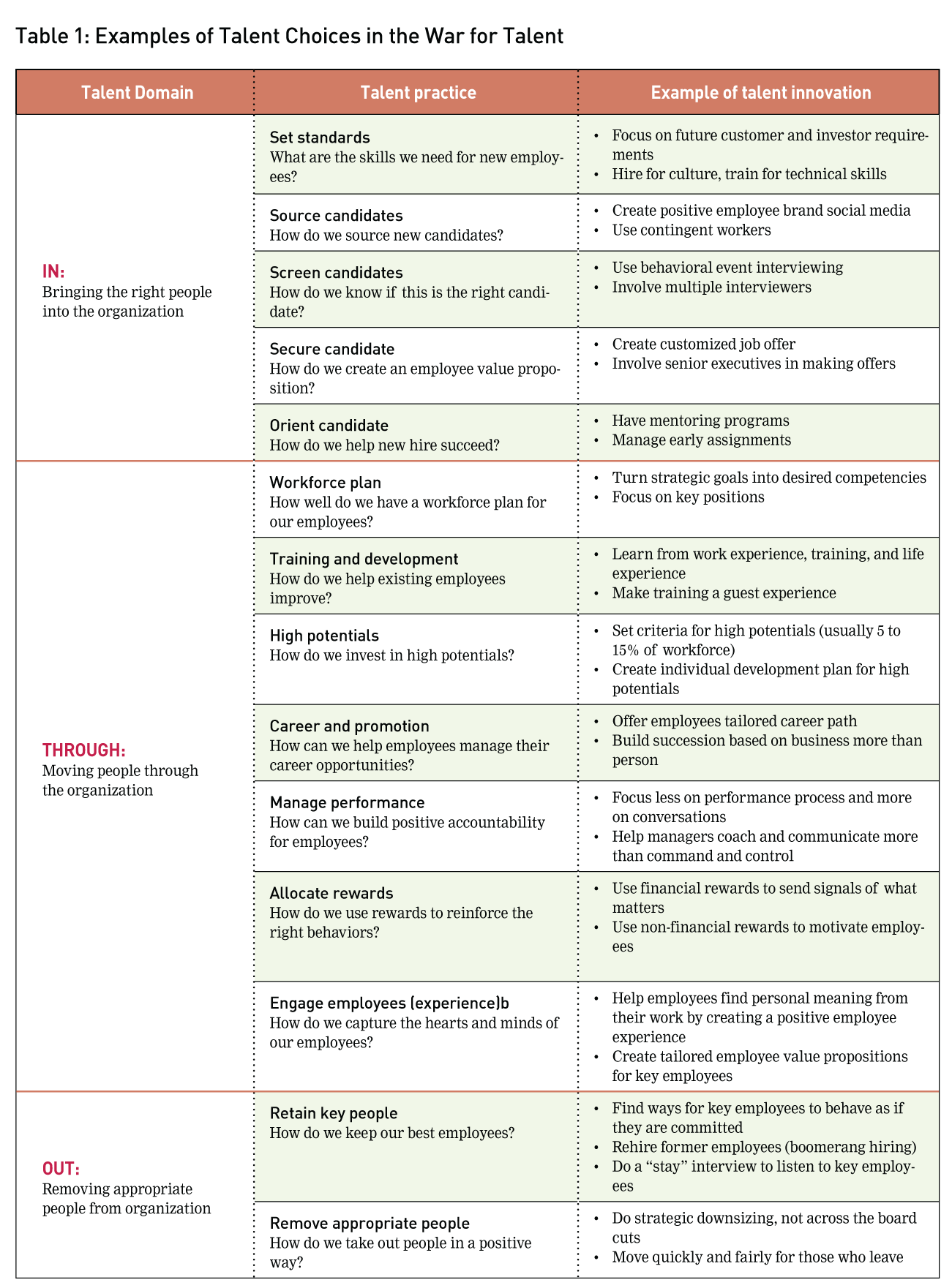 What impact will automation have on work?
Any activity based on information can be advanced through technology. Technology provides insights about personal choices, guides organizations to both broaden and tailor their services, and enables rapid societal change.  Simply put, technology is about accessing digital information to make decisions. An analog watch tells time; a digital watch is a smart machine I use to access exponential information for everyday tasks. 
Automation will change work because it allows access to information that transforms decision making.
What does the rise of the gig economy mean for the future of work?
We have seen that 25 to 35 percent of work can be done through some form of contract, contingent, or gig employee.  This means that companies have to create their culture across boundaries, not just with full-time employees.  Workforce planning has to include access to talent or employees, both full and part-time.  And, beyond workforce planning, work can also be done through technology, so a focus will be worktask planning with technology doing some of the work. 
Do you think all stakeholders should work together to manage reskilling and upskilling and mitigate job losses and talent shortages?
Or course upskilling is required. The responsibility for upskilling comes from government policies and support to move to a knowledge economy, from companies shifting to services, from labor groups committed to their members, but mostly from individuals have to take ownership of their own careers.
You said in your book 'HR is not about HR. HR begins and ends with the business.' How can HR become business partners?
 We have identified 13 pivots in the business partner model.