Talent Acquisition
UK Prime Minister Boris Johnson outlines plans to create 250,000 jobs through 'Green Industrial Revolution'
The statement goes on to say that the creation of "up to 250,000 highly-skilled green jobs" will hopefully spur massive private sector investment by 2030.
Last week, UK Prime Minister Boris Johnson outlined a 10-point climate plan aimed at job creation and large-scale financial investment in sustainability initiatives. The plan involves £12bn of government investment and "potentially three times as much from the private sector," and will include a possible ban on combustion sales, an acceleration of offshore wind power expansion and the creation of around 250,000 jobs. Other areas of concentration in the plan of investment include other renewables, electric vehicles, increased public transport and tree-planting. 
According to a statement released by Boris Johnson's office, "the Prime Minister's blueprint will allow the UK to forge ahead with eradicating its contribution to climate change by 2050, particularly crucial in the run up to the COP26 climate summit in Glasgow next year," referring to the 26th UN Climate Change Conference taking place in Scotland in November 2021. 
The statement goes on to say that the creation of "up to 250,000 highly-skilled green jobs" will hopefully spur massive private sector investment by 2030. Plans will home in on the UK industrial heartlands of "North East, Yorkshire and the Humber, West Midlands, Scotland and Wales, which will drive forward the green industrial revolution and build green jobs and industries of the future." Some of these regions have been among the hardest-hit by COVID-related economic impacts. In September, West Yorkshire recorded their highest unemployment level in 30 years and the number of jobseekers has trebled there since March. 
Writing in the Financial Times, the UK Prime Minister said "now is the time to plan for a green recovery with high-skilled jobs that give people the satisfaction of knowing they are helping to make the country cleaner, greener and more beautiful," evoking a future in which cooking is done using hydrogen power, commuting via an electric car that has charged overnight and everywhere around you the air is cleaner, safer and greener due to an increased reliance on hydrogen or synthetic fuel. 
Reactions to Johnson's plan have reportedly been mixed, with energy sector leaders praising many of the ideas but expressing concerns over strain placed on power infrastructures given this increased dependence on electric vehicles. However, Fintan Slye, director of National Grid Electricity System Operator said if executed correctly, the blueprint could "have the dual effect of stimulating the economy, focused where possible in the areas of society most affected, while also accelerating the UK along the path to Net Zero."
Green Jobs are Big Business?
There's currently much discussion around the potential of a green revolution as a pathway to economic recovery from COVID-19 and its impacts. At last month's World Economic Forum Jobs Summit, a new report was unveiled suggesting a green recovery would generate US$10.1 trillion in "financial opportunity" and could create 395 million jobs by 2030. Attending leaders and experts such as Unilever CEO Alan Jope and WEF President Børge Brende followed this line of thinking, pointing out that investment in a greener future had the potential to boost employment, with Jope calling the low carbon sector a "booming space for jobs." 
In July, the New Nature Economy project issued a report published by the WEF in which they outlined how the global economy was projected to contract by 3% in 2020. The report identified "15 systemic transitions with annual business opportunities worth $10 trillion that could create 395 million jobs by 2030." This includes transforming the three economic sectors that contribute to 80% of biodiversity loss globally: food, land and ocean use, infrastructure and the built environment and energy and extractives: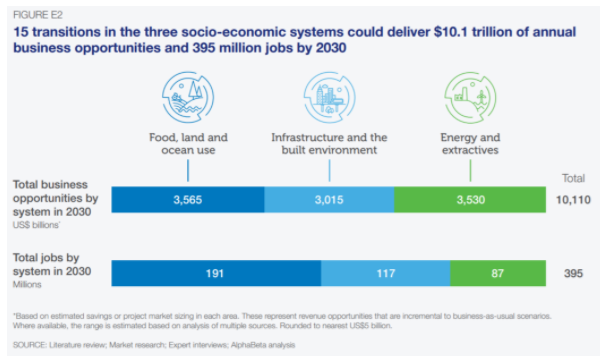 Writing in the report, Unilever CEO Alan Jope said: "As the dependence of our economies and businesses on nature is clear, we must identify and mitigate the risks of nature loss from our business operations. There will be no jobs or prosperity on a dead planet!" 
A Global Issue 
Johnson's plan for UK green jobs creation follows a trend in pledges and commitments to sustainable employment opportunities made by governments around the world. 
In the United States, President-Elect Joe Biden has made green jobs a key tenet of his future economic plan, pledging to invest $400Bn into industries that support clean energy, climate research innovations and sustainable solutions. "If executed strategically, our response to climate change can create more than 10 million well-paying jobs in the United States that will grow a stronger, more inclusive middle class enjoyed by communities across the country, not just in cities along the coasts," the Biden team explains in their Climate Labor Fact Sheet. 
According to Climate Scorecard, China is currently leading the charge in green jobs. Back in 2006, China was one of the first countries to join with the International Labor Organisation to research how to craft more green jobs. As of 2019, China accounted for 38% of the world's total green jobs with 4.1Mn people employed in this sector. 
While the green economy is already generating millions of jobs across the globe, these ambitious plans and targets remain, for the moment, projections and hopes for the future. It will take mobilization and commitment on a global scale to ensure these transformative goals are met and employment opportunities in ecologically-friendly and sustainable industries continue to expand. It remains to be seen what form this green recovery takes and how many millions of jobs will eventually emerge in this sector.