Strategic HR
The back-to-the-office challenge: How it affects the HR specialists
If you, as anHR manager, want to help employees adapt back to the office format we have a few pieces of advice for this.
At first, we all faced the difficulty of transferring the team to a remote format. Although it would be more accurate to say that this even became a test that not everyone has passed. Employees felt confused, management was looking for answers and hints on how to manage the team preserving its efficiency. Changing the usual format is always stressful. The challenge now is to get the teams back to the offices.
What do employees think about returning to the office?
After Coronavirus about 50% of the workforce is using the WFH model. And now returning to the office is a new stress for them. Many are afraid to get infected as they have health issues. For example, research shows that 54% of US workers are concerned about exposure to Coronavirus at the working place. However, 71% are sure that their employers will succeed to provide safe working conditions at the offices. This means an increase in sanitizing norms, temperature checks and safe distance between people which puts a serious responsibility onto business owners.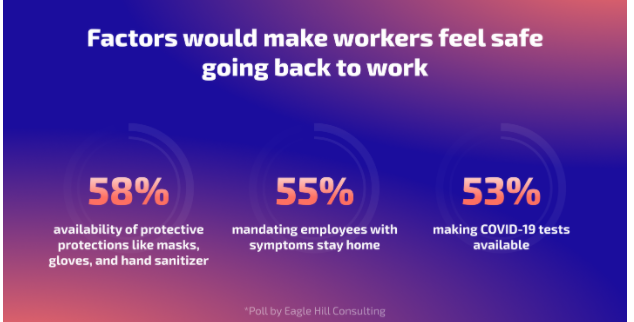 Things to do before return
Before the employees leave for the office, it would be good to cheer them up and tune in to the working wave. It also can be extremely helpful to conduct a survey to understand what your workers are up to. The list of questions may touch the following topics: desire to return back to office, thoughts on remote work and satisfaction with management during telecommuting, productivity rate and health concerns. Be empathetic and ready to listen to other people's needs. Most likely, the management board will meet in advance to discuss all possible issues. Maybe you do not need everyone onsite at the same time, so decide who will return first. Reorganize office space to make it compliant with safety recommendations: rearrange seats, provide sanitizing equipment, use disposable items at kitchen, etc.
How to smooth this transition?
If you, as anHR manager, want to help employees adapt back to the office format we have a few pieces of advice for this.
Give time for people to get used back to the onsite work. We are not talking about absence of control but rather about the importance of making a smooth transition from no physical control to its resumption, the transition from working in a quiet, secluded space to a noisy, crowded space. The times are still difficult, and now it is critical to compensate for the losses incurred, but it should be done correctly. Do not overload the team in the first days.
Provide unified information space. Communicate the importance of teamwork and the contribution of each employee to the overall success of the company during this difficult period. It is better if the manager or owner talks to the staff personally, or through a video message. Talk about the impact of external circumstances on your company, what will change now, what we are striving for, and so on. This will increase people's sense of belonging. If necessary, immediately make changes to the regulations of the work of employees (new performance indicators, new goals and objectives), do not just let them down from the top, try to find an opportunity for dialogue. This is a more winning strategy in the long run.
Organize informal team events to re-establish team spirit and cohesion. This will give the right "vibe" to the team and the desire to move together towards new ambitious goals, which is now critically important. Therefore, it is better for people to work with pleasure and enthusiasm, than out of the blue. Your task is to make your employees feel that you have long term vision.
Provide a chance to evolve. Since external circumstances can significantly change the structure of the company, its goals, and for some, the business model, this requires new knowledge and skills of your employees. And it will be more correct if the company makes sure that people have the opportunity to develop. The opportunity for development is always in the top three motivating factors, and now it is also a necessity for the rapid development of business in new circumstances.
Consider the ability to offer remote work. Of course, we can prohibit this, but flexible hours and sometimes the ability to work remotely have been a serious competitive advantage for employees for a long time, and against the background of recent events, this is already a formed need for the majority. After the lockdown, perhaps you are convinced that this is a very real story for certain positions. Exclusively when the employee is able to work effectively independently, observing his KPIs. 68% of employees globally reported that they are productive while working from home. You can try hybrid work to combine remote and in-office models. If you are still hesitant about remote work then implement technologies allowing you to monitor task progression, resources spent and even organize shifts and assign work.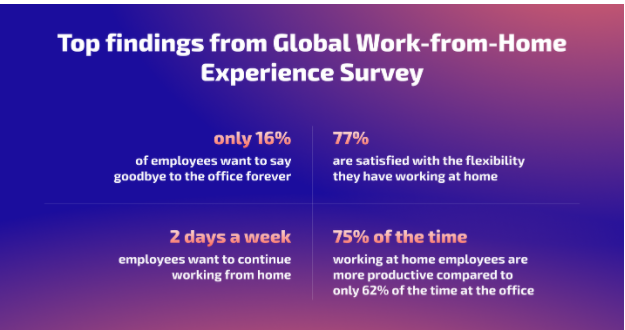 Don't forget to take feedback from employees. It is important to know what is on the minds of your people in order to be able to influence it. A lot of research has proven that the level of job satisfaction, the level of involvement of your team directly affect the financial performance of the company. You only manage what you measure, so check how your employees are doing through automated surveys, or preferably - conducting one-one-meeting of managers with their teams.
It is necessary to emphasize the importance of the work of the management team. Here, both software (personal) competencies and hard (professional) ones are equally important. Psychologically, during the lockdown people got used to the idea that they are completely independent. Many may face opposition, which manifests itself in a negative attitude to the superfluous, in their opinion, control function. You must create a correct approach to managing people, explain why it is important to return to the operational rhythm and control of productivity. But at the same time, do not lose focus on the performance indicators of the department and individual employees.
It is clear that there is no universal algorithm for any specific business. But if you learn to balance between exactingness and humanity, your employees will definitely appreciate this. As a result, this will affect the rapid "resuscitation" of the company in the current situation. Remember, that crisis is temporary, but the team, as well as your reputation, will last. So focus on being a smart leader who appreciates his cadres and ready to go an extra mile for a company's success.